---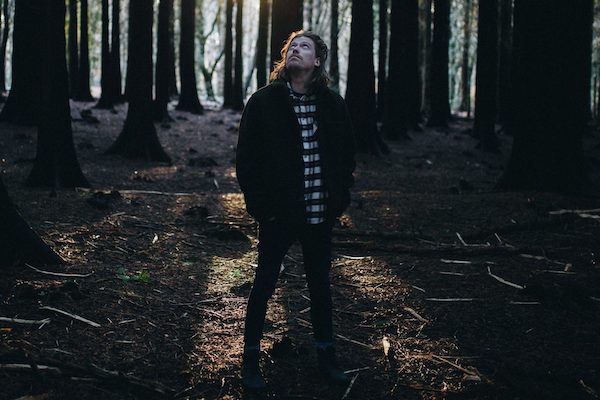 Thijs Van Der Meulen
Having accepted the fact that life may well be pointless, Roofman remains a romantic nonetheless. Reminiscing about nature, nurture, love as well as our simple daily thoughts, his lyrics paint the pictures we never thought we'd find the words for.
Hailing from the forests of the Netherlands, Roofman's Thijs van der Meulen is far from your typical small-community recluse. Looking to expand his vision, he has spent the last years writing, traveling, playing and sharing experiences with artists from all across the globe. Combined with musical inspirations such as Neil Young, The Walkmen and John Lennon, these stories will be captured on Roofman's debut album to be recorded in 2020.
Some songs need the glitz and blitz of big city life, the concrete jungle and the urban drama, drenched in white noise. Others simply a forest, the serene whisper of the wind in the leaves. It's not hard to guess which world Thijs van der Meulen alias Roofman is coming from. A true man of the woods, the Dutch indie folk progeny fell in love with the woods as a teenager when his parents bought a camp ground right in the middle of a forest. The reason his achingly beautiful debut "Still The Mess I Was" sounds so big and glorious is that he decided to record it in Hamburg's analogue heaven, Clouds Hill studio. The trees and the streets, the calm and the storm: Roofman is a man of contrasts.
And of conflicts, too. As a millennial, he is outspoken and reflective, using his soaring music as a means of getting a better understanding of himself. He commits to his weaknesses and fears, a bright and shining contrast to patriarchy's draft of the strong and silent type of yore. Without nature, however, he would be a decidedly different person. "I have always felt drawn to nature," he says. "As a kid I could spend hours sitting by the window, staring out into the woods, watching birds. To this day, the woods resonate within me, opening me like a box. I write a lot when I'm out there. Out in nature, I forget about everything and focus on my surroundings. It helps me to clear my mind, to breathe freely again. It's an important part of my life and my art."
It wasn't always just him, though. Once there was a rock band. "I was playing in a band a while back. At some point I simply stopped writing songs, something I did very regularly before. It didn't…," he is probing around for the right word, "feel right any longer. That was when I started to hang out and jam with other musicians from all over the world who stayed at my parent's camp ground when they were touring the area. That must have triggered something because before long, I couldn't stop writing songs. And those songs were very different from anything I'd written before."
Born in a perfectly mediocre town somewhere in the Dutch countryside, Roofman quickly became the vessel of his inner struggles and turmoils, aspirations and hopes. Honest and melancholic, purified of any drawers or cliches, always with a tiny sparkle of magic hovering around the edges. "Writing songs is a spiritual act," he says. "It's really hard to pin it down with words. I am astonished by the smallest detail when I'm out and about. The first leaves in spring, the unusual sound of a bird, the light filtering through the canopy."
On "Still The Mess I Was", he creates a shelter of wistful folk, of slow building climaxes, of indie fragility, culminating in the monumental eight minute epic "Fly Off, Fall Down, Come Back". While I was writing songs, I figured out I was using them for my own healing. I am addressing a lot of my own problems – hence a cheeky song like 'A Typical Millennial Breakdown'. Most of the time, however, I only realize what I was going on about way later."
60 songs he wrote during Covid alone. Without a target audience, without a label in mind. Without any expectations but his own. "Sometimes I wrote two songs a day. Back then I realized that I had found my path. By accident. For a band, you always write in a certain direction. For me, I wrote whatever came out of me. I did not care." He did not try to find his style. His style found him. Not many artists can say that about themselves.
Roofman is not like other artists, of course. He is no enigmatic mystery boy, no indie dandy hugging his guitar. He is not one to give up his innermost secrets too easily, either. He simply pours out his heart in a sometimes metaphoric, sometimes poetic sometimes painfully honest way, displaying the human struggle with vulnerability and ease. He's no whiner, either: he simply states the fact that sometimes, he is not okay. And that's okay. "It's not that I hate myself," he says silently, "it just sometimes seems to me that anybody my age has moved way further in life than I have. They all got jobs, houses, kids and so on. This must have affected me more that I was aware of. I found it in many of my songs."
When Roofman started to look for someone to mix his first solo effort, fate, destiny or simply good karma made him cross paths with Clouds Hill boss Johann Scheerer. Impressed by the musical skill and aura of these pure garage recordings, Johann actually found it difficult to mix them the right way. "There was something missing that I couldn't put my finger on," he remembers. "It was not 'ready'. The absolute conviction, the determination, was missing." He called Roofman, saying: "I'm in love with your songs. Let's delete them! Let's throw everything you did away and redo all songs from scratch at Clouds Hill. I'd like to produce it like I normally produce records and then release it via my label. But I wanna do it right." Far from being hurt, Roofman was delighted. Thus, what was only supposed to be a mixing job, "Still The Mess I Was" became Roofman's debut for Clouds Hill and the start of their journey.
With him to Hamburg went his good friends Rhett Shull (guitar) and Philip Conrad (bass) from Atlanta. "Having two musicians fly over to Hamburg from across the pond for the recording sessions was an incredible privilege. It felt like family the first time I met them when they were on tour with Noah Guthrie. Playing with them on the album is the absolute best." No stranger on the drums either: Roofman's brother Pim brought an extra sense of intimacy to the recordings. Music runs in the family, after all.
It's indeed joyous and incredible to listen to these people play. They never even played the songs before the recordings! "Must have been the studio," Roofman grins. "I never expected to find myself in a place like that. I don't know, maybe ten years from now. It's crazy good, and the whole experience was so rewarding. We could go to the studio whenever we wanted, 24 hours a day, seven days a week." With Johann acting like a mentor, giving advice on details and overseeing the project, "Still The Mess I Was" is an intimate, touching, wistful solo record, recorded with close friends in an amazing studio with a committed producer. Seriously, what more can you wish for in an album?