---
Album Info
Album Veröffentlichung:
2020
HRA-Veröffentlichung:
21.08.2020
Das Album enthält Albumcover
Johannes Brahms (1833 - 1897): Cello Sonata No. 1 in E Minor, Op. 38:

1

Cello Sonata No. 1 in E Minor, Op. 38: I. Allegro non troppo

16:34

2

Cello Sonata No. 1 in E Minor, Op. 38: II. Allegretto quasi menuetto

06:07

3

Cello Sonata No. 1 in E Minor, Op. 38: III. Allegro

07:16

Cello Sonata No. 2 in F Major, Op. 99:

4

Cello Sonata No. 2 in F Major, Op. 99: I. Allegro vivace

10:03

5

Cello Sonata No. 2 in F Major, Op. 99: II. Adagio affettuoso

07:26

6

Cello Sonata No. 2 in F Major, Op. 99: III. Allegro passionato

07:51

7

Cello Sonata No. 2 in F Major, Op. 99: IV. Allegro molto

04:58

Total Runtime

01:00:15
Info zu Brahms: Cello Sonatas Nos. 1 & 2
In the early 19th century and earlier, the instrumental sonata for ensemble that included piano was usually called "piano sonata with instrumental accompaniment". Beethoven's first violin sonatas, for instance, were published as "sonatas for piano with violin accompaniment." While most sonatas with cello from the 18th century were written for continuo, with the left hand of the keyboard part often doubling the cello, Beethoven is credited for composing some of the first works in the genre that featured a written-out piano part.
The first two cello sonatas that Beethoven composed were published as Op. 5 in 1796, and were dedicated to Friedrich Wilhelm II. They are thought to have been written with the celebrated cellist Jean-Louis Duport in mind. As the chronicles of the era report, they were played several times at court. The two Sonatas, Op. 5 are monumental in intentions, even if they are structured in two movements (in both compositions, the opening movement presents a lengthy introduction followed by a fast-paced movement in sonata form, which alludes to the presence of a third movement).
The third cello sonata, in the key of A Major and published as Op. 69, was written in 1808, and generally proposes more balanced and transparent writing than the previous sonatas. "Greater compositional technique allowed Beethoven the possibility of using fewer notes with confidence," wrote violinist Mark Kaplan. Cellist Steven Isserlis describes it as the first cello sonata in history to give the two instruments equal importance.
The two Sonatas, Op. 102 (Nos. 4 and 5) were composed between the end of 1812 and 1817. During that time, Beethoven was challenged by all sorts of difficulties, and experienced a period of literal and figurative silence. As his deafness became overwhelmingly profound, his productivity diminished. Following the A Major Sonata by seven years, the complexity of their composition and their visionary character marks (alongside the Piano Sonata in A Major, Op 101, written at the same time) the start of what is generally described as Beethoven's "third period."
The Duo Sinossi, with Marianna Sinagra at the cello and Lorenzo Cossi at the piano, offers a reading of the five compositions, plus the three sets of variations, that underscores the richness of contrapuntal textures and instrumental brilliance.
The recording was made with two pairs of Sennheiser microphones.
Duo Sinossi
Marianna Sinagra, cello
Lorenzo Cossi, piano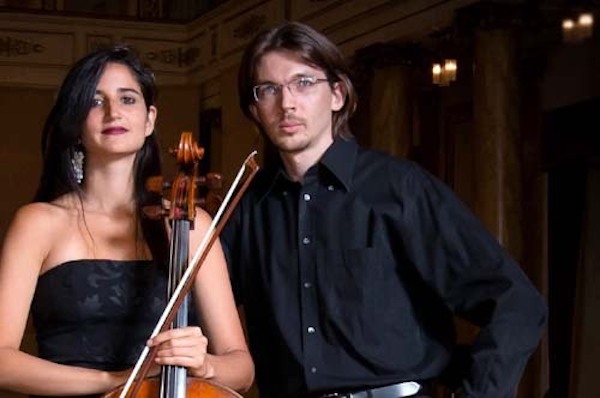 Lorenzo Cossi
has been recently internationally acclaimed as one of the five finalists at the Honens
International Piano Competition in Calgary, Canada.
His performance of the Brahms first Piano Concerto in D minor with the Calgary Philharmonic Orchestra under the baton of Roberto Minczuk received a standing ovation at the beautiful Jack Singer Concert Hall.
The Cincinnati Enquirer wrote "Cossi's technique and command of sonority were simply stunning. He produced lush, orchestral sounds and performed amazing feats, but always with a refined touch".
Lorenzo was born in Trieste, Italy, and completed his studies at the local Conservatory, under the guideance of Giuliana Gulli, sister of the beloved violinist Franco Gulli.
His musical education has been developed with other important artists, such as Nino Gardi, Elisso Virsaladze, Joaquìn Achùcarro, William Grant Naborè and Jerome Lowenthal.
He had the opportunity to study at the International Piano Academy "Lake Como" and the "Accademia Chigiana" in Siena.
In 2011 he was one of the ten pianists selected worldwide to take part to the Music Academy of the West summer Festival in Santa Barbara, California.
His repertoire ranges from the baroque era to contemporary music, with a special interest for Jazz and many other styles.
Lorenzo has always been fascinated by chamber music, and he collaborates with many important musicians (he played with cellist Johannes Moser, violinist Federico Agostini and Geoff Nuttal, soprano Amanda Roocroft).
In particular, he regularely plays with cellist Marianna Sinagra, a partnership dating back to 2009.
The Sinagra-Cossi Duo recently won third prize at the "V. Gui" International Chamber Music Competition in Firenze, one of the most important competitions of this kind.
A prize winner of the "Rina Sala Gallo competition" in Monza, the "G. Pecar" competition in Gorizia and many others, Lorenzo was twice finalist at the prestigious International "F. Busoni" Piano competition in Bolzano.
In November 2014 he performed Scriabin's masterpiece Prometheus (Poem of Fire) in Luxembourg with the Luxembourg Philharmonie conducted by Emilio Pomarico.


Dieses Album enthält kein Booklet