---
Album Info
Album Veröffentlichung:
2011
HRA-Veröffentlichung:
12.10.2017
Label: Aparté
Genre: Classical
Subgenre: Vocal
Interpret: Teodora Gheorghiu
Komponist: Pasquale Cafaro, Johann Christian Bach (1735-1782), Josef Myslivecek (1737-1781), Giovanni Battista Borghi, Christoph Willibald Gluck (1714-1787), Wolfgang Amadeus Mozart, Nicolo Jommelli
Das Album enthält Albumcover
Nicolo Jommelli (1714-1774): Armida abbandonata:

1

Act II, Scene 12, "Miser'Armida""Odio, furor, dispetto" (Armida)

06:37

Wolfgang Amadeus Mozart (1756-1791): Lucio Silla, K. 135:

2

Act II, Scene 5, "Vane. T'affretta"'"Ah se il crudel" (Giunia)

09:11

3

Act II, Scene 11, "In un Istante" "Parto, m'affretto" (Giunia)

07:28

4

Act III, Scene 5, "Sposo…mia vita…""Fra i pensier" (Giunia)

06:23

5

Act I, Scene 5, "Dalla sponda tenebrosa" (Giunia)

06:35

Christoph Willibald Gluck (1714-1787): Orfeo ed Euridice:

6

Act II, Scene 1, "Qual vita è questa mai" "Che fiero momento" (Euridice)

04:34

Giovanni Battista Borghi (1738-1796): Il Trionfo di Clelia:

7

Act III, Scene 1 "Tanto avezza alle sventure" (Clelia)

09:44

Josef Myslivecek (1737-1781): Romolo ed Ersilia:

8

Act I, Scene 3, "Sorprender mi vorresti" (Ersilia)

05:00

9

Act II, Scene 6, "Basta cosi vincesti" (Erislia)

04:46

Johann Christian Bach (1735-1782): Zanaida:

10

"Tortorella abbandonata" (Zanaida)

05:07

11

"Mentre volgo in orno il piede" (Zanaida)

03:26

Pasquale Cafaro (1715-1787): Antigono:

12

"E fra tante tempeste""Se balena" (Berenice)

12:41

Total Runtime

01:21:32
Info zu Arias for Anna De Amicis
This pre-classical programme is dedicated to Anna de Amicis, the famous soprano who first created the role of Giunia in Mozart's Lucio Silla. Besides works by the young Mozart the programme comprises arias by N. Jommelli, JC Bach, C.W. Gluck and others.
The Romanian soprano Teodora Gheorghiu studied with Niculina Mirea and Gheorghe Rosu in Romania and has won several prizes including the Queen Elisabeth Competition in Brussels in 2004. Following studies with Susanna Eken and José van Dam at the Queen Elisabeth Chapelle Musicale in Belgium, she made her debut with the Romanian National Opera in Bucharest singing the Queen of the Night in Die Zauberflöte.
Teodora Gheorghiu made her debut at the venerable Vienna State Opera in 2004 where she was particularly commended for her performances of Adele (Die Fledermaus), The Queen of the Night (Die Zauberflöte), Nannetta (Falstaff), Fiakermilli (Arabella), Adina (L'Elisir d'Amore), Elvira (L'Italiana in Algeri), Sophie (Werther) et Eudoxie (La Juive).
Outside the opera house, her career has equally flourished in recital and concert appearances. Some of her most noted collaborations have been with Paul Goodwin conducting the Academy of Ancient Music in London and Sigiswald Kujiken conducting La petite Bande.
"It's stylishly presented and excellently accompanied by the Talens Lyriques and Christophe Rousset; a slight letdown, though, comes with young Gheorghiu hersel. Her appealingly bright, agile soprano lacks polish...For the music itself, the disc is worth exploring, even if its interpretation tends to be undercooked." (BBC Music Magazine)
"[Gheorghiu] certainly has the requisite glittering coloratura technique. In accompanied recitatives, especially those for Giunia...Gheorghiu hints at the fiery temperament for which her predecessor was famed...In sum, a recital of mixed pleasures, longer on virtuoso brilliance than on imagination and involvement." (Gramophone Magazine)
"The recital is a tour de force, extremely demanding of Teodora Gheorghiu's technique...In the excellent recording, there is no suggestion of shrillness or thinness of tone as she takes on high Cs or a top D. Gheorghiu is more than a soubrette, for in its middle notes her voice has a warmth and a fullness...Her singing on this CD should spread her name, for there is some stunning vocalism." (International Record Review)
Teodora Gheorghiu, soprano
Les Talens Lyriques
Christophe Rousset, conductor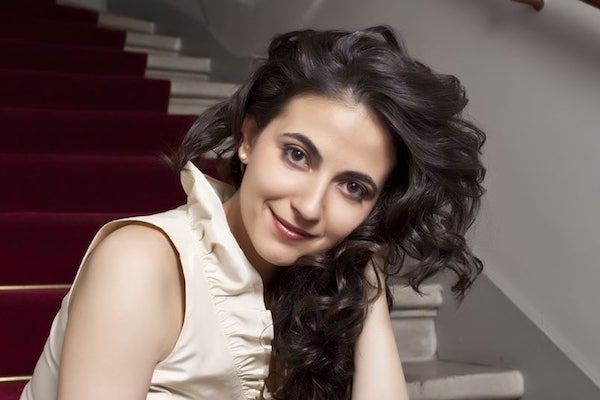 Teodora Gheorghiu
Sometimes a singer's destiny catches up with them. For the Romanian soprano Teodora Gheorghiu that moment occured courtesy of Jose Carreras, at the Julian Gayarre International Singing Competition. She had not won and Carreras, who was on the jury that year, was outraged. He approached her and told her that in his opinion she had deserved the prize, and insisted on giving her a scholarship equivalent to the prize money, from his own pocket. To have such a great tenor make such a gesture meant the world to the young soprano. "It was the first time that someone had told me I had a future as a singer", she says. Her path was set.
But artistic destiny is usually rooted in nature. To this day she often feels singing to be a spiritual act – "it starts in the very core of you and pours out".
After a series of Music competition prizes – among which notably the Queen Elisabeth Competition – and having won the Herbert von Karajan scholarship, she made her debut at the Vienna Staatsoper, still only 25 years old, and joined the company as a principal artist from 2007-2010. In Vienna she sang a wide array of leading roles, including Adele (Die Fledermaus), the Queen of the Night (Die Zauberflöte), Nanetta (Falstaff), Fiakermilli (Arabella), Adina (L'Elisir d'Amore), Elvira (L'Italiana in Algeri), Sophie (Werther), and Eudoxie (La Juive).
She describes the experience of singing in the top flight and working with such top-flight colleagues as Juan Diego Florez, Neil Shicoff, Leo Nucci, Ramon Vargas, Seiji Ozawa, Adam Fischer, Marco Armiliato, Bertrand de Billy and Franz Welser-Möst among others now in one word, "joy". Soon the bel canto soprano was by being recognised as one of the world's most exciting young talents.
When she decided to leave Vienna in 2010, this time to spread her wings for a freelance career, conductor Christophe Rousset approached her with an idea for her first recording, an homage to the 18th-century soprano Anna De Amicis. The resulting album, on the Harmonia Mundi-distributed Aparté label, included mostly premiere recordings of arias by Mozart, Gluck, Borghi, Cafaro and Mysliveček and was named "Disc of the Month" by International Record Review (which praised Gheorghiu's "stunning vocalism") and by Opera magazine, and was BBC Radio Three's "Disc of the Week" for 3 consecutive weeks.
With all this success, her approach to her art is about as far from the stereotypical bel canto diva's as it is possible to get. "I will always try to be an honest artist, to serve the art, not the opposite," says Gheorghiu, "I don't want to put myself in the middle."
Thus, one can understand very well that Teodora Gheorghiu's love of music and singing is not limited to opera alone. Many times throughout her career she has given Lieder recitals. In 2013 she released her second Album Art Nouveau featuring Lieder by Strauss, Zemlinsky, Ravel and Respighi as exemplary expressions of this European Jugendstil Art movement in music.
Just as all people do change and develop constantly throughout their lives, the artist in particular undergoes a continuous process of maturing. In the case of a singer such a process is also reflected in his voice. Already this summer, while still celebrating her latest success in the role of Sophie (Der Rosenkavalier by Richard Strauss) at the Glyndebourne Festival, an important development had announced itself in Teodora Gheorghiu's voice which in the meantime has now turned into a more concrete shape, and which artistically speaking opens her new horizons.
After all these years of experience in the field of a lyric coloratura soprano as well as in the Bel-Canto repertoire, the change of vocal Fach allows her henceforth to interpret a series of fascinating new roles which she had never hoped for. In December 2014, she will make her debut in the role of Puccini's Mimì (La Bohème). In May 2015, she will interpret the Countess in Mozart's The Mariage of Figaro on a Tour through Japan.


Dieses Album enthält kein Booklet