---
Album Info
Album Veröffentlichung:
2023
HRA-Veröffentlichung:
01.03.2023
Das Album enthält Albumcover Booklet (PDF)
Giovanni Battista Sammartini (1700 - 1775): Cello Sonata in G Minor:

1

Sammartini: Cello Sonata in G Minor: I. Largo

04:47

2

Sammartini: Cello Sonata in G Minor: II. Allegro non Troppo

03:46

3

Sammartini: Cello Sonata in G Minor: III. Canzonetta

01:48

4

Sammartini: Cello Sonata in G Minor: IV. Allegro Grazioso

02:33

Cello sonata No. 1, Op. 4:

5

Sammartini: Cello sonata No. 1, Op. 4: I. Allegro

02:36

6

Sammartini: Cello sonata No. 1, Op. 4: II. Allegro

02:29

7

Sammartini: Cello sonata No. 1, Op. 4: III. Allegro

01:33

Cello Sonata No. 2, Op. 4:

8

Sammartini: Cello Sonata No. 2, Op. 4: I. Allegro

02:50

9

Sammartini: Cello Sonata No. 2, Op. 4: II. Affettuoso

02:40

10

Sammartini: Cello Sonata No. 2, Op. 4: III. Allegro

02:18

Cello Sonata No. 3, Op. 4:

11

Sammartini: Cello Sonata No. 3, Op. 4: I. Allegro

04:03

12

Sammartini: Cello Sonata No. 3, Op. 4: II. Largo

02:12

13

Sammartini: Cello Sonata No. 3, Op. 4: III. Spiritoso

03:03

Cello Sonata No. 4, Op. 4:

14

Sammartini: Cello Sonata No. 4, Op. 4: I. Allegro

03:33

15

Sammartini: Cello Sonata No. 4, Op. 4: II. Largo

01:57

16

Sammartini: Cello Sonata No. 4, Op. 4: III. Allegro

03:18

Cello Sonata No. 5, Op. 4:

17

Sammartini: Cello Sonata No. 5, Op. 4: I. Allegro

02:11

18

Sammartini: Cello Sonata No. 5, Op. 4: II. Largo

05:41

19

Sammartini: Cello Sonata No. 5, Op. 4: III. Vivace

01:48

Cello Sonata No. 6, Op. 4:

20

Sammartini: Cello Sonata No. 6, Op. 4: I. Allegro

04:19

21

Sammartini: Cello Sonata No. 6, Op. 4: II. Adagio

02:29

22

Sammartini: Cello Sonata No. 6, Op. 4: III. Allegro

04:00

Cello Sonata in G Major:

23

Sammartini: Cello Sonata in G Major: I. Allegro

03:47

24

Sammartini: Cello Sonata in G Major: II. Largo

04:19

25

Sammartini: Cello Sonata in G Major: III. Minuetto

02:04

Total Runtime

01:16:04
Info zu Sammartini: Sonatas for Cello & B.C.
The essential contribution that Milan-born Giovanni Battista Sammartini (c.1700–1775) made to the history of music is universally recognised. He laid the foundations for the Classical symphony: he helped establish the standard composition of the orchestra and promoted independence and individual timbres in his part-writing, while Baroque customs (most notably the basso continuo) gradually gave way to sonata form. In terms of repertoire and recordings, however, Sammartini is still a relative rarity; if you set aside his symphonies and start investigating his chamber music and works for solo instruments, for example, it is soon apparent that many enthralling compositions remain silently filed away in libraries and archives, waiting patiently for the recognition they deserve. The programme on this record ventures into this very partially unexplored terrain, showcasing a selection of sonatas for cello and basso continuo: the collection of six from his Op.4, published in Paris in 1742, and two sonatas of uncertain date, one in G major and the other in G minor. Although more modest than the symphonies, the cello sonatas display a similar penchant for succinct and elegant writing. Often simple in form, their brilliance stems from the inventiveness of the melody and rhythm and moments of particularly intense and expressive lyricism that are not reliant on excessive ornamentation. Christoph Willibald Gluck, according to some sources, studied under Sammartini: there are plenty of moments in the cello sonatas where echoes of what must have inspired the German master can be heard. When Franz Joseph Haydn was alive, he was also considered to owe a great deal to Sammartini; this seems to have struck a nerve, as he felt the need to distance himself from these claims, even calling his Italian colleague a 'pencil pusher'.
However, it is important to note the confusing history behind the authorship of the cello sonatas on this album. Op.4 is almost certainly by Sammartini; the 'almost' is advisable only for Sonata No.6, which some scholars believe to be of doubtful authorship. The two sonatas in G major and G minor are less certain. Despite these caveats, the cello sonatas presented here remain an excellent example of the transition from the Baroque to the Classical period and particularly of a singularly elegant compositional style that expertly applies cello technique to imaginative and spontaneous invention. Partly for this reason, the performers on this recording have chosen to further enhance the individual character and freshness of each sonata by using different instruments for the basso continuo line, chosen freely but with strong historical foundations: as well as the more predictable harpsichord, they also make use of the archlute, theorbo and baroque guitar, in addition to melodic bass passages entrusted to a second cello. Overall, the seductive balance of formal precision and improvisatory spirit seen in Sammartini's better-known works is still clearly perceptible here; presenting the less easily identifiable works on this discographic rarity in his name therefore certainly does not do him a disservice.
Giovanni Battista Sammartini (1701-75) was born in Milan, and unlike his contemporaries, spent all his life working in his home city. He became the major figure in musical life in the city, and devoted himself to instrumental, chamber and sacred music, composing only three stage works, making him one of those rare Italian composers who shunned the world of opera. His works were widely published in all the major cities of Europe, and he was on friendly terms with Gluck whom he taught from 1737-41, and Mozart whom he met during the young Austrian's visit to Milan. His influence upon composers such as François-Joseph Gossec, Johann Christian Bach and Johann Stamitz was considerable.
The Cello Sonatas presented here mark the transition between Baroque and Classicism, music full of charm, gracefulness, cantabile melodies and instrumental flourish.
Ensemble Dolci Accenti
Daniele Cernuto, baroque cello
Anna Grendene, baroque cello
Calogero Sportato, baroque guitar, theorbo, archlute
Cipriana Smarandescu, harpsichord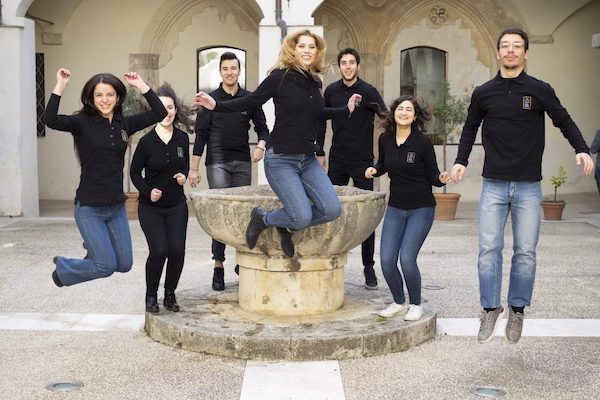 Ensemble Dolci Accenti
The instrumentalists of the ensemble Dolci Accenti come from different artistic and cultural backgrounds. They met during their studies at the Conserva-torio di Vicenza, where they specialised in the performance of the 17th and early 18th century music repertoire, studying and re-searching original sources such as treaties, music, prints, manuscripts and chronicles of the time. Parallel to their interest in instrumental music of that period, they turned their attention to vocal music and its expressive potential. The ensemble, which plays with copies of original instruments, interprets and is particularly interested in the musical production of one of the most golden, varied and rich periods of music not only in Italy. Dolci Accenti ensemble, among other concert associations, was invited to the Festival of Medieval Arts in Sighisoara (Romania) in July 2000, recording for Romanian radio, in Vilnius (Lithuania) at Lietuvos Musikos Akademia. In 2002 and 2003 he was a guest at the Monte Acuto Festival and at the Bosa Anti-ca Festival (Sardinia). At the Ravenna Festival, Brianza Classica and Ancient Music in Arcugnano and many others. They are also frequent guests of Italian embassies and cultural institutes abroad. The musicians of the ensemble Dolci Accenti have been winners at national and international competitions. They collaborate with the most important Italian and foreign ensembles, (I Barocchisti, Radio Svizzera Italiana, Venice baroque Orchestra, Auser musici, to name but a few), recording discs for labels such as Tactus, Stradiva-rius, Glossa, Sony, Naxos, Deutsch Grammophone, K617, Arts, Bongiovanni, Dynamic, CPO, etc. The ensemble Dolci accenti has recorded the complete unpublished sonatas of Fr. Ruhe for viola da gamba and basso continuo and "Occhi vaghi e Legiadri" a recording project that is always a great success with the public. Next discographic release dedicated to Sammartini's unpublished sonatas for baroque cello and basso continuo.
Daniele Cernuto
He brilliantly graduated in cello with Maestro Maurizio Simonelli in viola da gamba with top marks under the guidance of Maestro Paolo Biordi, and in music education.
He has collaborated with numerous ensembles and orchestras: Orchestra Barocca Tiepolo, Orchestra Barocca di Bologna, Orchestra Barocca Siciliana, Orchestra Barocca di Catania, Teatro Olimpico di Vicenza, Consortium Carissimi, Consort Veneto, I Barocchisti, Stagione armonica, Accademia strumentale italiana, Musicali Affetti, I Filarmonici, Venice Baroque Orchestra. His recording activity is intense, recording over 50 CDs for Arts, Bongiovanni, CPO, Dynamic, Deutsche Grammophon Archiv, Glossa, Naxos, Rai2, Radiotre, Raisat, Sony, Stradivarius, K617, Tactus, Urania.
Founder of Dolci Accenti ensemble, he has performed concerts in Italy, Romania, Lithuania Germany. He recorded the sonatas for viola da gamba and basso continuo by Fr. Ruhe, a CD entitled "Occhi vaghi e leggiadri" and recently recorded Sammartini's op.4 sonatas for cello and basso continuo. Founder and first cello of the Nuova Orchestra Pedrollo conducted by Maestro Gabriele Dal Santo, he recorded two CDs, one dedicated to Arrigo Pedrollo's unpublished music and the other to music by Francesco Carta on lyrics by Emily Dickinson.
Artistic director of the international early music festival Note senza tempo in Sassari and of the SYEMF Sassari Early Music Festival dedicated to young talents. Since 2022 he has been director of the early music academy Cristóbal Galán in Sassari.
From 2004 to 2010 he taught viola da gamba in the three-year degree courses at the Conservatorio 'Tomadini' in Udine and at the same time cello at the 'Giuriolo' music-oriented middle school in Vicenza. Since 2012 he has been teaching cello at the Liceo musicale "A. Pigafetta" in Vicenza.


Booklet für Sammartini: Sonatas for Cello & B.C.