---
Album Info
Album Veröffentlichung:
2022
HRA-Veröffentlichung:
09.12.2022
Das Album enthält Albumcover
Carlos Cordero: ¡Ayúdame!:

1

Cordero: ¡Ayúdame!

05:09

Andrea Ramsey (b. 1977): Stomp on the Fire:

2

Ramsey: Stomp on the Fire

02:53

Reena Esmail (b. 1983): Tuttarana (Version for SATB Choir):

3

Esmail: Tuttarana (Version for SATB Choir)

03:02

John William Griffith II: First Light:

4

II: First Light

08:11

Leigha Amick: Night Sky Songs:

5

Amick: Night Sky Songs: No. 1, The Dark

04:25

6

Amick: Night Sky Songs: No. 2, The Other Side of the Valley

05:28

Dominick DiOrio (b. 1984): It Takes Your Breath Away:

7

DiOrio: It Takes Your Breath Away

09:06

Moira Smiley (b. 1976): Wire You Here:

8

Smiley: Wire You Here

03:35

Joel Thompson (b. 1988): America Will Be!:

9

Thompson: America Will Be!

05:48

Dominick DiOrio: A Chain Is Broken:

10

DiOrio: A Chain Is Broken

05:07

Total Runtime

52:44
Info zu What Is Ours: Music for an America in Progress
There are generally two ways one can face a crisis. One can give up, or one can persevere and use it to one's advantage. Choir director Dominick DiOrio definitely chose the latter during the pandemic, turning his reflections and sentiments about it into a profoundly engaging, almost philosophical choral album titled WHAT IS OURS. DiOrio conjures a formidable cross-section of music by a range of contemporary composers that not only reflects the diversity and multiplicity of modern-day America, but also its underbelly of struggle, challenge, and an eventual triumph of humanity.
NOTUS
Dominick DiOrio, conductor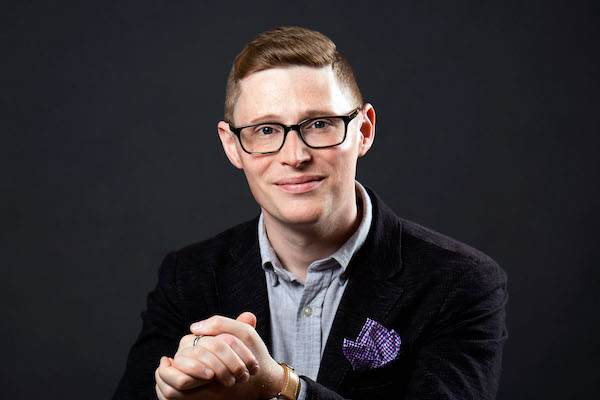 NOTUS
Winner of The American Prize in Choral Performance (2019), NOTUS is one of the country's most unique collegiate vocal ensembles, with a singular commitment to championing living composers through the commissioning, programming, and recording of new works. Directed by conductor-composer Dominick DiOrio and a curricular ensemble at the Indiana University Jacobs School of Music, NOTUS has performed across the nation, from regional and national ACDA conferences to Carnegie Hall. In September of 2018, NOTUS released their first commercial album on the Innova label, NOTUS: Of Radiance and Refraction, which includes five world premiere recordings by IU faculty composers. NOTUS was honored to be one of only 24 choirs in the world invited to perform at the 12th World Symposium on Choral Music before it was canceled due to the pandemic. As part of the honor of being invited to the Symposium, NOTUS was named an IFCM Ambassador in 2022 by the International Federation for Choral Music.
Over the course of its history, NOTUS has delivered premiere or second performances of more than 150 new works in the choral repertoire. This includes recent commissions and premieres by Claude Baker, Don Freund, John Gibson, P.Q. Phan, Sven-David Sandström, Aaron Travers, and Zachary Wadsworth. NOTUS also regularly programs a rich and eclectic array of leading contemporary composers, such as Chen Yi, Eriks Esenvalds, Sofia Gubaidulina, Sydney Guillaume, Ted Hearne, James MacMillan, Nico Muhly, Tawnie Olson, Steve Reich, Caroline Shaw, Moira Smiley, Christopher Theofanidis, and Joel Thompson as well as music by their director.
NOTUS was originally founded in 1980 as the Indiana University Contemporary Vocal Ensemble, and it was renamed in 2013 after the selection of its fourth director, Dominick DiOrio. The choir's new name was inspired by Notos, the Greek god of the south wind. Previous directors include Alan Harler (1980-1981), Jan Harrington (1981-1992), and the late Carmen Helena Téllez (1992-2012).
Dominick DiOrio
is professor of music in choral conducting at the Indiana University Jacobs School of Music, where he joined the faculty in 2012.
DiOrio is an imaginative, enthusiastic, and energetic conductor and composer who has won widespread acclaim for his contributions to American music. Whether leading an ensemble or crafting a new score, he brings equal passion and determination to his work in vocal and instrumental music, and he has been recognized with The American Prizes in both Choral Composition (2014) and Choral Performance (2019, with NOTUS).
In July 2020, he became the fourteenth artistic director and conductor of the Mendelssohn Chorus of Philadelphia, one of the most historic choral organizations in the United States, now in its one hundred forty-ninth season. As part of those duties, he has had prepared the Mendelssohn Chorus to sing "The Glorious Sound of Christmas" annual holiday concerts with The Philadelphia Orchestra and conductors Bramwell Tovey in 2021 and William Eddins in 2022.
DiOrio believes that singing together brings people joy. He has conducted ensembles around the world, from the Houston Chamber Choir and Choral Arts Initiative in the U.S. to Allmänna Sången and Ars Veritas abroad. A strong advocate for new music, he has collaborated with many of today's leading composers, including Carlos Cordero, Paquito D'Rivera, Melissa Dunphy, Texu Kim, Tawnie Olson, Caroline Shaw, Moira Smiley, Christopher Theofanidis, and the late Swedish composer Sven-David Sandström. Committed to diversity, inclusion, and representation in artistic programming, DiOrio proudly programs works that reflect the gender, ethnic, and racial diversity of our world, and he works to amplify the voices of composers from underrepresented populations.
His love for contemporary repertoire spans the gamut of pathbreaking works from the twentieth and twenty-first centuries, including James MacMillan's Seven Last Words, Steve Reich's The Desert Music, Alfred Schnittke's Requiem, David Lang's the little match girl passion, Sarah Kirkland Snider's Mass for the Endangered, Sofia Gubaidulina's Sonnengesang, and Krzysztof Penderecki's St. Luke Passion, which he had the honor of preparing for the composer in November 2017.
Equally at home with music of earlier eras, DiOrio has also conducted performances of J. S. Bach's Magnificat in D, Henry Purcell's Dido and Aeneas, W. A. Mozart's "Great" C Minor Mass, Felix Mendelssohn's Psalm 42, Maurice Duruflé's Requiem, Ralph Vaughan Williams' Five Mystical Songs, Samuel Barber's Knoxville: Summer of 1915, and Leonard Bernstein's Chichester Psalms, among others.
As a composer, DiOrio has been hailed for a keenly intelligent, evocative style, which shows "a tour de force of inventive thinking and unique colour" (Gramophone). His music has been praised for its "depth of vision, mastery of compositional technique, and unique style" (The American Prize). His over 50 published works have appeared at major venues around the world, including the Sydney Opera House, Lincoln Center, and Carnegie Hall—as well as in Austria, Canada, China, Finland, Hong Kong, Ireland, South Korea, Sweden, and the U.K.
He writes music for singers and players of all ages and experiences, and his recent commissioning partners include the Children's Chorus of Washington, Worcester Youth Orchestras, Cincinnati Vocal Arts Ensemble & Cincinnati Chamber Orchestra, Choral Arts Society of Washington, "The President's Own" United States Marine Band, and several universities, including Oberlin, Princeton, Smith, and the universities of Michigan, Oregon, and Illinois.
DiOrio believes in the power of education to change lives and impact our communities. at the Jacobs School of Music, he leads the select, new music chamber chorus NOTUS. He has elevated NOTUS to national acclaim through commissions, recording projects, and invited performances at regional and national conferences of the American Choral Directors Association (ACDA). NOTUS was also one of only 24 choirs in the world selected by competitive audition to perform at the 12th World Symposium on Choral Music in Auckland, New Zealand, before it was canceled due to the coronavirus pandemic.
NOTUS's critically acclaimed debut album, Of Radiance & Refraction, featured the world premiere recordings of five commissioned works. Released in December 2022 with Navona Records, NOTUS's second album, What Is Ours: Music for an America in Progress, features English horn artist and Jacobs faculty colleague Roger Roe and eclectic new music composed by DiOrio, Reena Esmail, Moira Smiley, Carlos Cordero, Joel Thompson, Andrea Ramsey, John William Griffith II, and Leigha Amick.
DiOrio is deeply committed to strengthening the profession by empowering others, and he recently completed a four-year term as president and president-elect of the National Collegiate Choral Organization (NCCO, 2018-22). He has also previously served as treasurer of NCCO (2014-17), chair of ACDA's Composition Initiatives Standing Committee (2016-20), and a member of the board of directors for Chorus America (2015-18).
He earned a Doctor of Musical Arts degree in conducting from the Yale School of Music, as well as an M.M.A. and M.M. in conducting from Yale and a B.M. in composition summa cum laude from Ithaca College. He credits mentors Janet Galván, Simon Carrington, and Marguerite Brooks for serving as model leaders and helping make him the person he is today.


Dieses Album enthält kein Booklet