---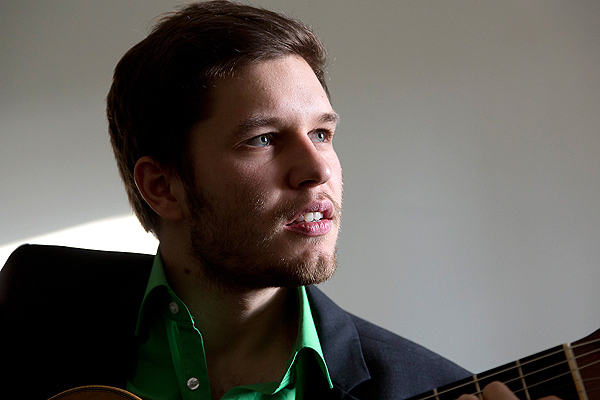 Daniel Marx
Im Alter von sieben Jahren begann Daniel Marx als Schüler der Kreismusikschule Erding Gitarre zu spielen. Er studierte bei Susanne Schoeppe, Dozentin der Musikhochschule München, sowie bei seinem wichtigstem Lehrer Roberto Aussel an der Hochschule für Musik und Tanz Köln. Im Jahr 2016 schloss er sein "Master of Music"-Studium mit Bestnote ab.
Ein "Thornton Scholarship" ermöglichte Daniel Marx im Anschluss ein künstlerisches Aufbaustudium bei den Musikern des LAGQ (Los Angeles Guitar Quartet) und Pepe Romero an der "USC – Thornton School of Music" in Los Angeles. In Akademien und Meisterkursen setzte er sich mit bedeutenden Persönlichkeiten der klassischen Gitarre auseinander.
Daniel Marx ist Gewinner von zahlreichen internationalen Wettbewerben, Förderpreisen und Stipendien in Europa und Amerika. Frühzeitig war er mit Solorezitals zu Gast bei internationalen Festivals und Konzertreihen im In- und Ausland, spielte in Kooperation mit dem Goethe-Institut bei Konzertreisen unter anderem in Italien sowie Irland und trat in Konzertsälen auf, wie zum Beispiel dem Leo S. Bing Theatre des Los Angeles County Museum of Art (USA), dem Appollon Theater in Syros (Griechenland) oder dem Audimax der Universität Regensburg.
Im Alter von 17 Jahren feierte er sein Debüt als Solist beim Erdinger Kammerorchester. Zudem wirkte Daniel Marx bei Aufnahmen und Ausstrahlungen für den BR, WDR, Radio Nacional Argentina, Classical KUSC und dem Fernsehsender Arte mit.
Neben dem klassischen Repertoire widmet Daniel Marx einen großen Teil seiner Aufmerksamkeit dem Entdecken und Generieren von neuen Werken für Gitarre: zum einen durch Transkriptionen (herausgegeben vom kanadischen Verlag Les Productions d'Oz), zum anderen in Zusammenarbeit mit Komponisten.
Er ist Gründungsmitglied des seit 2014 existierenden Kölner Ensembles für Neue Musik, Electronic ID. Daniel Valentin Marx betätigt sich zusätzlich in der künstlerischen Leitung des Gitarrenfestivals seiner Heimatstadt Dorfen und ist in der Saison 2017/18 Artist in Residence des "Max Kade Institutes" in Los Angeles, wo er seine eigene Konzertreihe kuratiert.