---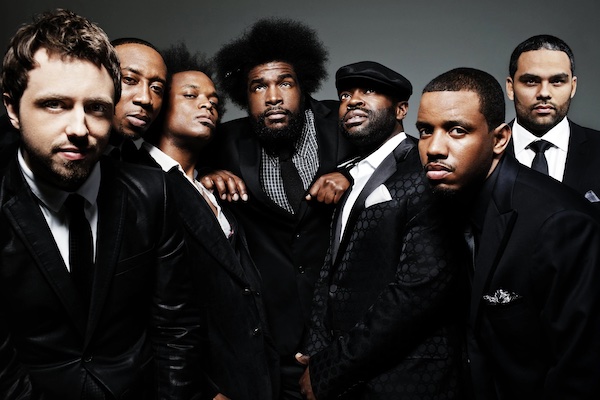 The Roots
are an American hip hop/neo soul band, formed in 1987 by Tariq "Black Thought" Trotter and Ahmir "Questlove" Thompson in Philadelphia, Pennsylvania, United States. The Roots are known for a jazzy and eclectic approach to hip-hop featuring live musical instruments. Malik B., Leonard "Hub" Hubbard, and Josh Abrams were added to the band (formerly named "The Square Roots").
Also known as The Legendary Roots Crew, The Fifth Dynasty, The Square Roots, The Tonight Show Band
Since its first independent album-length release the band has released 10 studio albums, two EPs, two collaboration albums (with other artists), and also collaborated on recordings and in live shows with a wide variety of artists in many musical genres. The Roots served as the house band on NBC's Late Night with Jimmy Fallon from 2009 to 2014, and in the same role (and accompanying show guest artists) on The Tonight Show Starring Jimmy Fallon since 2014. The Roots' work has been consistently met with critical acclaim. ranked the band #7 on its list of the 25 Best Hip-Hop Groups of All-Time, calling them "Hip-hop's first legitimate band."
The Roots originated in Philadelphia with Ahmir "Questlove" Thompson and Tariq "Black Thought" Trotter while they were both attending thePhiladelphia High School for the Creative and Performing Arts. They would busk out on the street corners with Questlove playing bucket drums and Tariq rapping over his rhythms. Their first organized gig was a talent show in 1989 at the school where they used the name Radio Activity, which began a series of name changes that progressed through Black to the Future and then The Square Roots.[3] Prior to the release of Organix, an issue arose with the name. A Philadelphia folk group had claim to the name and to avoid legal wrangling they simply dropped the "Square" aspect and became The Roots in 1992.
Organix was the band's first album, released and sold independently. It was released in 1993. It generated enough industry buzz for offers from music labels, and the band signed with DGC/Geffen. The Roots' first album for DGC, Do You Want More?!!!??!, was released in 1994. It was a moderate hit among alternative music fans due in part to the group's appearance at Lollapalooza. The band performed at theMontreux Jazz Festival that year. Touring guests, beatboxer Rahzel and producer Scott Storch, joined The Roots.
The 1996 release Illadelph Halflife was the group's first album to break the Top 40 on the Billboard 200 chart, spurred in part by MTV's airplay of the video for "What They Do" (a parody of rap video clichés)[5] and "Clones", which was their first single to reach the top five on the rap charts. "What They Do" was also the group's first single to hit the Top 40 of Billboard's charts, reaching a peak of #34. While continuing on the path of live instrumentation, the album's sound was somewhat darker.