---
Do You Want More?!!!??! (Deluxe Version) The Roots
Entschuldigen Sie bitte!
Sehr geehrter HIGHRESAUDIO Besucher,
leider kann das Album zurzeit aufgrund von Länder- und Lizenzbeschränkungen nicht gekauft werden oder uns liegt der offizielle Veröffentlichungstermin für Ihr Land noch nicht vor. Wir aktualisieren unsere Veröffentlichungstermine ein- bis zweimal die Woche. Bitte schauen Sie ab und zu mal wieder rein.
Wir empfehlen Ihnen das Album auf Ihre Merkliste zu setzen.
Wir bedanken uns für Ihr Verständnis und Ihre Geduld.
Ihr, HIGHRESAUDIO
1

Intro / There's Something Goin' On

01:18

2

Proceed

04:35

3

Distortion To Static

04:18

4

Mellow My Man

04:41

5

I Remain Calm

04:08

6

Datskat

03:40

7

Lazy Afternoon

05:06

8

? Vs. Rahzel

03:18

9

Do You Want More?!!!??!

03:21

10

What Goes On, Pt. 7

05:32

11

Essaywhuman?!!!??!

05:00

12

Swept Away

03:50

13

You Ain't Fly

04:42

14

Silent Treatment

06:52

15

The Lesson Pt. 1

05:13

16

The Unlocking

05:29

17

Proceed II

05:47

18

Proceed III

04:16

19

Proceed IV (A.J. Shine Mix)

03:46

20

Proceed V (Beatminerz Mix)

04:37

21

Silent Treatment (Kelo's Mix)

04:07

22

Silent Treatment (Da Beatminerz Mix)

04:19

23

Silent Treatment (Black Thought's '87 And Yours Mix)

04:38

24

Silent Treatment (Question's Mix)

04:55

25

Silent Treatment (Street Mix)

07:00

26

In Your Dreams Kid (I'm Every MC)

06:30

27

The Ultimate (Original '94 Version)

07:18

28

...…(dot dot dot…on & on)

04:05

29

Pffat Time (Steve Williamson Mix)

06:03

30

Swept Away (Original Draft)

02:37

31

It's Comin'

06:31

32

Lazy Afternoon (Alternate Version)

05:08

33

Distortion To Static (Freestyle Mix)

04:58

34

Distortion To Static (Quest Jim Mix)

04:20

Total Runtime

02:41:58
Info zu Do You Want More?!!!??! (Deluxe Version)
It's been 26 years since Do You Want More?!!!??!, the groundbreaking second studio album and major label-debut by The Roots. Originally released on January 17, 1995 via DGC Records, Do You Want More?!!!??!, brought The Roots' neo-soul bohemian zest to life and established them as leading figures of hip-hop-jazz. The album which peaked at #22 on Billboard's Top R&B/Hip Hop Albums chart, features their singles "Distortion To Static," "Proceed" (considered one of their most signature recordings), and the rap ballad "Silent Treatment." Led by MC Tariq "Black Thought" Trotter and drummer Ahmir "Questlove" Thompson, the Philadelphia rap crew are going back to where it began with a three album deluxe collection of Do You Want More?!!!??!
Going back to the vault, this deluxe edition is drawn from the original recordings and features eighteen bonus tracks curated by Questlove; some of which have never been released and others that have never previously been available digitally. The three album deluxe edition features five bonus tracks — "Proceed II Feat. Roy Ayers", "Proceed III", "Proceed IV (AJ Shine Mix)", "Proceed V (Beatminerz Mix)," along with five remixes of "Silent Treatment" — plus a 24-page booklet featuring images taken by Mpozi Tolbert, essays by Questlove and Black Thought as well as track-by-track commentary. While the 4LP edition features all of the above plus the additional eight bonus tracks; "In Your Dreams Kid (I'm Every MC)," "The Ultimate (Original '94 Version)," "...…(dot dot dot…on & on)," "Pffat Time," "Swept Away (Original Draft)," "It's Coming," "Lazy Afternoon (Alternate Version)," and two remix versions of "Distortion To Static."
What made them stand out from other artists who were intertwining hip hop with jazzy influences and prominently using live instrumentation was the Roots' unabashed confidence with experimentation and letting the music speak for itself. As Albumism says, "While the live instrumentation is integral to their artistic success, it is not the sole attraction. Even 25 years ago, Black Thought stood out as a commanding lyricist, as did Malik B, his more publicly reserved rhyme partner. " A quarter of a century after the release of Do You Want More?!!!??, they are still considered to be one of the greatest live acts in the industry and have been named as such by Rolling Stone. They are also the house band on The Tonight Show Starring Jimmy Fallon and served in the same role on Late Night with Jimmy Fallon from 2009 to 2014.
Do You Want More?!!!??! has been considered by critics as a classic of hip-hop-jazz. Chicago Tribune music critic Greg Kot celebrated the group's ability to "mate hip-hop wordplay, funk rhythms and jazzy textures" and called the album "an impressive display of skills, intelligently arranged and performed." In 1998, the album was selected as one of The Source's 100 Best Rap Albums. On November 2, 2015, twenty years after its release, the album was certified Gold. The album stands out from The Roots' iconic discography as it showcased a pioneering live band that put their own spin on a genre that was still coming into its own.
The Roots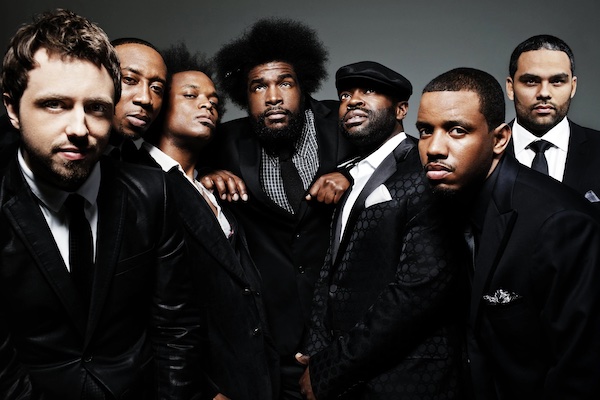 The Roots
are an American hip hop/neo soul band, formed in 1987 by Tariq "Black Thought" Trotter and Ahmir "Questlove" Thompson in Philadelphia, Pennsylvania, United States. The Roots are known for a jazzy and eclectic approach to hip-hop featuring live musical instruments. Malik B., Leonard "Hub" Hubbard, and Josh Abrams were added to the band (formerly named "The Square Roots").
Also known as The Legendary Roots Crew, The Fifth Dynasty, The Square Roots, The Tonight Show Band
Since its first independent album-length release the band has released 10 studio albums, two EPs, two collaboration albums (with other artists), and also collaborated on recordings and in live shows with a wide variety of artists in many musical genres. The Roots served as the house band on NBC's Late Night with Jimmy Fallon from 2009 to 2014, and in the same role (and accompanying show guest artists) on The Tonight Show Starring Jimmy Fallon since 2014. The Roots' work has been consistently met with critical acclaim. ranked the band #7 on its list of the 25 Best Hip-Hop Groups of All-Time, calling them "Hip-hop's first legitimate band."
The Roots originated in Philadelphia with Ahmir "Questlove" Thompson and Tariq "Black Thought" Trotter while they were both attending thePhiladelphia High School for the Creative and Performing Arts. They would busk out on the street corners with Questlove playing bucket drums and Tariq rapping over his rhythms. Their first organized gig was a talent show in 1989 at the school where they used the name Radio Activity, which began a series of name changes that progressed through Black to the Future and then The Square Roots.[3] Prior to the release of Organix, an issue arose with the name. A Philadelphia folk group had claim to the name and to avoid legal wrangling they simply dropped the "Square" aspect and became The Roots in 1992.
Organix was the band's first album, released and sold independently. It was released in 1993. It generated enough industry buzz for offers from music labels, and the band signed with DGC/Geffen. The Roots' first album for DGC, Do You Want More?!!!??!, was released in 1994. It was a moderate hit among alternative music fans due in part to the group's appearance at Lollapalooza. The band performed at theMontreux Jazz Festival that year. Touring guests, beatboxer Rahzel and producer Scott Storch, joined The Roots.
The 1996 release Illadelph Halflife was the group's first album to break the Top 40 on the Billboard 200 chart, spurred in part by MTV's airplay of the video for "What They Do" (a parody of rap video clichés)[5] and "Clones", which was their first single to reach the top five on the rap charts. "What They Do" was also the group's first single to hit the Top 40 of Billboard's charts, reaching a peak of #34. While continuing on the path of live instrumentation, the album's sound was somewhat darker.


Dieses Album enthält kein Booklet