---
Biographie Christoph Sietzen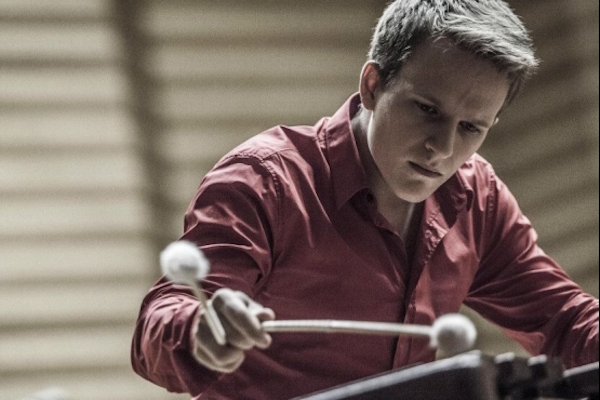 Christoph Sietzen
gehört zu den herausragenden Schlagwerkern seiner Generation. In der Presse als "Ausnahmetalent" und für seine "erfrischende musikantische Natürlichkeit, technische Beherrschung und blendendes Feeling sowie (...) ausgeprägte Bühnenpräsenz" gefeiert, ist er u.a. Preisträger des Internationalen Musikwettbewerbs der ARD sowie "Rising Star" der European Concert Hall Organisation und wird in diesem Rahmen in der Saison 2017/2018 in den bedeutendsten Konzerthäusern Europas konzertieren. Darüber hinaus begann Christoph Sietzen, der im Alter von zwölf Jahren sein Debüt bei den Salzburger Festspielen gab, mit bereits 22 Jahren, an der Universität für Musik und darstellende Kunst Wien zu unterrichten.CS Bio
Der in Salzburg geborene Luxemburger lernte seit seinem sechsten Lebensjahr bei Martin Grubinger sen. und studierte später Marimba bei Bogdan Bacanu und Schlagwerk bei Leonhard Schmidinger und Josef Gumpinger an der Anton Bruckner Privatuniversität Linz, wo er mit Auszeichnung abschloss. Im Laufe seiner Studien widmete sich Christoph Sietzen darüber hinaus seinem Zweitinstrument, dem Kontrabass, sowie dem Cembalo-Spiel, um sich intensiv mit der Musik des Barock auseinandersetzen zu können.
Für Konzertengagements gastierte Christoph Sietzen in einigen der weltweit renommiertesten Konzertsälen, darunter die Philharmonie Luxembourg, das Konzerthaus Wien, das Große Festspielhaus Salzburg, die Suntory Hall Tokyo, das Konzerthaus Berlin, das Athenäum Bukarest und der Herkulessaal in München. Dabei arbeitete er mit künstlerischen Partnern wie dem Symphonieorchester des Bayerischen Rundfunks, dem Mozarteumorchester Salzburg, dem Romanian National Symphony Orchestra, dem Bilkent Symphony Orchestra und dem WDR Funkhausorchester Köln sowie mit Peter Sadlo, Bogdan Bacanu, Martin Grubinger, Emmanuel Séjourné und Momoko Kamiya, aber auch mit Schauspielern wie Oscar-Preisträger Karl Markovics.
Komponisten wie Alexander Mullenbach, Alexander Wagendristel, Jakob Gruchmann und Ivan Boumanns schrieben Werke für Christoph Sietzen. Für seine ECHO "Rising Stars"-Tournee komponiert außerdem Stewart Copeland, Mitbegründer und Drummer von "The Police" sowie Schöpfer von über 60 Kino- und TV-Soundtracks, ein neues Auftragswerk für Christoph Sietzen. Regelmäßig gibt Christoph Sietzen Meisterkurse, die ihn bisher nach Japan, China, Spanien, Portugal, Rumänien und Holland führten.
Bereits als Jugendlicher gewann Christoph Sietzen zahlreiche Wettbewerbe, darunter zehn erste und zahlreiche Sonderpreise des bundesweit ausgetragenen österreichischen Jugendmusikwettbewerbes "prima la musica", den Raiffeisen Klassik Preis der Universität Mozarteum inkl. Sonderpreis für herausragende Leistungen und den dritten Preis der "International Marimba Competition Linz" 2006. Im April 2015 wurde Christoph Sietzen für seine herausragenden Leistungen vom oberösterreichischen Landeshauptmann Dr. Josef Pühringer ausgezeichnet. Internationale Aufmerksamkeit erhielt er außerdem durch einen Auftritt in der arte-Reihe "Stars von morgen" 2016, die von Rolando Villázon präsentiert wird.
Bisherige CD-Veröffentlichungen Christoph Sietzens umfassen die Aufnahmen, an denen er als Mitglied des von Bogdan Bacanu gegründeten Marimba-Ensembles "The Wave Quartet" beteiligt war: So erschien 2008 die Debüt-CD des Ensembles, der bereits 2009 eine Aufnahme mit allen drei Konzerten Johann Sebastian Bachs für zwei Cembali in Bearbeitung für Marimba folgten. Bearbeitungen von Repertoire der Barockzeit sind seit der Gründung des Quartetts wichtiger Bestandteil seines Repertoires und fanden auch Eingang in die dritte Aufnahme des Ensembles, die 2011 erschien. Die im Januar 2016 bei Genuin classics erschienene Einspielung "Loco", mit Bearbeitungen von Werken von Astor Piazzolla, Carlos Gardel und Rodrigo y Gabriela wurde mit dem Supersonic Award ausgezeichnet. Auf der bislang letzten, im November 2016 erschienenen CD "Lauda Concertata" ist ein eigens für das Quartett komponiertes Konzert für Marimba und Orchester zu hören, das im Frühjahr 2017 erstmals im Brucknerhaus Linz live der Öffentlichkeit vorgestellt wird.
Für Herbst 2017 ist bei Sony Classical eine gemeinsame Veröffentlichung mit dem L'Orfeo- Barockorchester geplant, bei der das Quartett erneut das Werk Johann Sebastian Bachs erkunden wird.
Christoph Sietzens erste Solo-CD "Attraction" erscheint im Juni 2017 beim Label Genuin classics. Es enthält Werke von Xenakis, Pärt, Psathas, Hamilton und Thomas sowie eine Ersteinspielung von Séjourné, deren Widmungsträger Christoph Sietzen ist.
Christoph Sietzen ist Endorser des holländischen Instrumentenbauers Adams Musical Instruments.
Christoph Sietzen
is one of the outstanding percussionists of his generation. Acclaimed by the press as a "rare talent" and praised for his "refreshing musical naturalness, technical mastery and dazzling feeling as well as ... powerful stage presence," he was a prize winner at, among others, the International ARD Music Competition in Munich, named a Rising Star by the European Concert Hall Organisation and will perform at the most important concert halls in Europe during the 2017/2018 season. After making his debut at the Salzburg Festival as a twelve-year-old, Christoph Sietzen already began to teach at the University of Music and Performing Arts Vienna when only 22.
Born into a Luxembourgian family in Salzburg in 1992, Christoph Sietzen studied marimba with Bogdan Bacanu and percussion with Leonhard Schmidinger and Josef Gumpinger at the Anton Bruckner Private University Linz, where he earned a Master's degree with highest honors. In order to immerse himself in the study of Baroque music, Christoph Sietzen also studied string bass and harpsichord.CS Bio
Christoph Sietzen has appeared as a guest artist at several of the world's most important concert halls, among them the Philharmonie Luxembourg, the Vienna Konzerthaus, the Salzburg Festival hall, Suntory Hall Tokyo, Berlin's Konzerthaus, the Romanian Athenaeum in Bucharest and at Munich's Herkulessaal. He performed with orchestras such as the Bavarian Radio Symphony Orchestra, the Mozarteumorchester Salzburg, the Romanian National Symphony Orchestra, the Bilkent Symphony Orchestra and Cologne's WDR Funkhausorchester and with fellow concert artists Peter Sadlo, Martin Grubinger, Bogdan Bácanu, Emmanuel Séjourné and Momoko Kamiya.

Christoph Sietzen has won many competitions, including ten First Prizes and many Special Prizes at Austria's youth music competition "prima la musica," the Raiffeisen Classic Award of the Mozarteum,including a Special Achievement Prize, and Third Prize at the 2006 International Marimba Competition. In 2016, he also gained international recognitionby appearing on the "Stars of Tomorrow" show hosted by Rolando Villázon on arte.
Composers such as Alexander Mullenbach, Alexander Wagendristel, Jakob Gruchmann and Ivan Boumanns have dedicated compositions to Christoph Sietzen. The co-founder and drummer of the band The Police, Stewart Copeland, who has also created over 60 TV and movie soundtracks, has been commissioned to compose a new work for Christoph Sietzen to perform on his ECHO Rising Stars concert tour. Christoph Sietzen regularly teaches master classes as far afield as Japan, China, Spain, Portugal, Romania and Holland.

His discography includes recordings as a member of The Wave Quartet marimba ensemble beginning with the ensemble's debut CD released in 2008, followed in 2009 by a recording of all three concertos for two harpsichords by Johann Sebastian Bach arranged for marimba. Arrangements of Baroque works have played an important part in the repertoire of The Wave Quartet and were also included in the third recording by the ensemble released in 2011. Winner of the Supersonic Award, the CD Loco was released on GENUIN classics in 2016 and features arrangements of works by Astor Piazzolla, Carlos Gardel and Rodrigo y Gabriela. The November 2016 release, Lauda Concertata, includes a concerto for marimba and orchestra composed especially for the quartet, which was given its premiere performance at the Brucknerhaus Linz in the spring of 2017. In the end of 2017 Sony Classical will release the quartet's recording of Bach harpsichords concerti with the L'Orfeo Barockorchester and Michi Gaigg.
His solo debut CD, including world premiere recordings of Arvo Pärt and Emmanuel Séjourné, will be released in June 2017 on Genuin classics.
Christoph Sietzen is an endorser of the Dutch instrument maker Adams Musical Instruments.