---
Biographie Flogging Molly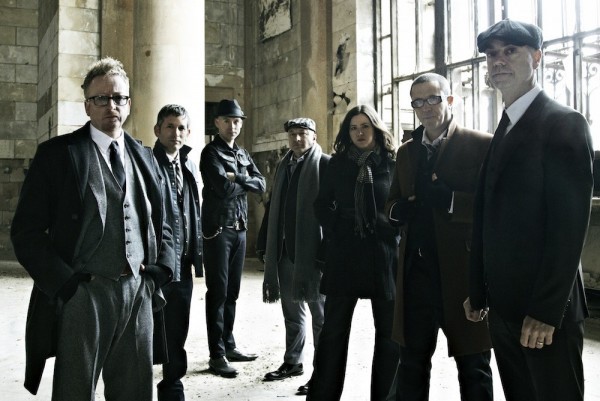 Flogging Molly
What makes a band truly remarkable? Insightful lyrics? Memorable melodies? Blow-your-mind live performances? The truth is that it takes all of those things along with a boundless enthusiasm, an infectious energy and a supreme devotion to the fans. With this rare combination, a band may ascend past "good," "or even the record industry?s Holy Grail," marketable" and reach sublime. Drawing on the hardships and joys of their own lives and a musical history ranging from old world Celtic to modern day punk rock, the seven members of Flogging Molly do just that, and they do it with a charm and an ease that makes them one of the most accessible bands performing today.
We're not a traditional band, explains Dublin born singer/songwriter, Dave King. "We are influenced by traditional music and inspired by it, and we put our own little twist on it."
Founded in Los Angeles in 1997 by the expatriate King, Flogging Molly got its start and its name from a local bar called Molly Malone?s where the band played and grew and laid down the blueprint for its eventual success. As every member of Flogging Molly will emphatically explain, there were no predetermined expectations for the band?s sound. From night to night playing to a packed house at Molly Malone's, the sound evolved organically. Traditional Celtic instruments like violin, mandolin and accordion blended seamlessly with grinding guitars and pounding drums. Without consciously attempting it, Flogging Molly merged the music of King's childhood in Dublin with the music of his adulthood in L.A.
"If it didn?t have mandolin, accordion, fiddle and whistle, it would be punk rock, and if it didn't have guitar, bass and drums, it would be traditional Irish music," King admits.
With a sound anchored in such diverse influences and with band members ranging in age from their 20s to their 40s a decidedly non-MTV-friendly demographical mix, Flogging Molly was not embraced by the mainstream music industry. The band simply didn?t fit any preconceived notions of what a "successful" band was. Not deterred in the least, Flogging Molly embraced a DIY philosophy. Their amazing work ethic and rapidly growing fan base led them to DIY-style record label, Side One Dummy, and the two fit hand in glove.
In 2000, their Side One Dummy debut, Swagger, featuring the anthemic ?The Likes of You Again? and ?Black Friday Rule? along with the best ode to a hangover yet, "The Worst Day Since Yesterday" (which later found its way into the Angelina Jolie-Brad Pitt film, Mr. and Mrs. Smith), obliterated initial expectations before Flogging Molly headed back into the studio to record their 2002 follow up, Drunken Lullabies, which included instant classics like the rousing ?Rebels of the Sacred Heart? and the doleful ?The Son Never Shines (on Closed Doors). "2004's Within a Mile of Home once more showcased the band?s ability to play driving rock and roll on one track then slide effortlessly into lilting, pastoral harmonies on the next and contained a beautiful duet between King and Lucinda Williams on "Factory Girls."
To date, in the United States alone, Swagger has sold 269,752 copies, Drunken Lullabies is at 428,811 sold, Within A Mile of Home has scanned an impressive 316,435 and Whiskey on a Sunday, the band?s DVD has sold 85,913 copies. The band continues to bring in weekly sales on their back catalogue with numbers well into the thousands.
Flogging Molly?s latest album, Float, recorded in King's native Ireland, delivers still another iteration of the band?s sonic evolution. More mature yet retaining the immediacy that marks all of their work, Float may find the widest audience acceptance of any Flogging Molly album. Hard charging tunes "Paddy's Lament and You Won't Make a Fool Out of Me? give way, as listeners have come to expect, to more sober ruminations on tracks like "Float." The overall effect is a symphonic layering of sound that possesses a unique rhythmic flow from boisterous to bereaved and back again. Long time fans and new discoverers will be equally astounded.
First, last and always a live band, Flogging Molly tours quite a bit more than the average group. On the road seemingly at all times, the band is a regular on the Warped Tour. Even still, their fans can?t get enough. People traveled from all over the country to catch them playing with another Celtic-rock powerhouse, Dropkick Murphys, in Philadelphia in September 2007. Flogging Molly's annual Green 17 Tour begins 2008?s St. Patrick's Day celebration on February 1st ? because you can never get an early enough start on St. Patrick's Day and will take the band to 30 cities for a total of 34 shows before it?s over. For Flogging Molly, the contact with their fans is essential.
"I feel as good about meeting [the fans] as they feel about meeting me," says bassist Nathen Maxwell, "because they're just as happy as I am.
Spend 10 minutes in a room with the members of Flogging Molly, and you will have no doubt about their passion for their music. As mandolin and banjo player Bob Schmidt describes it, "We're deadly serious about what we do. As much as it?s a good time and a fun thing, it's no joke to us." Guitarist Dennis Casey echoes that sentiment, saying, "I just give it all I've got because I just believe in it that much."
Flogging Molly isn?t a mere band, they're a seven member nuclear family. They are as devoted to one another as they are to the music they create. It's no wonder their extended family the legion of loyal Flogging Molly fans ? keeps growing every day.