---
Biographie Norma Winstone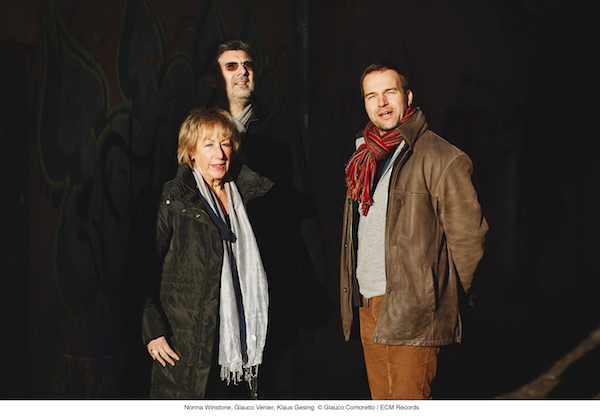 Norma Winstone
long-established as Britain's most distinctive jazz singer, came to ECM in 1977 as a member of the Azimuth trio with John Taylor and Kenny Wheeler, recording five albums for the label with this formation: "Azimuth", "The Touchstone", "Départ", "Azimuth '85" and "How it was then...never again" (the first three of these were reissued as a box set in 1994). She also appears on Kenny Wheeler's "Music For Large And Small Ensembles" (1990), Eberhard Weber's "Fluid Rustle" (1979) and on her own "Somewhere Called Home" (1986), accompanied by John Taylor and Tony Coe. Glauco Venier graduated in organ and composition from the Udine Conservatory in 1985, then took private lessons with Franco d'Andrea before heading to Boston's Berklee School. He has led his own bands since 1990 and played with a wide cross section of Italian and international musicians including Enrico Rava, Lee Konitz, Kenny Wheeler, Joey Baron, Paolo Fresu and dozens more.
Winstone / Gesing / Venier
Her current group is a trio featuring Italian pianist Glauco Venier and German saxophonist/ bass clarinetist Klaus Gesing.
The trio was formed around twelve years ago when Glauco and Klaus, who were playing as a duo at the time, asked Norma to guest with them at a concert near Udine, in Northern Italy, Glauco's home town. A rapport between the three was immediately apparent. She realised that this was a group that had a very original sound which she wanted to develop. They made their first recording 'Chamber Music', released by Universal, Austria, at the Artesuono Recording Studios in Udine in 2002. This is where they subsequently recorded their ECM album 'Distances', which was given a four and a half star review in Downbeat Magazine, had wonderful reviews in the German and English press.