---
Tokyo String Quartet, Jon Nakamatsu & Jon Manasse
---
Biographie Tokyo String Quartet, Jon Nakamatsu & Jon Manasse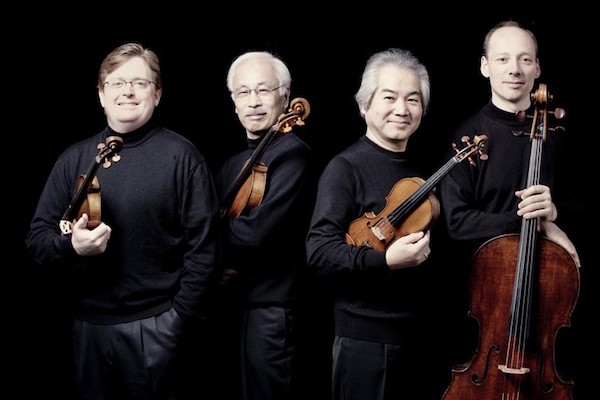 Tokyo String Quartet
After 43 seasons, the Tokyo String Quartet announced that 2012-2013 will be their last. Their last concert took place in Norfolk, Ct., on July 6th, 2013.
Regarded as one of the supreme chamber ensembles of the world, the Tokyo Quartet—Martin Beaver and Kikuei Ikeda (violins), Kazuhide Isomura (viola) and Clive Greensmith (cello)—has collaborated with a remarkable array of artists and composers, built a comprehensive catalogue of critically acclaimed recordings and established a distinguished teaching record. Performing over a hundred concerts worldwide each season, the quartet has a devoted international following across the globe.
For the Tokyo's farewell season, preparations were made in every hall to properly celebrate what has been, for audiences in the U.S. and abroad, an extended love affair with the quartet. Many venues have presented the Tokyo since the early days "when four young musicians took the classical music world by storm."
North American tours included cities such as San Francisco, Raleigh, Cincinnati, Cleveland, Tulsa, Miami, Kalamazoo, Seattle, Portland and Philadelphia, and Canadian venues in Toronto, Ottawa, Calgary, Kelowna, Montreal and Edmonton.
For their final season in Europe, the Tokyo Quartet toured international cities such as Vienna, Copenhagen, London, Amsterdam, Zurich, Paris and Rome as well as Moscow and Warsaw. They performed the Schubert Cello Quintet with Gary Hoffman in Madrid and with David Watkin in Florence; the Brahms Piano Quintet with Javier Perianes in Spain; and the Mozart String Quintet with violist Gil Sharon in The Netherlands.
Nippon Music Foundation hosted the quartet in Encounter with Stradivari 2012, featuring 10 Stradivaris in concert at Fukuoka Symphony Hall, Hyogo Performing Arts Center and Suntory Hall. The "Farewell Tour" in Japan took place in May, 2013, with concerts in Musashino, Tokyo's Oji Hall and Tokyo Opera City. This was followed by an extensive tour of Australia and New Zealand with presenters Musica Viva and Chamber Music New Zealand.
The members of the Tokyo Quartet had served on the faculty of the Yale School of Music as quartet-in-residence since 1976. Deeply committed to coaching young string quartets, they conducted master classes in North America, Europe and the Far East.
The Tokyo String Quartet has released more than 40 landmark recordings on Harmonia Mundi, BMG/RCA Victor Red Seal, Angel-EMI, CBS Masterworks, Deutsche Grammophon and Vox Cum Laude, including the complete quartets of Beethoven, Schubert and Bartók. The quartet's recordings of Brahms, Debussy, Dvorák, Haydn, Mozart, Ravel and Schubert have earned such honors as the Grand Prix du Disque Montreux, "Best Chamber Music Recording of the Year" awards from both Stereo Review and Gramophone magazines and seven Grammy nominations.
Last season, the ensemble's exclusive Harmonia Mundi label produced Schubert's String Quintet in C Major with cellist David Watkin, which was named an "Outstanding" Recording by the International Record Review. For the Tokyo's final season, Harmonia Mundi released Brahms' beloved piano and clarinet quintets performed with Jon Nakamatsu and Jon Manasse, and in May 2013 released a disc featuring Czech composers Dvorák and Smetana.
The ensemble performed for 18 years on the "Paganini Quartet", a group of renowned Stradivarius instruments named for legendary virtuoso Niccolò Paganini, who acquired and played them during the 19th century. The instruments, recently returned on the dissolution of the quartet, had been on loan to the quartet from the Nippon Music Foundation since 1995, when they were purchased from the Corcoran Gallery of Art in Washington, D.C.
Officially formed in 1969 at the Juilliard School of Music, the Tokyo Quartet traces its origins to the Toho School of Music in Tokyo, where the founding members were profoundly influenced by Professor Hideo Saito. Soon after its formation, the quartet won First Prize at the Coleman Competition, the Munich Competition and the Young Concert Artists International Auditions. An exclusive contract with Deutsche Grammophon firmly established it as one of the world's leading quartets.
Jon Nakamatsu
Since winning the Gold Medal at the 1997 Van Cliburn International Piano Competition, Jon Nakamatsu tours year-round working with many of today's leading conductors and orchestras, and appears in recital and chamber collaborations at festivals and music centers worldwide. Together with the renowned clarinetist Jon Manasse, Mr. Nakamatsu regularly tours as a member of the Manasse/Nakamatsu Duo. The Duo also serves as Artistic Directors of the esteemed Cape Cod Chamber Music Festival, founded by pianist Samuel Sanders in 1979. Mr. Nakamatsu is a frequent guest with ensembles such as the Emerson, Tokyo, Prazak, Escher, Jupiter and Ying String Quartets. He has also toured extensively with the Berlin Philharmonic Wind Quintet.
Named Debut Artist of the year by NPR's Performance Today, Mr. Nakamatsu has been profiled by CBS Sunday Morning, Reader's Digest and is featured in Playing with Fire, a documentary about the Tenth Van Cliburn International Piano Competition. He records exclusively for harmonia mundi usa, which has released 13 CDs to great critical acclaim. His recording of Gershwin's Concerto in F and Rhapsody in Blue with the Rochester Philharmonic remained on top of Billboard's classical charts for nearly six months. Mr. Nakamatsu's CD of the Brahms Clarinet Sonatas with clarinetist Jon Manasse was selected by the New York Times as among its top classical recordings for 2008.
Jon Nakamatsu studied privately with Marina Derryberry since the age of six, has worked with Karl Ulrich Schnabel, and studied composition and theory with Dr. Leonard Stein of the Schoenberg Institute at the University of Southern California. A former high school German teacher, Mr. Nakamatsu is a graduate of Stanford University and holds a bachelor's degree in German Studies and a master's degree in Education. In 2015, Mr. Nakamatsu joined the adjunct faculty at the San Francisco Conservatory of Music. Mr. Nakamatsu has served on multiple international piano competition juries, and has also been invited as guest speaker at numerous institutions including the Van Cliburn Foundation, Stanford University and the Juilliard School.
Jon Manasse
Among the most distinguished classical artists of his generation, clarinetist Jon Manasse is internationally recognized for his inspiring artistry, uniquely glorious sound and charismatic performing style.
Recent season highlights include return performances with the Seattle Symphony Orchestra and debuts with the Baltimore Symphony Orchestra, Erie Philharmonic, The Chappaqua Orchestra, Montana's Missoula Symphony Orchestra and Oregon's Rogue Valley Symphony. With pianist Jon Nakamatsu, he continues to tour throughout the United States as half of the acclaimed Manasse/Nakamatsu Duo. The Duo's activities include the world premiere performances of Paquito D'Rivera's The Cape Cod Concerto with Symphony Silicon Valley, conducted by Leslie B. Dunner.
Jon Manasse's solo appearances include New York City performances at Lincoln Center for the Performing Arts' Avery Fisher Hall and Alice Tully Hall, Hunter College's Sylvia & Danny Kaye Playhouse, Columbia University, Rockefeller University and The Town Hall, fourteen tours of Japan and Southeast Asia – all with the New York Symphonic Ensemble, debuts in Jerusalem, Tel Aviv, and Osaka and concerto performances with Gerard Schwarz and the Mostly Mozart Festival Orchestra, both at Lincoln Center's Avery Fisher Hall and at the prestigious Tokyu Bunkamura Festival in Tokyo. With orchestra, he has been guest soloist with the Augsburg, Dayton, Evansville, Naples and National philharmonics, Canada's Symphony Nova Scotia, the National Chamber Orchestra and the Alabama, Annapolis, Bozeman, Dubuque, Florida West Coast, Green Bay, Indianapolis, Jackson, Oakland East Bay, Pensacola, Princeton, Richmond, Seattle, Stamford and Wyoming symphonies, under the batons of Leslie B. Dunner, Peter Leonard, Eckart Preu, Matthew Savery, Alfred Savia and Lawrence Leighton Smith. Of special distinction was Mr. Manasse's 2002 London debut in a Barbican Centre performance of Mozart's Clarinet Concerto with Gerard Schwarz and the Academy of St. Martin in the Fields.
During the 2009-2010 season, Jon Manasse gave the world premiere performances of Lowell Liebermann's Concerto for Clarinet & Orchestra with the Dayton Philharmonic Orchestra, under the baton of Music Director Neal Gittleman – performances that were recorded for commercial CD release. Subsequent performances included those with the symphony orchestras of Evansville, Juneau, Las Cruces, North State (CA), Roanoke and the University of Massachusetts.
An avid chamber musician, Jon Manasse has been featured in New York City programs with The Chamber Music Society of Lincoln Center and at Carnegie Hall's Weill Recital Hall, Alice Tully Hall, Walter Reade Theatre (on Lincoln Center's "Great Performers Series"), The Sylvia & Danny Kaye Playhouse and Merkin Concert Hall; at the Aspen Music Festival, Caramoor International Music Festival, Colorado Springs Music Festival, Newport Music Festival, Sarasota Music Festival and France's Festival International des Arts, as well as the chamber music festivals of Bridgehampton, Cape and Islands, Crested Butte, Georgetown, St. Bart's, Seattle and Tucson. He has also been the guest soloist with many of the leading chamber ensembles of the day, including The Amadeus Trio and Germany's Trio Parnassus and the American, Borromeo, Colorado, Lark, Manhattan, Moscow, Orion, Rossetti, Shanghai, Tokyo and Ying String Quartets, and has collaborated with violinist Joshua Bell and pianist Jon Nakamatsu. ...