---
Biographie Marie-Sophie Talbot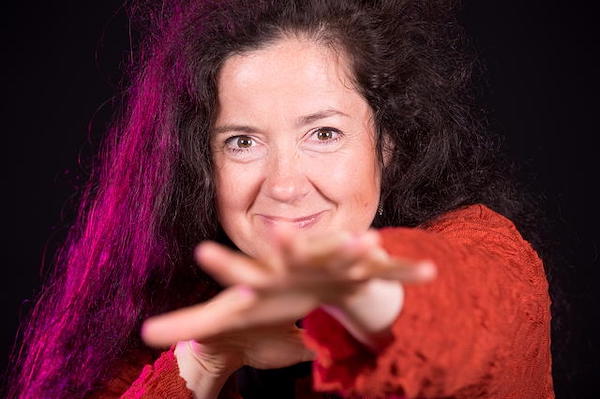 Marie-Sophie Talbot
Born in 1966, Marie-Sophie obtained a bachelor's degree in musicology (with honors) from Louvain-la-Neuve. Among her musical accomplishments, one can cite: a music therapy training at Aream, two years at the Antwerp Jazz Studio with Diedierick Wissels and David Linx, a first prize for improvisation in Garrett List's class in the Liege Conservatory, several years of piano and jazz singing at the Brussels Conservatory with Judy Niemack and Eric Legnini, a training in rhythm given by Arnould Massart, traineeships in Afro-Cuban, Eastern and jazz percussion…
Following her training in France with Laurence Saltiel, Eric Trémolières, and Eduardo Lope, she taught jazz singing, improvisation and rhythm, along with directing and supervising musical projects, choirs and vocal ensembles. She accompanied artists from different cultures (Czech, Italian), became a theater actress (for youngsters with Coâ and Chat va Jazzer, and for a more adult crowd with Greek and Stabat mater furiosa). She was the singer for the group Urban trad up through their participation in the 2003 Eurovision contest. She danced and sang for the show "A corps et cris,"composed theater, film, incidental music, recorded a first CD of original compositions with her trio Tangram (1997), played on other recordings, and then released a CD of original songs, "Prête" (2008) under her own name. She toured in support of the album as a duo, with Marie-Eve Ronveaux on cello.
She played and arranged the music from the show "A mi chemin" (2005-2008). She arranged, re-arranged, and deranged compositions from three musical legends: Brel, Barbara and Brassens, in the show "BBB." She recently created a new course on musical creation with Hughes Maréchal for the Ateliers Chanson workshops. Along with Geneviève Laloy, she directed "Gam(m)mes", the new show by the vocal ensemble Méli-Mélo. She has composed and arranged songs for Cristina Marchi in la Cucina Italiana.
In the future, she plans to work on different theater projects, polymorphous shows, concerts, and the creation of a Francophone Belgian vocal sextet. All this after having played, sung, danced, composed, arranged and directed in countries ranging from France to Wales, passing by Syria, Lebanon, Canada, Senegal, Morocco, Tunisia, Switzerland, Bolivia, and after having played with musicians from different cultures and styles.