---
Album Info
Album Veröffentlichung:
2022
HRA-Veröffentlichung:
07.07.2022
Das Album enthält Albumcover Booklet (PDF)
Antonio Vivaldi (1678 - 1741): Violin Concerto in E Major, RV 269 "La primavera":

1

Vivaldi: Violin Concerto in E Major, RV 269 "La primavera": I. Allegro

02:53

2

Vivaldi: Violin Concerto in E Major, RV 269 "La primavera": II. Largo e pianissimo sempre

02:11

3

Vivaldi: Violin Concerto in E Major, RV 269 "La primavera": III. Allegro pastorale

03:27

Violin Concerto in G Minor, RV 315 "L'estate":

4

Vivaldi: Violin Concerto in G Minor, RV 315 "L'estate": I. Allegro non molto

05:18

5

Vivaldi: Violin Concerto in G Minor, RV 315 "L'estate": II. Adagio e piano - Presto e forte

02:12

6

Vivaldi: Violin Concerto in G Minor, RV 315 "L'estate": III. Presto

02:27

Violin Concerto in F Major, RV 293 "L'autunno":

7

Vivaldi: Violin Concerto in F Major, RV 293 "L'autunno": I. Allegro

04:44

8

Vivaldi: Violin Concerto in F Major, RV 293 "L'autunno": II. Adagio molto

02:16

9

Vivaldi: Violin Concerto in F Major, RV 293 "L'autunno": III. Allegro

03:00

Violin Concerto in F minor, RV 297 "L'inverno":

10

Vivaldi: Violin Concerto in F minor, RV 297 "L'inverno": I. Allegro non molto

02:57

11

Vivaldi: Violin Concerto in F minor, RV 297 "L'inverno": II. Largo

02:04

12

Vivaldi: Violin Concerto in F minor, RV 297 "L'inverno": III. Allegro

02:52

Astor Piazzolla (1921 - 1992): Las Cuatro Estaciones Porteñas (Arr. for Solo Violin and String Orchestra by Leonid Desyatnikov):

13

Piazzolla: Las Cuatro Estaciones Porteñas (Arr. for Solo Violin and String Orchestra by Leonid Desyatnikov): I. Otoño Porteño

08:14

Las Cuatro Estaciones Porteñas:

14

Piazzolla: Las Cuatro Estaciones Porteñas: II. Invierno Porteño

07:17

Las Cuatro Estaciones Porteñas (Arr. for Solo Violin and String Orchestra by Leonid Desyatnikov):

15

Piazzolla: Las Cuatro Estaciones Porteñas (Arr. for Solo Violin and String Orchestra by Leonid Desyatnikov): III. Primavera Porteña

06:08

16

Piazzolla: Las Cuatro Estaciones Porteñas (Arr. for Solo Violin and String Orchestra by Leonid Desyatnikov): IV. Verano Porteño

06:35

Max Richter (b. 1966): Recomposed by Max Richter. Vivaldi - The Four Seasons:

17

Richter: Recomposed by Max Richter. Vivaldi - The Four Seasons: I. Spring 1

02:42

18

Richter: Recomposed by Max Richter. Vivaldi - The Four Seasons: II. Spring 2

03:29

19

Richter: Recomposed by Max Richter. Vivaldi - The Four Seasons: III. Spring 3

03:28

20

Richter: Recomposed by Max Richter. Vivaldi - The Four Seasons: IV. Summer 1

03:41

21

Richter: Recomposed by Max Richter. Vivaldi - The Four Seasons: V. Summer 2

03:57

22

Richter: Recomposed by Max Richter. Vivaldi - The Four Seasons: VI. Summer 3

03:27

23

Richter: Recomposed by Max Richter. Vivaldi - The Four Seasons: VII. Autumn 1

05:44

24

Richter: Recomposed by Max Richter. Vivaldi - The Four Seasons: VIII. Autumn 2

02:46

25

Richter: Recomposed by Max Richter. Vivaldi - The Four Seasons: IX. Autumn 3

01:29

26

Richter: Recomposed by Max Richter. Vivaldi - The Four Seasons: X. Winter 1

03:07

27

Richter: Recomposed by Max Richter. Vivaldi - The Four Seasons: XI. Winter 2

03:03

28

Richter: Recomposed by Max Richter. Vivaldi - The Four Seasons: XII. Winter 3

04:55

Philip Glass (b. 1937): Violin Concerto No. 2, "The American Four Seasons":

29

Glass: Violin Concerto No. 2, "The American Four Seasons": I. Prologue

01:39

30

Glass: Violin Concerto No. 2, "The American Four Seasons": II. Movement 1

06:26

31

Glass: Violin Concerto No. 2, "The American Four Seasons": III. Song No. 1

03:51

32

Glass: Violin Concerto No. 2, "The American Four Seasons": IV. Movement 2

10:40

33

Glass: Violin Concerto No. 2, "The American Four Seasons": V. Song No. 2

01:52

34

Glass: Violin Concerto No. 2, "The American Four Seasons": VI. Movement 3

06:38

35

Glass: Violin Concerto No. 2, "The American Four Seasons": VII. Song No. 3

03:37

36

Glass: Violin Concerto No. 2, "The American Four Seasons": VIII. Movement 4

07:49

Total Runtime

02:28:55
Info zu Sixteen Seasons
Nach ihrer Wiederentdeckung in der zweiten Hälfte des 20. Jahrhunderts sind die Vier Jahreszeiten von Vivaldi so populär geworden, dass sie zum Vorbild für ähnliche Sammlungen geworden sind, die dasselbe Thema haben, ähnliche Instrumentalbesetzungen verwenden und oft in Auftrag gegeben werden, um neben dem Original gespielt zu werden.
Anlässlich des dreißigsten Todestages von Astor Piazzolla (4. Juli 1992) erscheinen mit Sixteen Seasons zum ersten Mal die vier berühmtesten Vier Jahreszeiten auf Schallplatte: neben Vivaldis italienischen Konzerten also auch die argentinischen Cuatro Estaciones Porteñas von Piazzolla (in der Fassung von Leonid Desyatnikov, einem Komponisten ukrainischer Herkunft), The American Four Seasons von Philip Glass und die "Vivaldi-Rekompositionen" des Briten Max Richter. Durch diese Jahreszeiten, die sich über verschiedene Kontinente, Klimazonen und Musikstile erstrecken, führt das Concerto Mediterraneo, ein Ensemble, das sich aus Musikern aus ganz Italien zusammensetzt und von Gianna Fratta geleitet wird, während sich der vielseitige Alessandro Quarta die Rolle des Geigensolisten mit Dino De Palma teilt.
Die Anmerkungen des Historikers Alessandro Vanoli und des Meteorologen Luca Mercalli vervollständigen ein Projekt, das auch eine Reflexion über die tiefgreifende Beziehung zwischen dem Menschen und dem Wechsel der Jahreszeiten und die Rolle des Klimawandels von Vivaldis Zeit bis heute darstellt.
Alessandro Quarta, Solo Violine
Dino de Palma, Solo Violine
Concerto Mediterraneo
Gianna Fratta, Dirigent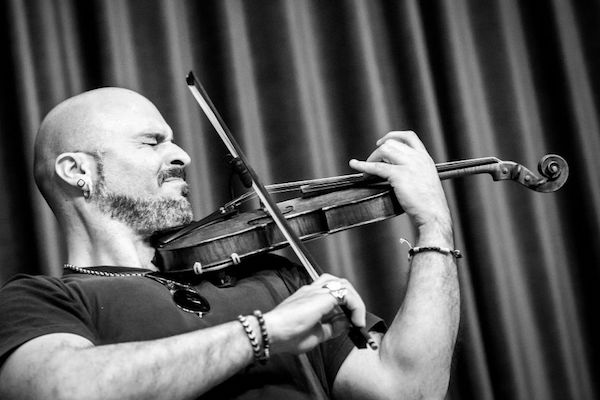 Alessandro Quarta
played the violin as a backing artist, soloist, jazz and arrangement violinist with various artists such as: Carlos Santana, Laura Pausini, Lucio Dalla, Mark Knopfler, Eros Ramazzotti, Antonello Venditti, Boy George, Dionne Warwick, Henri Salvador, Fiorella Mannoia, Francesco De Gregori, Adriano Celentano, Shakira, Riccardo Cocciante, Lionel Richie, Celine Dion, Gianni Morandi, Liza Minnelli, Renato Zero, Andrea Bocelli, Gianna Nannini, Zucchero, Joe Cocker, Tiziano Ferro, Lenny Kravitz, Jovanotti, Amy Stewart and Robbie Williams.
From 2005 to 2008 Alessandro Quarta played as the second and first violinist with the Toscanini Symphonic Orchestra under the direction of Lorin Maazel as well as in some of the most important theaters in the world under the direction of Maestri E. Inbal, C. Dutoit, M. Rostropovich, M.W. Chung, G. Pretre, Y. Temirkanov, K. Masur, Z. Metha.
The project which made Alessandro Quarta famous worldwide is his arrangement and performance on "Astor Piazzolla". He recorded "Alessandro Quarta plays Astor Piazzolla" with the german producers team of IAN-Productions who have already been involved in numerous surround productions, including Grammy nominations and prizes. They are among the best producers in the world regarding 3D immersive sound. The album is one of the first jazz albums in the world to be recorded in 3D immersive.
Alessandro Quarta plays a "Giovanni Battista Guadagnini" violin of 1761.
Dino de Palma
achieved the diploma in violin at the Frosinone Conservatory of music with full marks and honours (10/10 and lode), the diploma in viola at the Bari Conservatory of music with full marks (10/10) and he is graduated as bachelor of Arts with a major in fine art, music and drama from the Roma Tor Vergata University with full marks and honours (110/110 and lode).
First violin of the Solisti Dauni for over fifteen years, De Palma toured abroad and gave concerts in important Italian locations, as well as numerous records and premier performances worldwide. First violinist of the Petruzzelli Theatre Orchestra from Bari, the Marchigiana Philharmonic Orchestra, the Chamber Orchestra of Bologna, the Umberto Giordano symphonic Orchestra, the Daunia Philharmonic Orchestra, he also collaborated with the symphonic orchestras of RAI in Rome, Turin and Naples, Royal Theatre of Parma, the Fenice in Venice and with the chamber group "I Solisti Aquilani" with which he went on tours abroad (Germany, Spain, Turkey, Egypt, etc.) and he played numerous concerts during the four years of collaboration. He collaborates with the chamber group "The Philharmonics of Rome" already known as the "Chamber orchestra of Saint Cecilia" with which he performs many concerts with Uto Ughi in various tours in Italy and abroad (Spain, Malta, Japan, etc.) and he is a violinist of the group "I solisti di Pavia" directed by Enrico Dindo with which he went on important tours that brought him to perform in Moscow, St. Petersburg, Vilnius, New York and other capital cities.
At the same time De Palma carries out many activities as soloist and in this role he has played for important concert societies in Italy and abroad (Australis, Taiwan, Turkey, Sweden, Lithuania, India, France, Japan, Korea and other nations), playing with many orchestras all over the world the most important pieces of the repertoire for violin and orchestra. As soloist he performed in very important concerts halls such as Carnegie Hall in New York, Smethana Hall in Prague, Seoul Art Center in South Korea, Coliseum Theatre in Buenos Aires etc.
For cinema he collaborates with musicians such as Morricone, Bacalov, Piovani together with which he realised soundtracks for movies by Oliver Stone, Warren Beatty, the Taviani brothers, Adrian Lyne, Pupi Avati and many other film writers. He has toured with prestigious people such as Jerry Lewis, Bart Bacarach, Liza Minnelli, Andrea Bocelli, Placido Domingo and others. He also collaborated with the Festival di Umbria Jazz playing with Charlie Haden. He has recorded for BMG, Bongiovanni in Bologna, Velut Luna from Padua and many other Italian record companies. In the next future he will play in U.S.A., Europe, Japan and Korea as soloist with many orchestras.
De Palma is a violin professor at the Conservatory "U. Giordano" in Foggia and visiting professor at the University of Sungshin in Seoul (Korea) for master classes in violin and chamber music.


Booklet für Sixteen Seasons