---
Album Info
Album Veröffentlichung:
2023
HRA-Veröffentlichung:
10.03.2023
Das Album enthält Albumcover
Daniel Ferreira, António Carlos Costa: Moinho:

1

Ferreira, Costa: Moinho

05:50

Arnold Marinissen: Hungry, Thirsty:

2

Marinissen: Hungry, Thirsty

07:31

Daniel Ferreira, Carlos Paredes: Sede e morte:

3

Ferreira, Paredes: Sede e morte

03:32

Nuno Lobo (b. 1996): Pantomima:

4

Lobo: Pantomima

08:46

Daniel Ferreira, António Carlos Costa: Renascer:

5

Ferreira, Costa: Renascer

03:30

Hugo Correia: Swingando Saudade:

6

Correia: Swingando Saudade

09:18

Daniel Ferreira, Carlos Paredes: Verdes Anos:

7

Ferreira, Paredes: Verdes Anos

06:32

Daniel Ferreira, António Carlos Costa: Incerteza:

8

Ferreira, Costa: Incerteza

04:34

Daniel Ferreira, Carlos Paredes: Fado Moliceira:

9

Ferreira, Paredes: Fado Moliceira

05:36

Alejandro Erlich Oliva: Tributo a Carlos Paredes:

10

Oliva: Tributo a Carlos Paredes

04:39

Total Runtime

59:48
Info zu Renascer
A unique combination of saxophone quartet and guitar consisting exclusively of Portuguese musicians. Of course the Fado, a Portuguese music genre, should not be missing!
"Renascer" is a new collaboration project of Maat Saxophone Quartet and the guitarist António Carlos Costa, where the Portuguese musical genre Fado is explored on an unusual instrumentation: saxophone quartet and Portuguese guitar.
Being Fado one of the biggest cultural representations of this country, the idea of putting together the already usual Portuguese guitar with the saxophone quartet came across quite natural and spontaneously. From there surges the invitation to António Carlos Costa, with whom Maat coincided in the city of Amsterdam.
António Carlos Costa is a former student of the University of Coimbra, and as someone who deprived with the traditional Fado from that city, the project will highlight the Fado of Coimbra. Songs from the iconic guitar player Carlos Paredes will be revisited, which are mostly only instrumental, as original themes from Costa, some of them exclusively composed for this project, and all the arrangements are made by the saxophonist/arranger Daniel Ferreira. In addition, new contemporary works will be presented by Maat Saxophone Quartet. Works by Arnold Marinissen and Nuno Lobo written for Maat and inspired on songs by Paredes will be presented.
"Renascer" is an original song from Costa, which means "Reborn", and gives name to a project where a new life is given to such a Portuguese musical genre, on a full Portuguese collaboration.
Maat Saxophone Quartet:
Daniel Ferreira, soprano saxophone
Catarina Gomes, alto saxophone & singer (9)
Pedro Silva, tenor saxophone Mafalda Oliveira, baritone saxophone & poem reciter (8)
António Carlos Costa, Portuguese guitar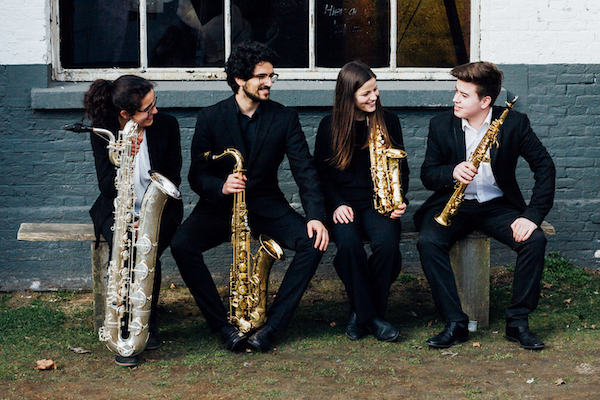 Maat Saxophone Quartet
is a 100% Portuguese ensemble. ​
Prize-winners of the most prestigious classical music competition in Portugal "Prémio Jovens Músicos" (2018), the ensemble combines four musicians from the same country and is based in Amsterdam, Netherlands. ​
With an ongoing activity, this young quartet already established itself as one of the main young chamber music groups in Netherlands and Portugal, having performed Het Concertgebouw Amsterdam, TivoliVredenburg Utrecht, Muziekgebouw Eindhoven, Casa da Música in Porto and Fundação Calouste Gulbenkian in Lisbon. ​
Maat Saxophone Quartet won several chamber music competitions, such as Storioni International Competition, Vila Verde National Competition (Portugal), and were finalists of the GrachtenFestival Competition and Willem-Twee Concertzaal Competition. ​
Students from the saxophone class of Arno Bornkamp, at Conservatorium van Amsterdam, the quartet has guidance from Arno Bornkamp and Willem van Merwijk, and are students of the NSKA - Dutch String Quartet Academy - with whom have the opportunity to work with Marc Danel, Luc-Marie Aguera, Lukas Hagen, among others. ​
The quartet works regularly with young composers, such as Nuno Lobo, Ramin Amin-Tafreshi, Adam Lukawski, commissioning new pieces and promoting the development of new saxophone quartet repertoire. In 2018 they were a selected ensemble for the "RaboNEXTStage" program, in a partnership with the Rabo Bank and TivoliVredenburg Utrecht. ​
In April 2020 they will release their debut CD "Ciudades" under the label 7 Mountains.
Why Maat? Maat has a double meaning. Besides being an iconic museum with a beautiful building in Lisbon, Maat can mean companionship in dutch. From this relation between both countries, Maat Saxophone Quartet appears, and it is always a nice story to tell.


Dieses Album enthält kein Booklet