---
Album Info
Album Veröffentlichung:
2023
HRA-Veröffentlichung:
10.02.2023
Das Album enthält Albumcover Booklet (PDF)
Caroline Shaw (b. 1982): Gustave Le Gray:

1

Shaw: Gustave Le Gray

14:04

Marie Szymanowska (1789 - 1831): Mazurkas:

2

Szymanowska: Mazurkas

02:30

Vitezslava Kapralova (1915 - 1940): Fantasie:

3

Kapralova: Fantasie

09:11

Marie Szymanowska: Fragments from a Woman's Diary:

4

Szymanowska: Fragments from a Woman's Diary

11:53

Ruth Schoental (1924 - 2006): Prague Imaginations:

5

Schoental: Prague Imaginations

27:04

Ivana Loudova (1941 - 2017): Dubnova preludia:

6

Loudova: Dubnova preludia

11:58

Ludmila Yurina (b. 1962): Shadows and Ghosts:

7

Yurina: Shadows and Ghosts

06:43

Total Runtime

01:23:23
Info zu Women and War and Peace
Patrick Trostle, der ausführende Produzent von Yarlung, hörte die Pianistin Katelyn Bouska in der Bohemian National Concert Hall im Czech Center in New York City spielen. Das war 2021, als die Pandemie abzuflauen begann und Live-Konzerte wieder möglich wurden. Patrick rief mich ein paar Tage später an und sagte, er habe gerade diese großartige Konzertpianistin gehört, die Werke von Komponistinnen aufführt, die in 200 Jahren europäischer Kriege vertrieben oder zerstört wurden.
"Du musst Kate kennenlernen", sagte Patrick, "und ich denke, du solltest sie aufnehmen. Kate tritt nicht nur in Konzertsälen auf der ganzen Welt auf, sie ist auch eine blitzgescheite Akademikerin am Curtis Institute, die regelmäßig über mittel- und osteuropäische Komponistinnen forscht und Vorträge hält, die ihr am Herzen liegen."
Women and War and Peace entstand in den dunkelsten Tagen der Isolation der Konzertpianistin Katelyn Bouska während der Coronavirus-Pandemie. Sie vermisste ihre Familie und Freunde, ihre Studenten am Curtis Institute in Philadelphia und ihre Live-Auftritte vor einem lebendigen, atmenden Publikum. Um die Zeit produktiv zu nutzen, befasste sich Bouska erneut mit Komponistinnen, die sie erforschen wollte, und stellte fest, dass viele von ihnen ein gemeinsames Thema hatten.
Sie waren Flüchtlinge, überlebten nur knapp oder gar nicht, und die Tatsache, dass es sich um Frauen handelte, die an der Spitze der zeitgenössischen Musikszene ihrer jeweiligen Umgebung standen, machte ihre Situation noch schwieriger. Unsere älteste Komponistin, Maria Szymanowska, starb 1830 beim Ausbruch der Cholera, die durch den Einmarsch Russlands in Polen unter Zar Nikolaus I. ausgelöst wurde. Eine unserer jüngeren Komponistinnen, Ludmila Yurina, floh aus ihrer Heimat in der Ukraine und fand nach dem Einmarsch Russlands unter Präsident Wladimir Putin im Februar 2022 zunächst im Vereinigten Königreich und dann in Deutschland Zuflucht.
Katelyn Bouska ist sowohl Amerikanerin als auch Tschechin. Sie wurde in den Vereinigten Staaten geboren, verbringt aber viele Monate im Jahr mit Auftritten und Vorträgen in Prag. Ihr Repertoire reicht von Komponisten aus dem 17. bis zum 20. Jahrhundert und umfasst Musik von Caroline Shaw, Maria Szymanowska, Ruth Schoental, Ivana Loudova, Vitezslava Kapralova und Ludmila Yurina.
Katelyn Bouska, Klavier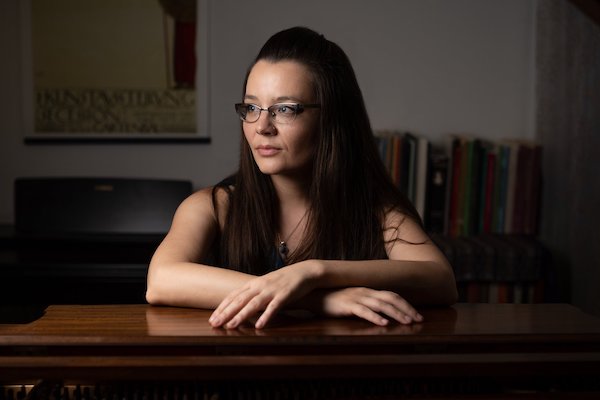 Katelyn Bouska
With performances described as "musically evocative" and a skill at engaging audiences in the musical dialogue, Dr. Katelyn Bouska is a frequent solo and collaborative musician. Her unique programming combining rarely-heard Czech and American music with music being written specifically for her by rising composers has found an audience throughout America and on the international concert stage.
With her ability to perform a broad range of repertoire ranging from early music to the most contemporary, she is at ease on clavichord, harpsichord, fortepiano and modern piano. On faculty at the Curtis Institute of Music in Philadelphia, her passion for informed and personal musical expression extends beyond her piano studio into conducting graduate seminars on performance practice, continuo and period repertoire, and classes exploring theory and harmony as a tool to unlock the grammar of music.
In addition to her D.M.A. in Piano Performance from Temple University, she also holds degrees in early keyboard performance as well as collaborative piano. Committed to re-capturing the imagination of audience members, Katelyn is frequently combining innovative programming with unique artistic partnerships as well as active collaboration with emerging professional composers to communicate their music to wider audiences. With her background as performer, teacher and scholar she is often sought after for multi-disciplinary collaborations with audiences as varied as cultural centers and corporate institutions.


Booklet für Women and War and Peace