---
Album Info
Album Veröffentlichung:
2017
HRA-Veröffentlichung:
27.01.2017
Das Album enthält Albumcover Booklet (PDF)
Entschuldigen Sie bitte!
Sehr geehrter HIGHRESAUDIO Besucher,
leider kann das Album zurzeit aufgrund von Länder- und Lizenzbeschränkungen nicht gekauft werden oder uns liegt der offizielle Veröffentlichungstermin für Ihr Land noch nicht vor. Wir aktualisieren unsere Veröffentlichungstermine ein- bis zweimal die Woche. Bitte schauen Sie ab und zu mal wieder rein.
Wir empfehlen Ihnen das Album auf Ihre Merkliste zu setzen.
Wir bedanken uns für Ihr Verständnis und Ihre Geduld.
Ihr, HIGHRESAUDIO
1

The Old Shade Tree

06:27

2

Tallahassee Junction

05:57

3

Scarlet Town

06:06

4

I Cover the Waterfront

07:02

5

Independence Day

03:12

6

Noise Machine

04:53

7

The Watcher

05:30

8

Daughter of Eve

09:01

9

Marcie

04:52

10

Don't Think Twice It's Alright

06:04

11

Tabhair dom do Lámh

04:21

Total Runtime

01:03:25
Info zu Chris Thile & Brad Mehldau
Mandolinist/Sänger Chris Thile und Pianist Brad Mehldau sind Nonesuch-Labelkollegen und langjährige Bewunderer ihrer gegenseitigen Arbeit. 2013 tourten beide erstmals als Duo, Ende 2015 gaben sie an zwei aufeinanderfolgenden Abenden ein Gastspiel im New Yorker Bowery Ballroom. Anschließend begaben sie sich ins Studio, um Chris Thile & Brad Mehldau aufzunehmen, entstanden ist eine Mischung aus Covern und Originalsongs.
Die beiden Musiker performten erstmals 2011 zusammen, als Teil von Mehldaus Residenz in der Londoner Wigmore Hall. Der Guardian schrieb über den Auftritt, "Mehldau stimmte seine unverkennbaren, rockenden Akkord-Improvisationen an, über die sanft angeschlagene Tonfolgen zu sinnlich ausgedehnte Melodien anschwellen. Thile umschmeichelte ihn mit perkussivem Schnipsen, fliegenden Läufen und Akkorden, die schnell genug angestimmt wurden, um makellos wie ein schnurrendes Streicherensemble zu klingen, wodurch er Mehldau dazu veranlasste, auf die spielerische Provokation mit pointierten Erwiderungen zu antworten."
Chris Thile, MacArthur-Preisträger und Moderator der Radiosendung "A Prairie Home Companion", ist das Gründungsmitglied der Punch Brothers, die ein Rezensent des Boston Globe als "eine der tightesten, beeindruckendsten Livebands, die ich je gesehen habe" bezeichnete. Die Band hat vier Alben bei Nonesuch veröffentlicht, angefangen 2008 mit "Punch", gefolgt von "Antifogmatic", "Who's Feeling Young Now?" und zuletzt 2015 "The Phosphorescent Blues" . Zu Thiles weiteren Veröffentlichungen auf dem Label gehören "Sleep with One Eye Open" mit Michael Daves, "Edgar Meyer & Chris Thile" und "Bass & Mandolin" —Letzteres gewann einen Grammy Award –, ein Soloalbum mit Bach-Geigensonaten und Partituren sowie "A Dotted Line" mit seiner langjährigen Band Nickel Creek. Unlängst kollaborierte er zudem mit Yo-Yo Ma, Stuart Duncan und Edgar Meyer für das zweifach Grammy-ausgezeichnete Album "The Goat Rodeo Sessions".
Brad Mehldaus Nonesuch-Debüt war die Solo-Disc "Live in Tokyo" (2004) und umfasst sechs Alben mit seinem Trio: "House on Hill", "Day Is Done", "Brad Mehldau Trio Live", "Ode", "Where Do You Start" sowie "Blues and Ballads". Zu seinen kollaborativen Alben auf dem Label gehören "Love Sublime", "Highway Rider", "Metheny Mehldau", "Metheny Mehldau Quartet", "Modern Music" und "Mehliana: Taming the Dragon". Zu Mehldaus weiteren Soloalben bei Nonesuch zählen "Live in Marciac" und die letztjährige 8-LP/4-CD "10 Years Solo Live", von der die New York Times sagt, sie "enthält einige der beeindruckendsten Pianospiele, die er jemals auf ein Album gebannt hat". In diesem Jahr veröffentlichte er ein Duo-Album mit Joshua Redman, "Nearness", von dem das Wall Street Journal sagt: "Kaum ein Album definiert in diesem Jahr besser, wie Jazz heute klingt, selbst wenn es kein hippes Wort gibt, es zu umschreiben."
Chris Thile, Mandoline, Gesang
Brad Mehldau, Klavier, Gesang
Recorded December 30, 2015, January 2–3, 2016 at Avatar Studios, New York City
Produced by Chris Thile, Brad Mehldau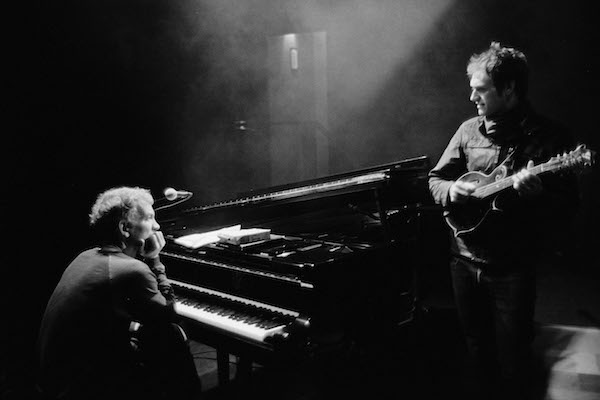 Chris Thile
is a young mandolin virtuoso and composer whose lyrical fusion of traditional bluegrass with elements from a range of other musical traditions is giving rise to a new genre of contemporary music. With a broad outlook that encompasses progressive bluegrass, classical, rock, and jazz, Thile is transcending the borders of conventionally circumscribed genres in compositions for his own ensembles and frequent cross-genre collaborations. Although rooted in the rhythmic structure of bluegrass, his early pieces for his long-time trio, Nickel Creek, have the improvisatory feel of jazz; his current ensemble, Punch Brothers, evokes the ethos of classical chamber music even while adhering to the traditional instrumentation of the bluegrass quintet. The Blind Leaving the Blind, a song suite on Punch Brothers' first album (Punch, 2008), extends the sound of bluegrass in its range of harmonies and polyrhythms. Thile further explores the symphonic dimensions of the string quintet in both the improvised and elaborately composed works of Antifogmatic (2010). Among his many collaborations, Thile has expanded the reach of the mandolin in Ad Astra per Alas Porci (2009), a three-movement mandolin concerto, and in his solo mandolin interpretations of Bach's works for violin, which showcase his technical mastery and fluid, soulful phrasing. Through his adventurous, multifaceted artistry as both a composer and performer with various ensembles, Thile is creating a distinctly American canon for the mandolin and a new musical aesthetic for performers and audiences alike.
Chris Thile studied music at Murray State University (1998–1999). From 1989 to 2007, he was a member of the trio Nickel Creek, and in 2006 he formed Punch Brothers. His additional recordings include Here to There (1997) and Why Should the Fire Die? (2005) with Nickel Creek; Who's Feeling Young Now? (2012) with Punch Brothers; and the solo albums Not All Who Wander Are Lost (2001), Deceiver (2004), and How to Grow a Woman from the Ground (2006).
Brad Mehldau
Jazz pianist Brad Mehldau has recorded and performed extensively since the early 1990s. Mehldau's most consistent output over the years has taken place in the trio format. Starting in 1996, his group released a series of five records on Warner Bros. entitled The Art of the Trio (recently re-packaged and re-released as a 5-Disc box set by Nonesuch in late 2011). During that same period, Mehldau also released a solo piano recording entitled Elegiac Cycle, and a record called Places that included both solo piano and trio songs. Elegiac Cycle and Places might be called "concept" albums made up exclusively of original material with central themes that hover over the compositions. Other Mehldau recordings include Largo, a collaborative effort with the innovative musician and producer Jon Brion, and Anything Goes—a trio outing with bassist Larry Grenadier and drummer Jorge Rossy.
His first record for Nonesuch, Brad Mehldau Live in Tokyo, was released in September 2004. After ten rewarding years with Rossy playing in Mehldau's regular trio, drummer Jeff Ballard joined the band in 2005. The label released its first album from the Brad Mehldau Trio—Day is Done—on September 27, 2005. An exciting double live trio recording entitled Brad Mehldau Trio Live wasreleased on March 25th, 2008 (Nonesuch) to critical acclaim. On March 16, 2010 Nonesuch released a double-disc of original work entitled Highway Rider, the highly anticipated follow up to Largo. The album was Mehldau's second collaboration with renowned producer Jon Brion and featured performances by Mehldau's trio—drummer Jeff Ballard and bassist Larry Grenadier—as well as percussionist Matt Chamberlain, saxophonist Joshua Redman, and a chamber orchestra led by Dan Coleman. In 2011 Nonesuch released Live in Marciac—a two CD release with a companion DVD of the 2006 performance, and Modern Music, a collaboration between pianists Brad Mehldau and Kevin Hays and composer/arranger Patrick Zimmerli. In 2012 Nonesuch released an album of original songs from the Brad Mehldau Trio—Ode—the first from the trio since 2008's live Village Vanguard disc and the first studio trio recording since 2005's Day is Done. Ode went on to garner a Grammy-Nomination. Nonesuch released the Brad Mehldau Trio's Where Do You Start, a companion disc to the critically acclaimed Ode, in the fall of 2012. Whereas Ode featured 11 songs composed by Mehldau, Where Do You Start comprises the Trio's interpretations of 10 tunes by other composers, along with one Mehldau original. In 2013 Mehldau produced and performed on Walking Shadows, the acclaimed Nonesuch release from Joshua Redman. 2013 also saw a number of collaborative tours including a duo tour with mandolin virtuoso Chris Thile, piano duets with Kevin Hays and a new electric project with prodigious drummer Mark Guiliana entitled "Mehliana." Mehliana: Taming the Dragon, the debut release by Mehliana, was released in early 2014. Mehldau's monumental and ambitious 10 Years Solo Live eight-LP vinyl box set was released to unanimous critical acclaim on October 16th, 2015 (with CD and digital versions released in November). The set was culled from 19 live recordings made over a decade of the pianist's European solo concerts and was divided into four thematic subsets of four sides each: Dark/Light, The Concert, Intermezzo/Rückblick, and E Minor/E Major. In 2016, Nonesuch Records released the Brad Mehldau Trio's highly-anticipated Blues and Ballads—the ensemble's first new release since 2012's Where Do You Start—and the celebrated debut album of the Joshua Redman/Brad Mehldau Duo, Nearness, featuring recordings from their 2011 European tour. Both albums have received universal from critics and audiences alike, and both have earned a Grammy nomination for Mehldau. Mandolinist/singer Chris Thile joins Mehldau for their debut release in 2017: Chris Thile & Brad Mehldau.
Mehldau's musical personality forms a dichotomy. He is first and foremost an improviser, and greatly cherishes the surprise and wonder that can occur from a spontaneous musical idea that is expressed directly, in real time. But he also has a deep fascination for the formal architecture of music, and it informs everything he plays. In his most inspired playing, the actual structure of his musical thought serves as an expressive device. As he plays, he listens to how ideas unwind, and the order in which they reveal themselves. Each tune has a strongly felt narrative arch, whether it expresses itself in a beginning, an end, or something left intentionally open-ended. The two sides of Mehldau's personality—the improviser and the formalist—play off each other, and the effect is often something like controlled chaos.
Mehldau has performed around the world at a steady pace since the mid-1990s, with his trio and as a solo pianist. His performances convey a wide range of expression. There is often an intellectual rigor to the continuous process of abstraction that may take place on a given tune, and a certain density of information. That could be followed by a stripped down, emotionally direct ballad. Mehldau favors juxtaposing extremes. He has attracted a sizeable following over the years, one that has grown to expect a singular, intense experience in his performance.
In addition to his trio and solo projects, Mehldau has worked with a number of great jazz musicians, including a rewarding gig with saxophonist Joshua Redman's band for two years, recordings and concerts with Pat Metheny, Charlie Haden and Lee Konitz, and recording as a sideman with the likes of Michael Brecker, Wayne Shorter, John Scofield, and Charles Lloyd. For more than a decade, he has collaborated with several musicians and peers whom he respects greatly, including the guitarists Peter Bernstein and Kurt Rosenwinkel and tenor saxophonist Mark Turner. Mehldau also has played on a number of recordings outside of the jazz idiom, like Willie Nelson's Teatro and singer-songwriter Joe Henry's Scar. His music has appeared in several movies, including Stanley Kubrick's Eyes Wide Shut and Wim Wender's Million Dollar Hotel. He also composed an original soundtrack for the French film, Ma Femme Est Une Actrice. Mehldau composed two new works commissioned by Carnegie Hall for voice and piano, The Blue Estuaries and The Book of Hours: Love Poems to God, which were performed in the spring of 2005 with the acclaimed classical soprano, Renee Fleming. These songs were recorded with Fleming and released in 2006 on the Love Sublime record; simultaneously, Nonesuch released an album of Mehldau's jazz compositions for trio entitled House on Hill. A 2008 Carnegie Hall commission for a cycle of seven love songs for Swedish mezzo-soprano Anne Sofie von Otter premiered in 2010. Love Songs, a double album that paired the newly commissioned song cycle, with a selection of French, American, English, and Swedish songs that Mehldau and von Otter performed together, was released in late 2010 (on the Naïve label) to unanimous praise. In 2013 Mehldau premiered and performed Variations on a Melancholy Theme a large format orchestral piece which was performed with both Orpheus Chamber Orchestra and Britten Sinfonia. Commissioned by Carnegie Hall, The Royal Conservatory of Music, The National Concert Hall, and Wigmore Hall with the support of Andre Hoffmann (president of the Fondation Hoffmann) in 2015, Mehldau's Three Pieces After Bach were inspired by selections from Johann Sebastian Bach's seminal work, The Well-Tempered Clavier.
Mehldau was appointed as curator of an annual four-concert jazz series at London's prestigious Wigmore Hall during its 2009-10 and 2010-11 seasons, with Mehldau appearing in at least two of the four annual concerts. In late January 2010 Carnegie Hall announced the 2010-11 season-long residency by Mehldau as holder of the Richard and Barbara Debs Composer's Chair at Carnegie Hall—the first jazz artist to hold this position since it was established in 1995. Previous holders include Louis Andriessen (2009–2010), Elliott Carter (2008–2009), and John Adams (2003–2007).


Booklet für Chris Thile & Brad Mehldau