---
Album Info
Album Veröffentlichung:
2023
HRA-Veröffentlichung:
06.01.2023
Label: Ricercar
Genre: Classical
Subgenre: Vocal
Interpret: Dulces Exuviae, Romain Bockler, Bor Zuljan
Komponist: Philippe Verdelot (1470-1552), Bartolomeo Tromboncino (1470-1535), Francisco Guerrero (1528-1599), Jean Paule Paladin (1500-1566), Orlando di Lasso (1532-1594), Thomas Crecquillon (1490-1557), Juan Vasquez (1500-1560)
Das Album enthält Albumcover Booklet (PDF)
Philippe Verdelot (1480 - 1530):

1

Verdelot: O dolce nocte

02:10

Bartolomeo Tromboncino (1470 - 1535):

2

Tromboncino: Tu dormi, io veglio

01:44

Francisco Guerrero (1528 - 1599):

3

Guerrero: Si la noche haze escura

03:16

Jean-Paul Paladin (1500 - 1566):

4

Paladin: Fantaisie I

02:39

Anonyme:

5

Anonyme: Estas noches a tan largas

03:09

Diego Pisador (1509 - 1557):

6

Pisador: Si la noche haze escura

02:30

Anonyme:

7

Anonyme: La nocte quando

03:24

Giovanni Pierluigi da Palestrina (1525 - 1594):

8

Palestrina: Che non fia che giammai

03:09

Orlando di Lasso (1532 - 1594):

9

Lasso: Toutes les nuitz, LV 149

02:57

Clément Janequin (1485 - 1558):

10

Janequin: Toutes les nuictz

02:47

Thomas Crecquillon (1505 - 1557):

11

Crecquillon: Toutes les nuycts

02:10

12

Crecquillon: Toutes les nuyctz

02:12

Jean-Paul Paladin:

13

Paladin: Fantaisie II

02:28

Thomas Crecquillon:

14

Crecquillon: Si pour amans la lune est importune

02:10

Juan Vasquez (1500 - 1560):

15

Vasquez: Salga la luna

02:47

Giovanni Pierluigi da Palestrina:

16

Palestrina: Deh hor foss'io col vago della luna

02:36

Anonyme:

17

Anonyme: Ay Luna que reluzes

01:48

Jean-Paul Paladin:

18

Paladin: Fantaisie IV

03:57

Josquin Desprez (1455 - 1521):

19

Desprez: Et trop penser, NJE 27.9

03:22

Orlando di Lasso:

20

Lasso: La nuyct froide et sombre, LV 578

03:44

Anonyme:

21

Anonyme: Da poi nocte vien la luce

02:29

Jean-Paul Paladin:

22

Paladin: Fantaisie III

03:28

Pierre de Manchicourt (1510 - 1554):

23

Manchicourt: Voiez le jour

01:59

Anonyme:

24

Anonyme: Al alba venid

03:20

Paul McCartney (b. 1942), John Lennon (1940 - 1980):

25

McCartney, Lennon: Blackbird

02:33

Total Runtime

01:08:48
Info zu Toutes les nuits
In nocte consilium – guter Rat kommt über Nacht. Für Dichter ist die Nacht seit jeher eine Zeit der Besänftigung, für Astronomen ist sie ein heißersehnter Moment, um die Sterne und Planeten zu beobachten. Mystiker hingegen haben ganze Nächte damit verbracht, nach den rätselhaften Zeichen einer göttlichen Gegenwart zu suchen. Dieses Programm beschreibt eine Reise von der Dämmerung bis zum Morgengrauen und zeigt verschiedene Nächte so wie sie von einigen Komponisten des 16. Jahrhunderts beschrieben wurden: von der Hoffnung zur Leere, vom süßen Liebestraums zur ewigen Nacht. Doch finden die Liebenden, geleitet vom klaren Licht des Mondes einander wieder, und die Reise endet im Licht der ersten Strahlen der Morgensonne. Janequin, Lassus, Palestrina, Guerrero und ihre französisch-flämischen, italienischen und spanischen Kollegen führen uns durch diese Nächte, die manchmal dunkel und furchterregend, manchmal sternenklar, ruhig und von Liebe erfüllt sind.
Dulces Exuviae
Romain Bockler, Bariton
Bor Zuljan, Laute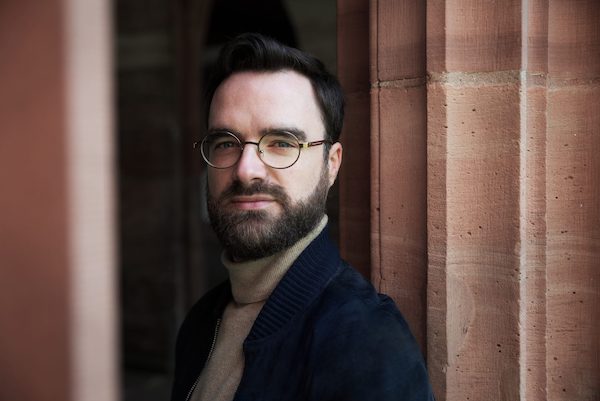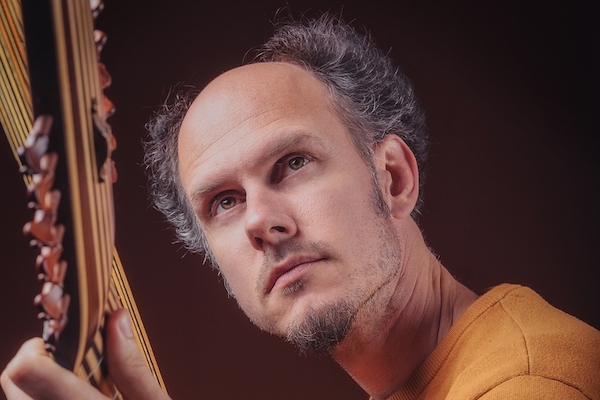 Romain Bockler
studied at the CNSMD in Lyon, where he obtained his Master's degree with honours, then at the Studio de l'Opéra de Lyon, which he joined in 2015-16, as well as with Cécile de Boever, Rosa Dominguez, Margreet Honig and Yves Sotin.
He has distinguished himself in several international competitions: Teatro San Cassiano Prize at the Voci Olimpiche International Competition in Vicenza (Italy), finalist at the Corneille International Competition in Rouen, First Prize at the International Baroque Singing Competition in Froville, Second Distinction at the International Early Music Vocal Competition "Canticum Gaudium" in Poznan, and laureate at the ARMEL Opera Competition (Hungary).
On stage, his repertoire ranges from baroque to contemporary opera. Romain Bockler performs in France at the Opera of Lyon, Bordeaux, Avignon, Dijon, Reims, Caen, as well as in Europe and throughout the world. He has collaborated with the ensembles Pygmalion (Raphaël Pichon), Le Poème Harmonique (Vincent Dumestre), Les Arts Florissant (Paolo Zanzu/William Christie), Le Concert Spirituel (Hervé Niquet), Concerto Soave (Jean-Marc Aymes), La Fenice (Jean Tubery), La Rêveuse, Le Concert de l'Hostel Dieu (Franck-Emmanuel Comte). In contemporary repertoires, he creates various roles in close collaboration with and under the direction of composers such as Peter Eötvös or Alexandre Desplat.
Passionate about Renaissance music and working with small ensembles, he frequently performs with specialised ensembles such as the Huelgas Ensemble (Paul Van Nevel), Diabolus in Musica (Antoine Guerber), Doulce Mémoire (Denis Raisin Dadre), Weser Renaissance Bremen (Manfred Cordes) and the Main Harmonique (Frédéric Bétous). Numerous recordings testify to his activity in this field.
Romain Bockler also holds an engineering degree and a master's degree in acoustics.
Bor Zuljan
is active in different musical genres playing many kinds of early, modern and traditional plucked-strings instruments. Called the "Revolutionary of the lute" (Le Soir), he's been specializing particularly in the music of the Renaissance, rediscovering forgotten improvisation and playing techniques, instruments and sounds. He is performing regularly as soloist and with ensembles, such as Tasto Solo, Graindelavoix, L'Achéron, Vox Luminis, Il Giardino Armonico, Le Concert Brisé, in duo with Dusan Bogdanovic, with Romain Bockler (Dulces Exuviae) as well as with his ensemble La Lyra.
From 2011, he is the artistic director of an early music festival Flores Musicae in Slovenia. His critical edition of Gorzanis' Second lute book has been published by the Slovenian Musicological Society, resulting also in an awarded CD "La barca del mio amore" with music by the same composer, featuring La Lyra and the italian singer Pino De Vittorio (Arcana - Outhere Music). His CD "Josquin - Adieu mes amours" with the duo Dulces Exuviae has appeared under the legendary early music label Ricercar (Outhere Music) to great critical acclaim.
The same label just published his first solo album "Dowland - A Fancy" which was awarded the prestigious Diapason d'Or de l'année 2020, CHOC de Classica and Gramophone's Editor's Choice. After graduating in jazz and classical programmes at the Ljubljana Conservatory of Music, he continued his studies with Aniello Desiderio in Koblenz, Germany. In 2007 he started studying at the Haute Ecole de Musique de Genève where he then obtained a Bachelor's and Master's degree in Guitar and Lute performance (Dusan Bogdanovic), continued with a specialization in Medieval music and finished a MA in lute pedagogy.
Since 2011 he has been working as research assistant at the same school on a project on Fantasia improvisation on lute in the 16th Century, a topic he is developing for his doctoral thesis at the CESR in Tours. He teaches lute at the CPMDT de Geneva, and has given numerous conferences and master classes at institutions, such as the Schola Cantorum Basiliensis, Fondazione Giorgio Cini in Venice, HEM de Genève and CNSMD Lyon.


Booklet für Toutes les nuits