---
Album Info
Album Veröffentlichung:
2023
HRA-Veröffentlichung:
03.02.2023
Das Album enthält Albumcover Booklet (PDF)
Ludwig van Beethoven (1770 - 1827): String Quartet No. 4 in C Minor, Op. 18:

1

Beethoven: String Quartet No. 4 in C Minor, Op. 18: I. Allegro, ma non tanto

05:57

2

Beethoven: String Quartet No. 4 in C Minor, Op. 18: II. Scherzo. Andante scherzoso quasi allegretto

04:57

3

Beethoven: String Quartet No. 4 in C Minor, Op. 18: III. Menuetto. Allegretto

03:01

4

Beethoven: String Quartet No. 4 in C Minor, Op. 18: IV. Allegro - Prestissimo

03:51

Dmitri Shostakovich (1906 - 1975): String Quartet No. 3 in F Major, Op. 73:

5

Shostakovich: String Quartet No. 3 in F Major, Op. 73: I. Allegretto

04:50

6

Shostakovich: String Quartet No. 3 in F Major, Op. 73: II. Moderato con moto

05:24

7

Shostakovich: String Quartet No. 3 in F Major, Op. 73: III. Allegro non troppo

04:08

8

Shostakovich: String Quartet No. 3 in F Major, Op. 73: IV. Adagio - attacca

05:03

9

Shostakovich: String Quartet No. 3 in F Major, Op. 73: V. Moderato

09:47

Franz Schubert (1797 - 1828): String Quartet No. 12 in C Minor, D. 703 "Quartettsatz":

10

Schubert: String Quartet No. 12 in C Minor, D. 703 "Quartettsatz"

05:35

Niccolò Paganini (1782 - 1840): Caprice No. 24 in A Minor, Op. 1 (Arr. for String Quartet by Fedor Belugin):

11

Paganini: Caprice No. 24 in A Minor, Op. 1 (Arr. for String Quartet by Fedor Belugin)

04:57

Total Runtime

57:30
Info zu Beethoven, Schubert, Shostakovich: String Quartets
"Blithe ignorance of the future cataclysm" is the subtitle originally chosen by Shostakovich for the first movement of his "war quartet", String Quartet no. 3 (1946), which he considered one of his finest works. The subtitle sets the tone for a composition that, nourished by popular folklore, appears to stage the inexorable confrontation of opposing forces. The same tension, the same razor's-edge atmosphere is to be found in Beethoven's Quartet op. 18, no. 4, and in Schubert's unfinished Quartet, no. 12, generally known as the Quartettsatz.
The musicians of the David Oistrakh Quartet embrace the latent fury of these three works, without giving in to the maelstrom: the precision of their playing feeds a raw, electric expressiveness, magnified by an exceptional ensemble sound, taking the emotional power of this programme to great heights.
Fedor Belugin, violin
Alexey Zhilin, cello
Rodion Petrov, violin
Andrey Baranov, violin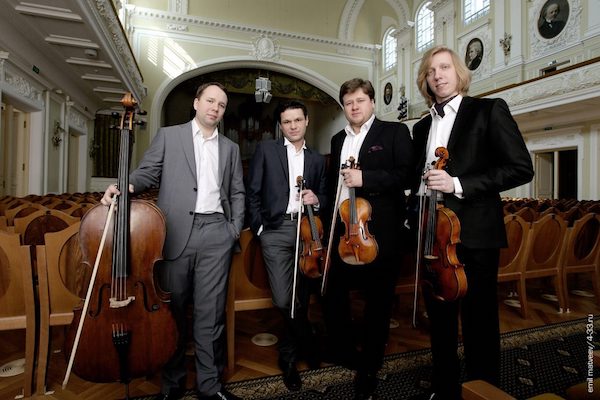 David Oistrakh String Quartet
The David Oistrakh Quartet features four of today's most outstanding Russian musicians, all soloists in their own right, united in their artistry and their passion for the art of quartet playing. In 2012 the family of the legendary 20th century violinist honored the quartet with his name.
The David Oistrakh Quartet frequently performs across Europe, Asia, South America and at many of the most recognised Russian venues, including all of the country's famous philharmonics halls. They have had the honour to play at various renowned festivals where they have collaborated with such celebrated artists as Eliso Virsaladze, Eduard Brunner, Liana Isakadze, Irina Kandinskaya, Alexander Bonduryansky, Boris Andrianov, Inga Dzekzer, Alexander Buzlov and Daniel Austrich.
Following the recent success of their debut in Japan, Hong Kong, Colombia, Prague Spring festival and the release of their second CD, featuring the works of Greig and Mendelssohn, next concert season the Quartet will again go on tour to Japan and have appearances at the Wigmore Hall in London, the Pierre Boulez Hall in Berlin and the Philharmonie de Paris among others. The David Oistrakh Quartet will share the stage with such notable artists as Martha Argerich, Eliso Virsaladze, Renaud Capuçon, Nicholas Angelich and Ivry Gitlis.
75 years after David Oistrakh's triumph at the Queen Elisabeth International Violin Competition, the First Violinist of the Quartet, Andrey Baranov, won the first prize in 2012. Baranov is also laureate of more than a dozen international competitions including the David Oistrakh, Benjamin Britten, Henri Marteau and Liana Isakadze competitions. His international career has led him to perform as a soloist with the London Philharmonic, Sendai Philharmonic, St-Petersburg Philharmonic, Brussels Philharmonic, National Orchestra of Belgium, Tchaikovsky Symphony Orchestra, Luxembourg Philharmonic, Montreal Symphony Orchestra, Mariinsky Theatre Orchestra, Mahler Chamber Orchestra and MusicAeterna Orchestra.
The Second Violinist of the David Oistrakh Quartet is Rodion Petrov, a graduate of the Reina Sofia Music Academy in Madrid and the Moscow State Conservatory. Rodion is a prize-winner of numerous competitions including Premio Rudolfo Lipizer and Premio Paganini in Italy. He has appeared as a soloist in Russia, Europe and Asia at such concert halls as Auditorio Nacional in Madrid and Suntory Hall in Tokyo, and is a regular participant at many of the world's greatest festivals.
Violist Fedor Belugin is laureate of a number of international competitions and teaches at the Moscow State Conservatory as well as at the Gnessin Music Academy. He is one of few violists to pursue a busy solo career alongside his quartet engagements. During an important period of his career he was a member of the Shostakovich Quartet.
Cellist Alexey Zhilin is considered one of the leading cellists of his generation in Russia. He has won a number of international prizes and appears frequently as a soloist with chamber and symphony orchestras in Russia and abroad. He is now teaching at the Saint-Petersburg State Conservatory where he himself studied with Anatoly Nikitin.
In the first few years of the Quartet's existence, Baranov, Belugin and Zhilin had the honor to work with violinist Sergey Ivanovich Pischugin, a renowned chamber musician in Russia. A former student of David Oistrakh, professor of the Moscow State Conservatory and member of the legendary Shostakovich Quartet, Pischugin played a vital role in the founding of the Oistrakh Quartet.


Booklet für Beethoven, Schubert, Shostakovich: String Quartets