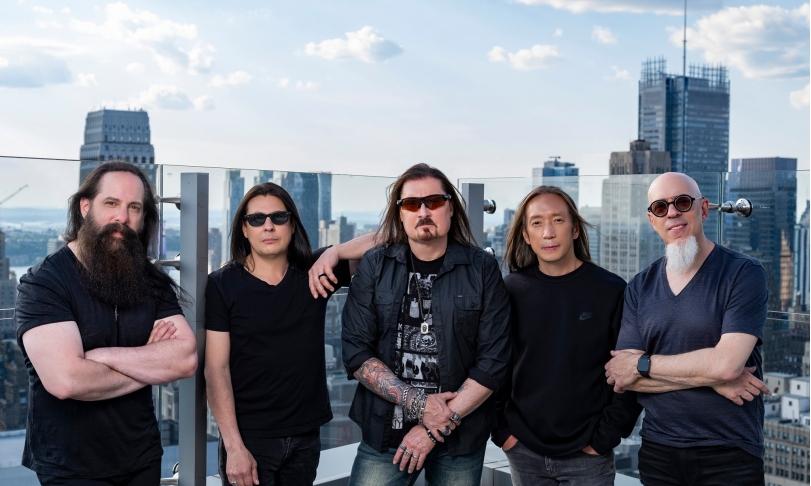 Die amerikanische Progressive-Metal-Band Dream Theater zählt seit nunmehr über 30 Jahren zu den kommerziell erfolgreichsten Bands dieses Genres. Dass die Band während der langen Zeit ihres Bestehens nicht nur auf den Bühnen der Welt stets präsent war, sondern auch eine große Anzahl von Alben eingespielt hat, die es immer wieder in Spitzenplätze in den Charts geschafft haben, ist an sich schon eine enorme Leistung. Ihr neuestes, fünfzehntes Studioalbum erschien soeben, genauer, im Oktober 2021. Die Arbeiten zu Top of the World begannen bereist vor einem Jahr, zum ersten Mal im eigenen Studio DTHQ. Als Produzent konnte der branchenbekannte Andy Sneap gewonnen werden, der für den Mix und das Mastering der sieben neuen Songs verantwortlich zeichnet. Aufgrund der Pandemie arbeiteten alle Bandmitglieder bis auf den langjährigen Sänger der Band James LaBrie vor Ort im DTHQ am neuen Material. James LaBrie hingegen wurde via Zoom von Kanada aus zugeschaltet. Ungewöhnliche Zeiten erfordern nun einmal ungewöhnliche Maßnahmen, die in diesem Fall dem fortgeschrittenen digitalen Stand der Technik zu verdanken sind.
Kann man von einer Band, und sei sie noch so gut besetzt wie Dream Theater, nach Jahrzehnten noch etwas wirklich Neues erwarten? Wohl kaum. Da grenzt es bereits an ein Wunder, wenn so eine Band mit einem neuen Album ihr bisheriges Niveau zu halten vermag. Und genau das tut Dream Theater mit A View From The Top Of The World: die Band schafft es auch mit diesem Album, ihr über die vielen Jahre konstant gehaltenes hohes Niveau zu halten. Dass sie ihr Konzeptalbum Metropolis Pt. 2: Scenes From A Memory mit den instrumentalen Überfliegern "Beyond This Life", "Home" und "The Dance of Eternity" auf dem neuen Album nicht toppen kann, liegt wohl in der Natur der Sache, gib es doch Momente in der Historie jeder Band, die einmalig sind. Wie gesagt, ändert dies nichts an der Tatsache, dass schon Einiges dazu gehört, wenn eine Band wie Dream Theater nach über dreißig Jahren noch voll im Saft steht.
Zwar basieren etwa die Titel "The Alien" und "Answering the Call" auf dem bekannten Ansatz von Dream Theater, dem Genre ihrer Musikgattung gerecht zu werden. Die Qualität, wie hier an sich Altbekanntes realisiert wird, ist jedoch bemerkenswert. "Invisible Monster", bei dem die Gitarren- und Keyboardparts von John Petrucci und Jordan Rudess perfekt ineinandergreifen und ausgesprochen schöne Harmonien bilden, zeugt bei aller, dem Progressiv Metal Genre innenwohnenden krassen Wildheit von der Harmonie, die Dream Theater auf dem neuen Album zustande bringt. Auf den für die Band typisch ewig langen Titel "Sleeping Giant" und dem ebenfalls nicht enden wollenden Titelstück geht es ins Eingemachte. Verrückter geht es kaum. James LaBrie brilliert hier mit extrem starkem Gesang. Und der Rest der Band zeigt, was technisch in ihr steckt. Der Knüller auf A View from the Top of the World ist die fantastische Power-Ballade "Transcending Time", die klingt, als könnte sie direkt aus einem der 90er-Alben der Band stammen. Zum Abheben.
Obwohl A View From The Top Of The World das Rad nicht neu erfindet, ist es doch ein hervorragend realisiertes Album auf hohem spielerischen Niveau, das der Geschichte der Band alle Ehre macht und die Vorfreude der Anhänger von Dream Theater auf zukünftige Alben nährt.
James LaBrie, Gesang
John Petrucci, Gitarre, Produktion
John Myung, Bass
Jordan Rudess, Keyboards
Mike Mangini, Schlagzeug