---
Biographie 75 Dollar Bill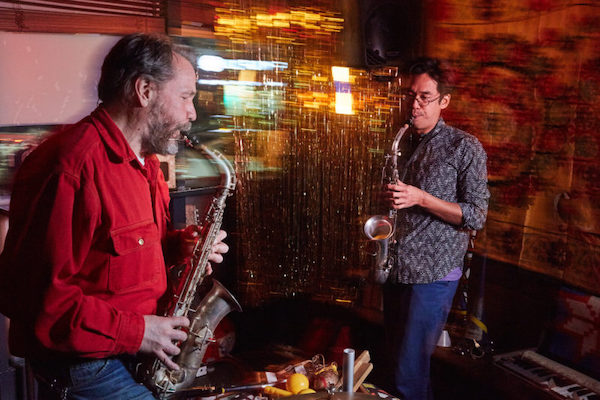 75 Dollar Bill
is one of the essential groups at the heart of NYC's underground. Centered on the telepathic union of Che Chen's microtonal electric guitar and Rick Brown's odd metered percussion their long-form sound is unmistakable and compelling. Their second album, 2016's Wood Metal Plastic Pattern Rhythm Rock (Thin Wrist), presented the essence of their sound with vivid clarity. Since then the group have travelled and performed extensively, bringing their music to a wider audience and performing everywhere from bustling sidewalks and intimate clubs to large concert halls and overseas festivals.
The countless miles and performances of the last few years have resulted in their expansive new double album I WAS REAL. Over four sides the group expands in bold new directions, embracing brilliant fuller orchestrations, joyous rockers and entrancing new textures. The record is enhanced by the presence of eight additional players over its nine tracks while also showing off the duo's strength when stripped down to its core. Requiring a variety of approaches, the album was recorded over a four year period, in four different studios in a range of different ensemble configurations. The album also features several "studio as instrument" constructions that harken back to the collage-experiments of the band's early cassette tapes, while at the same time pointing to new territories altogether. The players involved highlight the "social" aspect of the band and the eight guests that appear on the record are some of the band's closest friends and collaborators. While Che Chen and Rick Brown are always at the core of 75 Dollar Bill, the band is much like an extended family, changing shape for different music and different situations. Some pieces were conceived in the band's very early days and others are much newer, but the music is unmistakably 75 Dollar Bill. As Steve Gunn has written on their work: "Strings come in underneath Che Chen's supreme guitar tone. Rick Brown's trance percussion offers a guiding support with bass, strings, and horns supporting the melody. They have gathered all the moving parts perfectly."
I WAS REAL is a monumental signature work capturing the group at the peak of their powers.