---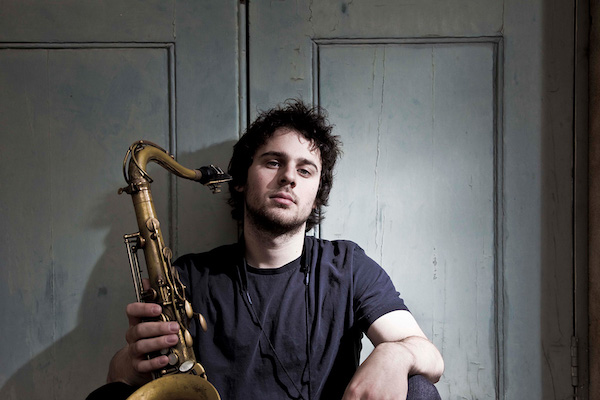 Josh Arcoleo
wurde 1989 in eine musikalische Familie hineingeboren und hatte das Glück, im Alter von 13 Jahren Saxophonunterricht bei dem legendären Pee Wee Ellis zu nehmen. Im Alter von 18 Jahren schrieb er sich an der Royal Academy of Music in London ein, wo er 2011 seinen Abschluss machte und das Yamaha Jazz Scholarship sowie den Kenny Wheeler Jazz Award gewann. Joshs Debütalbum Beginnings erschien im Februar 2012 und wurde von vielen Seiten gelobt. Er erhielt außerdem Auszeichnungen von der EMI Sound Music Foundation und MBF Young Talent und wurde kürzlich für den Jazz FM Award for Best Newcomer nominiert. Josh war auch für den London Jazz Award 2012 nominiert.
Er begann mit Pee Wee zu touren, als er 16 Jahre alt war, mit Assembly und der Band Still Black Still Proud. Mit diesen Bands tourte Josh drei Jahre lang durch Europa.
Neben der Leitung seines Quartetts mit Ivo Neame (Klavier), Calum Gourlay (Bass) und James Maddren (Schlagzeug) ist Josh regelmäßiges Mitglied in den folgenden Bands: Stan Sulzmanns Big Band, Jeff Williams' Gruppen (mit Alben bei Whirlwind Recordings), Dave Hambletts Gruppe (sein Debüt wurde bei Whirlwind veröffentlicht), Mike Chillingworths Band, Snowpoet, Native Dancer, sowie regelmäßige Auftritte mit Nikki Iles, Steve Watts und Kit Downes.
Als Session-Musiker ist Josh Mitglied der Rhino Horns mit James Gardiner-Bateman an der Altstimme und William Rixon an der Trompete. Rhino Horns touren derzeit mit Joss Stone, der Europa, die Vereinigten Staaten, Südamerika und Asien bereist hat. Außerdem spielten sie mit Michael Kiwanuka, Katy B, Lianna La Havas, Ghostpoet und vielen anderen.
Josh hat gearbeitet mit: Jason Rebello, Fred Wesley, Mark Mondesir, Michael Mondesir, Tony Allen, Ginger Baker, David Binney, John Hebert, John O'Gallagher, Duane Eubanks, Tony Royster Jnr, Raymond Angry, Ricky Jordan, Linley Marthe, James Taylor Quartet, David Berkman, Cheikh Lo, Peter Madsen, Get the Blessing, Fires Friendly, Vanessa Freeman, Tony Remy, Jamie Cullum, Guido May, Gareth Williams, Patrick und Martin Scales.