---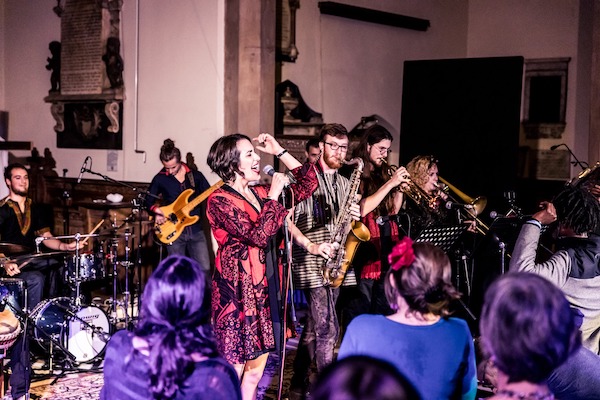 Noga Ritter
is an eclectic singer-songwriter, band leader and workshop facilitator whose music fuses Hebrew Jazz with global grooves. Her songs, sung in both Hebrew and English, weave intimate and personal stories into a potent narrative of social-global issues. Her performances, whether in stripped-down formats or her full 9-piece band, are as passionate as they are energetic; getting any audience to dance and join in on her soulful journey.
"Noga Ritter's 9-piece band showcases the craftwork of boundary pushing artists within London's fusion music scene. Through Afro driven grooves and jazz interpretations, the collective rework and fuse Noga's original material, defying music genres. With a big band and an undeniable vocal conviction, Noga's estatic stage performance tempts audiences to give their bodies to a unifying diasporic journey in dance and rhythm." Rebecca Lea Mastrorocco, Rhythm Passport.
Supported by The Arts Council England, she recorded her debut solo album featuring award-winning musicians such as Seckou Keita (kora), Byrown Wallen (trumpet), Tony Kofi (saxophone) and produced by Liran Donin. The album Ima (mother in hebrew) will come out on the 12th of May 2023 with Galileo Music record label.
After studying at the Guildhall School of Music and LCCM, Noga has performed and collaborated with musicians from around the world, singing in various languages and genres. She released an album and toured internationally with her former band VOCAL GLOBAL, and has also worked with Mike King Collective, The Grand Union Orchestra, Abdoulaye Samb and Minnjiaraby (Senegal), Jyotsna Srikanth (India), Sahad & The Natal Patchwork (Senegal), Sura Susso (Gambia), Alibeta (Senegal) and Randolph Matthews.
Noga enjoys travelling the world with her music, learning from other cultures and creating exciting cultural collaborations. She was awarded funding from Help Musicians UK and the Arts Council England to travel to Senegal to collaborate with local musicians, perform at festivals and record.
Noga works regularly for Live Music Now and CREATE performing and leading workshops at special needs schools, hospitals and care homes. Noga is a facilitator at Music Action International leading song-writing workshops for children and refugees.