---
Biographie Kris Garfitt & Seri Dan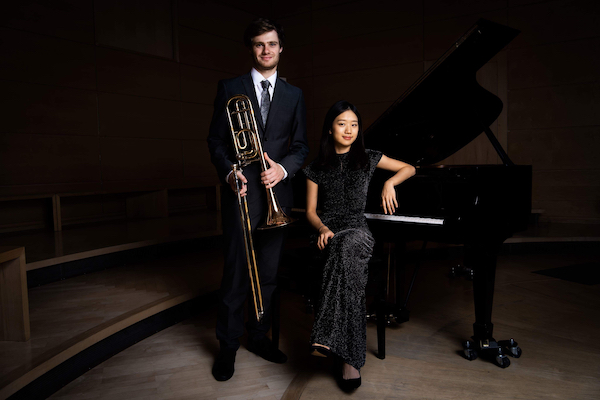 Kris Garfitt
is first prize winner of the International ARD Music Competition in Munich, a Courtois Performing Artist and Solo Trombonist of the WDR Symphony Orchestra. On top of this he has had competition success as the Gold Medal winner of the 2019 Royal Over-Seas League Music Competition in London, and is first prize winner of the 2022 International Soloists Competition in Grenchen, 2019 Jeju International Music Competition, the 2019 International IPV (International German Trombone Association) Competition in Germany, 2018 International Tenor and Bass Trombone Competition in Budapest and the 2018 International Juozas Pakalnis Competition of Wind and Percussion Instruments in Vilnius. As well as winning the first prize in the ARD Competition, he also won the 'audience prize' plus numerous 'special' awards.
He graduated in 2015 from the Guildhall School of Music and Drama in London with a First Class Honours Degree. During his time at Guildhall he received regular lessons with Eric Crees, Peter Gane and Christopher Houlding and later with Fabrice Millischer of Freiburg Musikhochschule and Guilhem Kusnierek at the Hochschule for Music Saar.
From 2016 until 2020 Kris was working as a member of the German Radio Philharmonic, and since 2021 is the solo trombonist of the WDR Symphony Orchestra. Besides regular concerts with his orchestra, he has performed as guest solo trombonist with many of Europe's leading orchestras such as the Royal Concertgebouw Orchestra in Amsterdam and Bavarian Radio Symphony Orchestra in Munich. He is fortunate enough to have been a member of both the European Union Youth Orchestra and Gustav Mahler Jugendorchester and travel extensively throughout the world, performing in all of Europe's major concert halls and festivals such as The BBC Proms and Salzburger Festspiele.
Alongside his orchestral career, Kris also manages to navigate a busy schedule as a soloist. Shortly after winning his job in 2016 Kris experienced an increased interest and love of the trombone's wonderful solo literature, leading him to start a duo with the exceptional Korean pianist, Seri Dan. Together they perform regular recital concerts throughout Germany and worldwide. He performs regularly as a concert soloist with world class ensembles such as the Bavarian Radio Symphony Orchestra and Munich Chamber Orchestra. In season 2023/2024 alone, Kris will perform as a soloist throughout Germany with the Deutschen Kammerphilharmonie Bremen, Robert-Schumann-Philharmonic in Chemnitz, Hamburger Camerata, Hofer Symphony Orchestra, Südwestfalen Philharmonic, Göttingen Symphony Orchestra, Bergische Symphony Orchestra and Vogtland Philharmonic plus numerous orchestras in Switzerland, Spain, Poland, Austria etc.
Seri Dan
grew up in Seoul, Korea, and started playing piano when she was 7 years old. At the age of 11, her piano teacher noticed that she also had a talent for singing, so she started taking piano and singing lessons at the same time.
Seri won a classical vocal competition in Seoul the following year. After finishing elementary school, she decided to focus just on her piano playing, attending the Kaywon High School of the Arts. She got her Bachelor's degree with full marks at the Kyunghee University, studying with Prof. Hyo-Sun Lim on a full scholarship.
In 2016 Seri moved to Germany and began her piano masters degree under the tuition of Prof. Alfonso Gómez and Tamara Stefanovich at the Hochschule für Musik in Freiburg. It was during her time in Freiburg that she met trombonist Kris Garfitt and began collaborating in several concerts and recordings. After achieving her Master's degree with full marks at all three graduation recitals, Seri went on to the Hochschule für Musik Mannheim to study Korrepetition (collaborative piano) under Chiaki Ohara.
Since meeting Kris Garfitt, they are playing recital concerts regularly throughout Germany, England and across Europe. Seri has also accompanied Kris in several major international music competitions such as the ARD Music Competition in Germany, Royal Over-Seas League Music Competition in London, Jeju International Music Competitions and IPV (International German Trombone Association) Competition, where he was always awarded the first prize.
Seri has regularly performed in chamber music projects and worked as a piano accompanist for the Germany Radio Philharmonic Orchestra. Since 2020, she is working as a collaborative pianist and chamber music assistant at the Hochschule für Musik Saar, in Saarbrücken, Germany.
Seri was also the official accompanist of many international trombone competitions, such as the IPV International Trombone Competition 2020 and the Michel Becquet Trombone Competition 2023.