---
Maxim Vengerov, Shanghai Symphony Orchestra & Long Yu
---
Biographie Maxim Vengerov, Shanghai Symphony Orchestra & Long Yu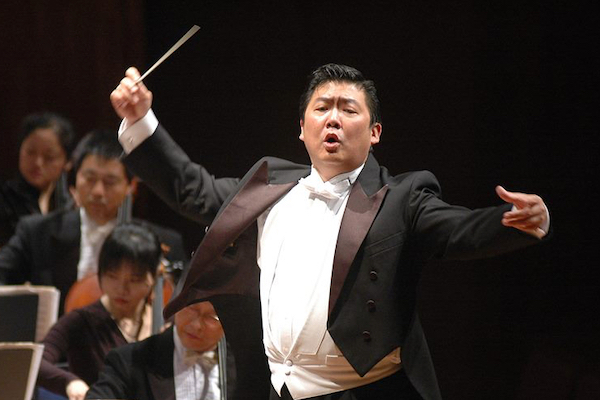 The Shanghai Symphony Orchestra
is China's oldest symphony orchestra. Founded in 1879 as the Shanghai Public Band, it was developed into an orchestra in 1907 and renamed in 1956 as the Shanghai Symphony Orchestra. The SSO has built bridges in recent years between East and West, not least through international touring and its Shanghai Orchestra Academy, a joint initiative between the orchestra, the Shanghai Conservatory of Music and the New York Philharmonic Orchestra. Maestro Long Yu became Music Director of the SSO in 2009.
With help from professional organizations, SSO has visited many countries and regions in Asia, Americas, and Europe, so that the orchestra was able to expand to international markets. SSO made its debut at Carnegie Hall of New York to celebrate the 100th Anniversary of the hall in 1990. The orchestra also performed at the Berlin Philharmonic Hall to celebrate the 125th Anniversary of the SSO in 2004. SSO visited 11 cities in the USA in 2003, made its Europe tour during Sino-French Culture Year in 2004, held a Spanish tour in 2005, and performed at the Musikverein (Golden Hall) in Vienna in 2007. In 2009, under the leadership of current Music Director Long Yu, the orchestra toured North America to perform 12 concerts. In its international tours, SSO successfully integrated Chinese traditional elements into Western symphonies, created new performance form and promoted Chinese culture, which was really enjoyed by both Eastern and Western audiences. In March 2010, Music Director Long Yu led the orchestra performing at the 14th Beethoven Festival in Warsar and Łodz, Poland. In July 2010, Long Yu led the orchestra in a joint concert with the New York Philharmonic in Central Park, New York, promoting the 2010 Shanghai Expo. In July 2012, Long Yu led the orchestra in two concerts at the Schleswig-Holstein Music Festival, respectively in Kiel and Hamburg. In January 2014, Long Yu led the SSO on a tour through Europe again, which received consistent praises from local audiences in Munich, Nuremberg, Cologne, Amsterdam and other cities. In the summer of 2015, Shanghai Symphony Orchestra expanded their influence in the Americas, including New York, Rio de Janeiro, and Buenos Aires.
Long Yu
The pre-eminent Chinese conductor with an established international reputation, Long Yu is currently Artistic Director and Chief Conductor of the China Philharmonic Orchestra, Music Director of the Shanghai and Guangzhou Symphony Orchestras, the Artistic Director of MISA Shanghai Summer Festival, and the principal guest conductor of the Hong Kong Philharmonic Orchestra.
Long Yu conducts the leading orchestras and opera companies around the world including the New York Philharmonic, Chicago Symphony Orchestra, Philadelphia Orchestra, Los Angeles Philharmonic, Montreal Symphony Orchestra, Washington National Symphony, Orchestre de Paris, Hamburg State Opera, Rundfunk-Sinfonieorchester Berlin, Rundfunk Sinfonie Orchester Leipzig, NDR Sinfonieorchester, Munich Philharmonic Orchestra, Sydney Symphony Orchestra, BBC Symphony Orchestra and Singapore Symphony Orchestra.