---
Vadim Tchijik and Alberto Urroz
---
Biographie Vadim Tchijik and Alberto Urroz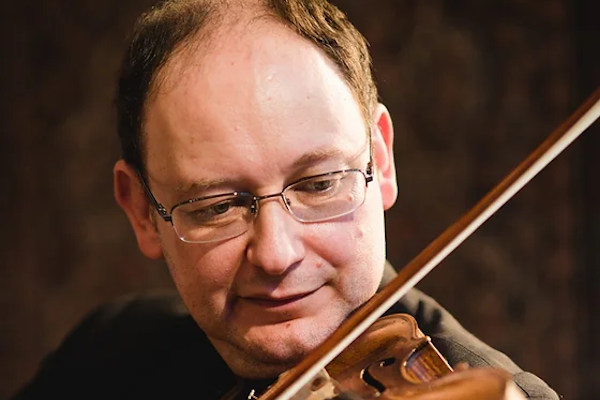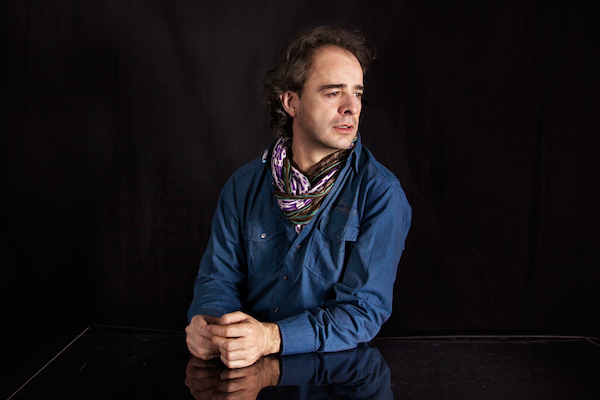 Vadim Tchijik
Prize-winner of many prestigious international violin competitions such as N. Paganini Competition in Genoa, P.I.Tchaikovsky Competition in Moscow, R. Lipizer Competition in Gorizia; winner of International Competition in Portogruaro (Italy),
Juventus Award (by the European Council), N. and L. Boulanger Foundation Award and Natexis Banque Populaire Foundation Award in Paris, O. and V. Ritter Foundation Award in Hamburg and G. Cziffra Foundation Award (France).
Born in November 1975, he started to study the violin at the age of six and gave his first concert when he was only eight. He finished the famous Tchaikovsky Central Music School in Moscow for the gifted children, First Prize unanimously at the National Superior Conservatory of Music in Lyon, then he completed his post-graduate studies at the High Conservatory of Music in Cologne, Artist Certificate at the Southern Methodist University Meadows School of Arts in Dallas, Chigiana Music Academy in Siena and always obtained the highest honours.
Among his teachers were Boris Belkin, Ivry Gitlis, Edouard Schmieder, Herman Krebbers, Mihaela Martin and Irina Botchkova.
He has performed with Moscow Symphony Orchestra, North Nederland Symphony Orchestra, Mexico Symphony Orchestra, Kharkov Philharmonic, Orchestra di Teatro di Genova, Sanremo Symphony Orchestra, Freiburg Symphony Orchestra, Orchestra di Padova e del Veneto, Ulianovsk Philharmonic, Gunma Chamber Orchestra, Vasteras Sinfonietta, Camerata of Coahuila, Musica Vitae Chamber Orchestra, Basse-Normandie, Garde Républicaine, Yaroslavl Philharmonic, Akademik Baskent (Ankara), Kazakhstan Chamber Orchestra, Plano Symphony Orchestra and many others, conducted by Michel Tabachnik, Jean-Pierre Wallez, Jean Deroyer, Anton Nanut, Peter Csaba, Paolo Peloso, Enrique Batiz, Naoto Otomo etc.
Vadim Tchijik gives recitals in France, Germany, Italy, Belgium, England, Switzerland, Holland, Spain, Portugal, Luxembourg, Sweden, Russia, USA, Canada, Mexico, Japan, Turkey, Bulgaria, Poland, Israel, Lebanon, Malaysia, Thailand, Vietnam, Cambodia, Burma, Dominican Republic, Haiti and other countries all over the world. He plays in the biggest halls as : Théâtre des Champs-Elysées, Theatre du Châtelet, Salle Gaveau in Paris, Konzerthaus in Berlin, Gewandhaus in Leipzig, Residenz in Munich, Arsenal in Metz, Corum in Montpellier, Concertgebow in Amsterdam, Dvorak Hall in Prague, Big Hall of Tchaikovsky Conservatory in Moscou, Suntory Hall and Hamarikyu Asahi Hall in Tokyo, Philharmonie in Cologne and Konzerthaus in Freiburg, Palace of Culture in Sofia, Philharmonie in Kiev, Del Prado Museum in Madrid, Palace of Fine Arts in Mexico…
He is very often invited to participate in prestigious music festivals among which Festival Radio France and Montpellier, Pablo Casals, Auvers sur Oise, Colmar, Nancyphonies, Guebwiller, Quimper, Royan, Festival of St-Riquier, Fetes Romantique de Nohant, Semaines Musicales de Tours, Music Festival des Grands Crus de Bourgogne, Japan Music festival, Okayama Music Festival, Young Artists Festival in Los Angeles, Festival of Guil-Durance, Music Art Festival in Grenoble, International Festival in Portogruaro, Settimane Musicale di Ravello, Salon of the Arts in Sofia, Felicja Blumental Festival in Tel Aviv, Euro Musica Vitae Festival in Sweden, 5 de Mayo in Puebla, Juventus and Salon Musicora in Paris.
He performs in various radio and TV broadcasts in many countries (France Musique, Radio Classique, NHK, France 3, Mezzo, RAI, Japanese, Russian, Swedish television) and his concerts were broadcasted all over the Europe, USA and Asia. He recorded several CD's for Lyrinx ("Recommandé" by Classica Magazine, "Coup de Coeur" by Piano Magazine), Exton ("One of the best CD's of the Month" by The Record Geijutsu (Japan), Polymnie and DOCdata Benelux labels. In 2006 he participates in Japan at the recording of a series of CD dedicated to the 250th Mozart Anniversary.
He played chamber music with Pieter Wispelwey, Emmanuel Pahud, Jean-Claude Pennetier, Marielle Nordmann, Georges Pludermacher, Philippe Bernold, David Geringas, Anne Queffelec, Alain Meunier, Cedric Tiberghien, Marc Coppey, Bernard Soustrot, Michel Arignon, Alexander Melnikov, Alban Gerhardt, Michel Lethiec, Dominique De Williencourt, François Salque, Thierry Caëns, Yves Henry etc. His concerts always receive highest acclamations by critics.
In 2004, the famous French magazine "Diapason" dedicates one page to Vadim Tchijik entitled "Already Maestro" and in 2010, he is on the cover of the famous "String" Magazine with an exclusive interview of six pages.
He is Artistic Director of the International Music Festival in Hyères, "Les Musicales de Saint-Martin" and "Les Heures Musicales de Binic" Music Festivals in France.
Vadim Tchijik gives master-classes in Europe, in South America and in Asia and also edited the violin part of music by Saint-Saens, Ravel and Franck for "Zen On" music edition in Japan.
Founder and director of the string ensemble "Les Virtuoses", he is playing a Ferdinando Gagliano violin made in Naples in 1775.
Alberto Urroz
is one of the most brilliant and multitalented Spanish pianists of his generation. Acclaimed pianist with an international career as soloist, he is also an active chamber music player, as well as accompanist of great singers, dancers and ballet companies in prestigious festivals and halls. He is founder and Artistic Director of the prestigious Mendigorria International Music Festival in Spain and has produced and created successful multidisciplinary spectacles including music, art and dance. As a founder member of the European Piano Teachers Association, EPTA, in Spain, Urroz was appointed President of EPTA Spain in 2018 and is responsible for the first ever EPTA international conference in Spain which will be held in Madrid in 2021. Dr. Urroz was granted an honorary award, in 2017, to the best Doctoral Thesis in Arts and Humanities by the Alfonso X el Sabio University for his dissertation "Optimization of the didactic-learning process of piano technique: models to develop eficiency in the performance of the piano studies Op. 299 by C. Czerny (1791-1857)." Urroz is piano professor in Madrid for bachelor, master and doctorate studies in piano performance at the Alfonso X el Sabio University. He also holds a piano teaching position at Arturo Soria Conservatory in Madrid for undergraduate studies. As a renown pedagogue, he has been invited to various prestigious international festivals and universities in Spain, Portugal, Italy, Norway, South Korea and USA. Concerned about the new generations, he has organized the presentation of young talents in auditoriums and festivals such as the Conde Duque, the Royal Conservatory of Music, the Pons Foundation and Auditorio CentroCentro, in Madrid, and the Mendigorría International Music Festival, in Navarra. He has also been cofounder and Artistic Director of the I Madrid Shigeru Kawai Piano Competition. Currently, he prepares the first edition of the Arkadia project – Meetings with the Maestro, an innovative and ambitious festival of concerts and master classes in a unique environment to enjoy music, nature and comprehensive artistic training of highest specialization in performance.
Alberto Urroz has performed throughout Europe, Asia and America. A successful debut in 2008 at New York's Carnegie Hall boosted his international career, following recitals in Seoul (South Korea), Strasburg (France), Atlanta (USA), London (UK) and Naples (Italy), among others. Since first performing with the Navarre Symphony Orchestra in 1999, Urroz has been sought by important cultural institutions such as the Prado Museum, Madrid National Auditorium, Conde Duque Auditorium, the Santander and Peralada International Festivals, the Royal San Fernando Fine Arts Academy, the Juan March Foundation, Gayarre Theater, Baluarte Auditorium, the Cervantes Institute in Berlin, Lisbon and Manila; Festival Percusos in Ponte de Lima and Festival Terras See Sombra, both in Portugal; the Music Talent Festival in Brescia, Italy; the German Embassy in Madrid; the Las Canals, Binic and Hyères Festivals in France; the Iberian Foundation for Spanish Music in NYC, the Georgia State University in USA, the German Embassy in Madrid; the Italian Culture Institute in Madrid, Lisbon and Strasburg, etc. He has played in such halls as the Madrid National Auditorium and Conde Duque Cultural Centre, Museo del Prado Auditorium, the Gayarre Theatre, the Baluarte Auditorium, the Weill Recital Hall and Elebash Recital Hall (NY), Salle du Munsterhof (Strasburg), Bolivar Hall (London), the Sejong Center (Seoul), Kopleff Recital Hall (Atlanta), Villa Floridiana (Naples), the Oslo Music Academy, the Amsterdam Conservatory, the Tel Aviv Philarmonie, the Cultural Center of the Philippines (Manila), etc. ...