---
Belcea Quartet & Piotr Anderszewski
---
Biographie Belcea Quartet & Piotr Anderszewski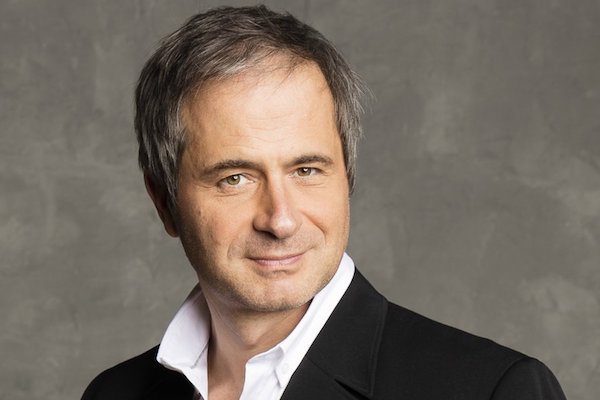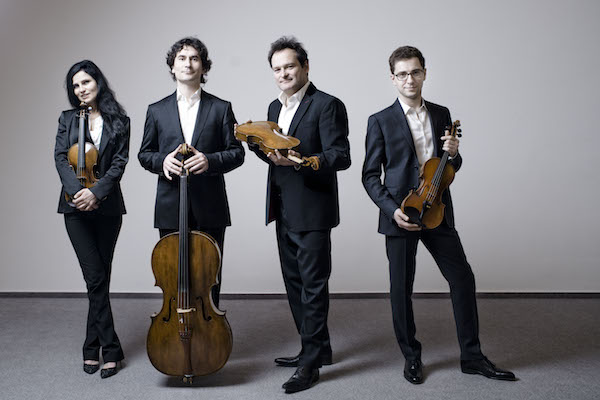 Belcea Quartet
Was das Belcea Quartet im Vorwort zu seiner Gesamtaufnahme der Beethoven Streich-quartette schreibt, gilt auch für sein gesamtes künstlerisches Wirken. Die Musiker lassen sich nicht von Grenzen einengen: Kein geographischer Ort und kein Repertoire kann sie einschränken. 1994 am Londoner Royal College of Music gegründet, drängt sich eine Verortung nach Großbritannien auf. Mit der rumänischen Violinistin Corina Belcea und dem polnischen Bratschisten Krzysztof Chorzelski bringen jedoch gleich zwei Gründungsmitglieder eine andere künstlerische Herkunft in das Ensemble ein. Wichtige Impulse bekamen sie zudem von ihren Mentoren, Mitglieder des Alban Berg und des Amadeus Quartetts. Dieses Spektrum wird durch die französischen Musiker Axel Schacher (Violine) und Antoine Lederlin (Violoncello) erweitert. Das Belcea Quartet verbindet seine mannigfaltigen Einflüsse zu einer gemeinsamen musikalischen Sprache.
Diese Aufgeschlossenheit spiegelt sich im Repertoire des Belcea Quartets wider. Regelmäßige Uraufführungen – u.a. Mark-Anthony Turnages Streichquartette "Twisted Blues with Twisted Ballad" 2010 & "Contusion" 2014, Thomas Larchers "Lucid Dreams" 2015 sowie das 4. Streichquartett von Krzysztof Penderecki (2016) – gehen gleichermaßen mit einer tiefen Verbundenheit zu Werken der späten Klassik und der Romantik einher. Das Quartett findet stets seine ganz eigene, elegante und feine Interpretation der Werke, die in Konzerthäusern weltweit zu umjubelten Auftritten führt. Zu den Partnern des Quartetts zählen u.a. Piotr Anderszewski, Till Fellner, Matthias Goerne und Antoine Tamestit.
Ab dieser Saison ist das Quartett Ensemble-in-Residence im neuen Pierre Boulez Saal in Berlin. Das Belcea Quartet teilt sich seit 2010 eine Residenz mit dem Artemis Quartett am Konzerthaus Wien. Die Musiker haben zudem eine eigene Stiftung gegründet, deren Ziel die Förderung und die Inspiration junger Streichquartette durch intensive gemeinsame Probenarbeit ist. Außerdem unterstützt sie führende zeitgenössische Komponisten durch die Erteilung von Auftragskompositionen, die vom Quartett uraufgeführt werden.
Das Belcea Quartet kann auf eine beeindruckende Diskographie verweisen. Während der langen Kooperation mit EMI Classics hat das Quartett alle Streichquartette von Britten & Bartók sowie Werke von Schubert, Mozart und Dutilleux u.a. eingespielt. 2012 und 2013 haben die Musiker sämtliche Beethoven Streichquartette für Alpha Classics, das neue Exklusiv-Label des Ensembles, im Benjamin Britten Studio in Snape, aufgenommen. Für diese und vorherige Einspielungen wurden die vier mit bedeutenden Preisen geehrt, u. a. dem Gramophone Award und dem ECHO Klassik. Im Herbst 2015 - pünktlich zum 20. Jubiläum des Belcea Quartets – erschien die Einspielung von Werken von Webern, Berg und Schoenberg. Im September wurde die von der Presse hochgelobte Gesamtaufnahme von Brahms' Streichquartetten und dem Klavierquintett veröffentlicht und ist mit einem Echo Klassik sowie dem Diapason d'or de l'année 2016 ausgezeichnet worden.
Ihre Aufführungen aller Beethoven Streichquartette im Konzerthaus Wien 2012 wurde von Mezzo TV übertragen und erschien im Herbst 2014 auf dem Label EuroArts auf DVD und Blu-ray Disc, zusammen mit dem Dokumentarfilm von Jean-Claude Mocik über das gesamte Projekt "Auf den Pfaden der Beethoven-Streichquartette".
In der Spielzeit 2017/2018 stehen beim Belcea Quartet u.a Konzerte in der Wigmore Hall London, der Kölner Philharmonie, dem Muziekgebouw Amsterdam, der Lotte Hall in Seoul, Philharmonie de Paris sowie 3 Konzerte im Pierre Boulez Saal Berlin auf der Agenda. Die Musik des 21. Jahrhunderts wird in der Saison 2018/2019 wieder eine große Rolle spielen, so wird das Belcea Quartett ein neues Streichquartett von Joseph Phibbs uraufführen.
Piotr Anderszewski
is regarded as one of the outstanding musicians of his generation.
He has regularly given recitals at the Wiener Konzerthaus, Berliner Philharmonie, Carnegie Hall New York and the Concertgebouw Amsterdam. His collaborations with orchestra have included appearances with the Berlin Philharmonic and Berlin Staatskapelle orchestras, the Philharmonia and London Symphony orchestras, the NHK Orchestra and the Orchestra de Paris. He has also placed special emphasis on playing and directing, working with orchestras such as the Scottish Chamber Orchestra, Chamber Orchestra of Europe and Camerata Salzburg.
In the 2017-18 season Anderszewski will appear with the Vienna Philharmonic Orchestra, the Budapest Festival Orchestra and the Orchestra de Paris. In recital he can be heard at Chicago's Symphony Centre, the Concertgebouw in Amsterdam and at the Barbican Centre in London. In spring 2018 he will resume his play-direct collaboration with the Scottish Chamber Orchestra for an extensive European tour.
Piotr Anderszewski has been an exclusive artist with Warner Classics/Erato (previously Virgin Classics) since 2000. His first recording for the label was Beethoven's Diabelli Variations, which went on to receive a number of prizes. He has also recorded Grammy-nominated discs of Bach's Partitas 1, 3 and 6 and Szymanowskis solo piano works, the latter also receiving a Gramophone award in 2006. His recording devoted to works by Robert Schumann received the BBC Music Magazines Recording of the Year award in 2012. Anderszewski's disc of Bach's English Suites nos. 1, 3 and 5, released in November 2014, went on to win both a Gramophone award and an ECHO Klassik award in 2015. His most recent recording of two late Mozart concertos with the Chamber Orchestra of Europe was released in January 2018.
Recognised for the intensity and originality of his interpretations, Piotr Anderszewski has been a recipient of the Gilmore award, the Szymanowski Prize and a Royal Philharmonic Society award.
He has also been the subject of several documentaries by the film maker Bruno Monsaingeon. Piotr Anderszewski plays the Diabelli Variations (2001) explores Anderszewski's particular relationship with Beethoven's iconic work, whilst Unquiet Traveller (2008) is an unusual artist portrait, capturing Anderszewski's reflections on music, performance and his Polish-Hungarian roots.