---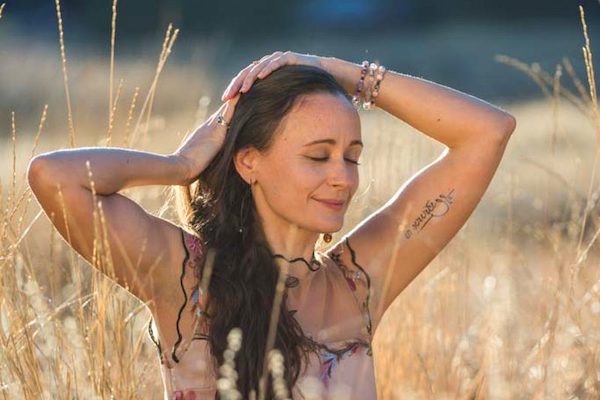 Jai-Jagdeesh
Over the past decade, Jai-Jagdeesh has evolved into an innovative and courageous storyteller. Her music, rooted initially in mantra, has become a collection of songs that defy classification. These recordings have traveled the world — as has she, enriched by the profound friendships, diverse cultures, and varied musical traditions she has encountered along the way. Jai-Jagdeesh has toured extensively in North and Central America, Europe, Asia, and Australasia, always taking audiences on a musical ride that transcends the all-too-brief concert-going experience.
Having grown up in a spiritual community that recently and rightly shattered, Jai-Jagdeesh spent the past few years confronting uncomfortable truths and questioning long-cemented beliefs. Oftentimes in the wake of devastating revelations, asking "why" and "how" comes first, followed closely by introspection. Layers of trauma reveal themselves, the foundation crumbles, and a painful process begins. This dark chapter, with its quest for understanding, learning, repair, and renewal, is what Jai-Jagdeesh describes. It has fed each note and every word of this moment's work.
On her forthcoming album, Jai-Jagdeesh visits new territory. A melancholy, curious, sad, mad, and bold statement, "From Dust" (coming in January 2023) is singer/songwriter poetry at its best. Listeners are invited, over the course of 13 tracks, to bear witness to the grief and growth of facing betrayal, disillusionment, and loss. We are invited to hear each quiet private thought and its spectrum of emotion. There is an almost painful sweetness and vulnerability here, supported by a deep strength and raw vocal power. "From Dust" allows us to witness Jai-Jagdeesh claiming her whole Self while encouraging listeners to do the same.