---
Biographie Alberto Forino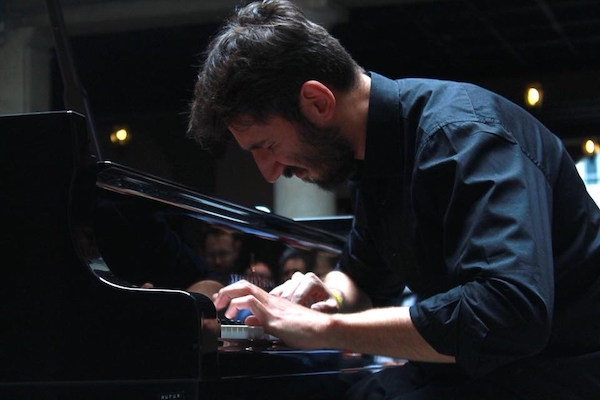 Alberto Forino
began studying music at a very young age, earning his diploma in principal piano with Alberto Ranucci at the Brescia Conservatory. He later went on to study jazz and improvisation in depth, first with Roberto Soggetti and later at the Civica Scuola di Jazz in Milan under the guidance of Franco D'Andrea, taking part in improvisation workshops held by Stefano Battaglia and earning his second level diploma in Jazz at the Vicenza Conservatory with Paolo Birro. Over the years, he has taken part in various courses, seminars and masterclasses on improvisation and composition with Pietro Tonolo, Lucas Ligeti, Rossano Emili, Roberto Dani, Kyle Gregory and others.
In the field of improvised music, he collaborates with guitarist Alberto Zanini, proposing a repertoire that blends contemporary jazz, free improvisation and songs. He has collaborated in a duo with Andrea Bolzoni and with the trio 'Ino' with Gabriele Rubino and Gionata Giardina, as well as in numerous occasional collaborations. He has performed several recitals dedicated to improvisation on film themes and music.
With Giulio Corini on double bass and Filippo Sala on drums, he is working on a forthcoming trio work on original music combining jazz, composition and free improvisation.
In recent years, he has particularly dedicated himself to a solo piano improvisation performance later called Egos: a research path in which his musical ideas and experiences converge and where the piano is explored both in the traditional sense and with extended techniques. For these performances he was invited to the Steinway Corner of PianoCity Milano at the Fondazione Pini in the 2016, 2018, 2019 editions. In September 2020, these performances were declined as a series of thirty concerts for a single listener at his private studio. The experiment of ad personam concerts was later also hosted at the Steinway showroom of Passadori pianos in Brescia.
In the jazz field, he is a member of numerous formations with different ensembles. He was a founding member of the Late Train Trio, which proposed a contemporary reinterpretation of songs from the 1920s and 1930s, with a focus on composers such as Duke Ellington, Louis Armstrong and Fats Waller.
He was a member of the Name Urge Quartet, a formation led by saxophonist and composer Giuseppe Santangelo, which proposed a repertoire entirely dedicated to original compositions. He has realised with several collaborators monographic concerts dedicated to the music of Cole Porter, George Gershwin, Thelonious Monk and Wayne Shorter.
With Augusta Trebeschi and Paolo Cavagnini, he forms a trio that offers a repertoire of jazz and pop evergreens arranged in an acoustic key. In the field of pop and singer-songwriter music, he has collaborated in various formations: as a duo, with guitarist Paolo Cavagnini, he devotes himself to the reinterpretation of Italian singer-songwriter songs. He has been part of groups dedicated to the songs of Fabrizio De André and Francesco Guccini.
Since 2006, he has collaborated with Barbara Mino as a pianist in cultural promotion projects and invitations to reading, with improvisations, specially composed music and re-elaborations of soundtracks.
Also very active in musical theatre, since 2008 he has been collaborating with actor Antonello Cassinotti in the show "Pinocchio REadyMADE", a reinterpretation of Collodi's famous text in a radio key, combined with music entirely improvised on solo piano. In 2015, he began his collaboration with Giuseppe Goisis, creating the music for "Heroes", a tale made of text and music. Again with Giuseppe Goisis, he created the music for 'QSiN', a theatrical adaptation of a text by Tommy Wieringa.
In 2020, he wrote and performed the music for the adaptation of 'Oscar e la dama in rosa' for the Teatrale Forest company, directed by Andrea Frati. He has also written, edited and performed music for several other theatre productions, including 'Oh, what a beautiful war! ..." by Costanzo Gatta and "Le avventure dell'ingegnoso ed errante cavaliere Don Quixote della Mancia" by Angelo Facchetti for the Centro Teatrale Bresciano, "Alla ricerca di Ulisse" by Angelo Facchetti - a joint CTB and Teatro Telaio production; "Abbracci" and "Nido" by Angelo Facchetti for Teatro Telaio; "Attorno al concetto di colore" for SlowMachine with Elena Strada and the supervision of Rajeev Badhan; "Rivista... e corretta! " by Luciano Bertoli; "La guerra di Mario" by Stefano Corsini.
For several years, he has flanked his concert activity with an intense teaching activity.