---
Diana Baroni, Ronald Martin Alonso, Rafael Guel
---
Biographie Diana Baroni, Ronald Martin Alonso, Rafael Guel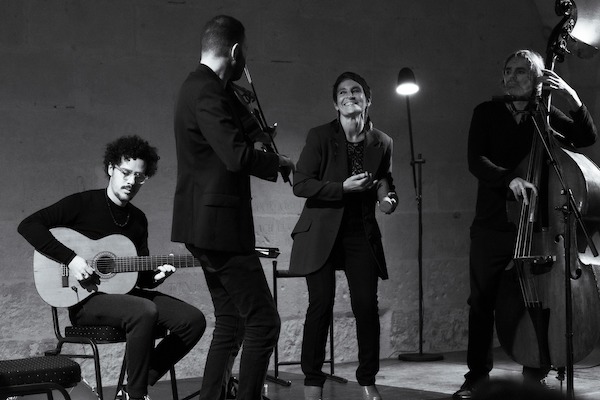 Diana Baroni
Originally from Argentina, born near Rio Parana - Rosario, she began her studies as a child playing several instruments: guitar, piano, singing and flute. At the age of 14, she picked up definitively the flute, which proposed her the prestigious repertoire of classical music and led her to win a scholarship to study with the Yehudi Menuhin Academy in Gstaad, Switzerland.
Returning to Buenos Aires, she developed her career throughout contemporary repertoire and theatrical productions at the CETC - Centro Experimental del Teatro Colon.
Between contemporary and classical music, an eclectic journey began.
In 1997 she decided to return to Europe, to study historic interpretation in Basel, at the heart of the prestigious Schola Cantorum and baroque flute in Amsterdam with Wilbert Hazelzet and Jed Wentz. Regular invitations came about with the ensembles The Rare Fruits Council, ENSEMBLE VEDADO , Musiciens du Louvre, Ensemble Stravaganza, Orchestra Svizzera Italiana; she was a founding member of the renowned ensemble Café Zimmermann. Solo flute of this group for more than 12 years, their albums dedicated to the work of J.S. Bach, are now a days a reference of historical performance, receiving the most important awards from the critic.
Her own baroque music projects were recorded with Dirk Boerner - cembalo, such as the sonatas of Johannes Mattheson and Johan Sebastian Bach, which were celebrated by the specialized european press. She created I LUDI MUSICI with Sarah van Cornewal, to revisit 18th century chamber music around the baroque flute.
As a teacher, Diana is regularly invited by Centre de Musique Baroque de Versailles, Dartington International Summer School or Académie International de Sablé sur Sarthe - France.
Her musical curiosity has led her to explore other musical horizons, giving birth to remarkably unique albums, reviving the Latin-American repertoire affirming her sensuality, innovation and creativity as both performer and musician. Collaborating with Brodsky Quartet, Tunde Jegede or Alter Quintet, she has the talent to integrate the inventiveness of contemporary music and the richness of the south-Amerindian folklore.
In a constant search for the next musical fusion, Diana became a musician never made uncomfortable by borders, in order to explore music, her treasures and limits, like a great explorer.