---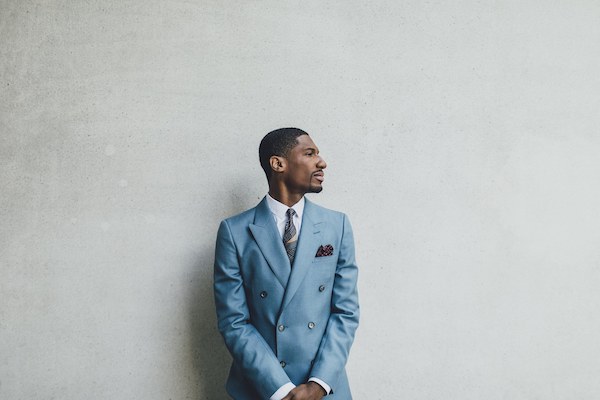 Jon Batiste
Sänger und Pianist Jon Batiste ist in Deutschland noch ein unbeschriebenes Blatt. In den USA ist das anders, dort versammeln sich um ihn herum sofort größere Menschenmengen. Der Grund: Batiste ist Bandleader in der populären "The Late Show With Stephen Colbert", wo er nicht nur für den musikalischen Teil zuständig ist, sondern sich auch mit dem Talkmaster Gag-reiche Wortwechsel liefert und in schrägen Sketches zu sehen ist. Mit diversen Stars wie Ed Sheeran, Lenny Kravitz, Billy Joel, Will Smith, Stevie Wonder, Wynton Marsalis oder John Legend ist er schon in der Show aufgetreten und hat fast ebenso viel Prominenz als Musiker im Studio und auf der Bühne begleitet.
Der 1986 in Kenner/Louisiana geborene Batiste (seiner Geburtsstadt zollt er in dem R'n'B-Opener "Kenner Boogie" Tribut) gehört einer der bedeutendsten Musikerdynastien New Orleans' an. In der Late Show verriet er einmal, dass 30 seiner Cousins Musiker sind. Mit acht Jahren begann er in der familiären "Batiste Brothers Band" Schlagzeug zu spielen, bevor er mit elf zum Klavier wechselte. Sein Talent zeigte er schon damals, indem er insgeheim die Musik von ihm geliebter Videospiele wie "Street Fighter Alpha" und "Sonic the Hedgehog" in Pianopartituren verwandelte.
Die Komposition "Green Hill Zone" aus dem "Sonic the Hedgehog"-Videospiel hat es nun auch auf sein Album "Hollywood Africans" geschafft und steht neben dem bluesigen New-Orleans-Evergreen "St. James Infirmary", Charlie Chaplins sentimentaler Ballade "Smile", dem Jazz-Standard "The Very Thought Of You" und Louis Armstrongs ikonischem Welthit "What A Wonderful World". All diese Titel, sowie sechs eigenen Kompositionen, eine davon mit etwas Inspirationshilfe von Frédéric Chopin, lässt Jon Batiste auf ungekünstelte Art ganz persönlich klingen.
Daran ist auch Produzentenlegende T Bone Burnett beteiligt, der bei den Grammys schon zweimal als Produzent des Jahres ausgezeichnet wurde und weitere Grammy-Ehrungen u.a. für den Soundtrack "O Brother Where Art Thou?" und "Raising Sand" von Robert Plant und Alison Krauss erhielt. Batiste und Burnett trafen sich in Los Angeles auf einer Geburtstagsfeier für U2-Sänger Bono. Die Gäste - darunter Pharrell Williams, Herbie Hancock und Beck - saßen alle an einem langen Tisch und jeder von ihnen spielte als Geschenk einen Song. Nachdem Batiste seine Nummer aufgeführt hatte, begann er sich mit Burnett zu unterhalten und erkannte in ihm schnell eine verwandte musikalische Seele. Schnell wurden Pläne für ein gemeinsames Projekt geschmiedet.
Gemeinsam traf man sich in den Esplanade Studios in New Orleans. "Das ist eine alte Kirche, die in ein Studio mit einer erstaunlichen Akustik umgebaut wurde", berichtet Batiste. "Der Sound hat eine besondere Qualität, es klingt fast, als säße man direkt unter dem Klavier. Unser Ziel war, an etwas zusammenzuarbeiten, das für uns beide authentisch ist. Was dabei herauskam, ist ein auf das Wesentliche reduziertes Porträt von mir."
Wer hierzulande also diesen schlaksigen, charmanten Amerikaner entdecken möchte, der Zuhause schon die halbe Nation um den Finger gewickelt hat, Dauergast in den TV- und Musikstudios ist, mit Spike Lee Filmmusik produziert, in der "Musiker unter 30"-Liste des Forbes-Magazin geführt wird und ganz nebenbei noch Zeit findet, in Modekampagnen von Ralph Lauren, Barneys, Nordstrom und Frye Boots aufzutauchen, der wird ihn nicht besser kennenlernen können als mit diesem ganz persönlichen Album.