---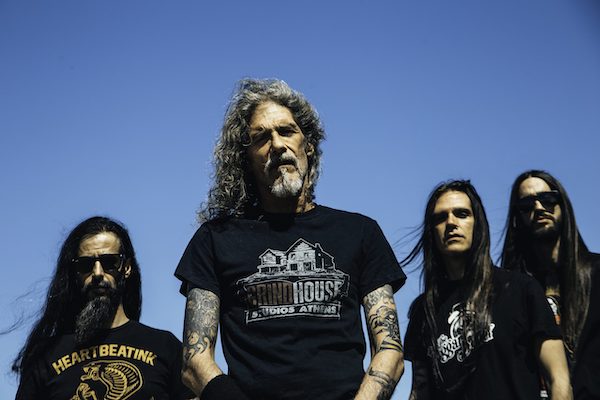 Nightstalker
Don't try to label Nightstalker, it only makes them mad. Over the years they've been saddled with every label under the sun. In the 90's it was grunge… Then it was Stoner Rock… And never try to call them a 'Greek Rock act' either. They play Rock music, plain and simple, and have been doing so to rave reviews for the past three decades. In a world full of bands that fracture at the first hint of a bad review, Nightstalker are a powerhouse that after 8 releases and over 500 worldwide shows, continue to stand at the forefront of the European hard-rock scene.
Formed in Greece in late 1989 by singer (and at the time drummer) Argy, and made truly stable with the addition of bassist Andreas in 1992, Nightstalker managed to meld their heavy rock influences with funky rhythms and grungy melodies to create a whole new beast. With all these elements in place they released their first EP in 1994 entitled 'Side FX', followed by their first full length album 'Use' in 1996, which established the band with their own trademark brand of dark heavy sounds. 2000 saw a slight shuffle in membership as well as a new EP 'The Ritual', which found Nightstalker treading further into the realms of deepest, darkestPsychedelia. As Nightstalker welcomed new member Tolis, the ensuing 2004 album 'Just a Burn' and 2009's 'Superfreak' solidified the band as local and highly respected heroes throughout Greece, as well as garnering and solidifying a loyal international fanbase, as they led the way in signature rock n'roll chaos.
From the Balkans to the UK, Nightstalker continued to focus solely on their music and the fans, bringing their rock-n-roll circus of a live show to the stage across countless nationwide and European tours, plus Festival appearances at the likes of Freak Valley, Stoned From The Underground, Rockwave, Heavy By The Sea and Street Mode, as well as sharing stages with Ramones, Uriah Heep and many other legendary artists.
The most recent of Nightstalker's 3-decade conquest has seen the band turn things up a notch, with the release of albums 'Dead Rock Commandos' in 2012, 'As Above, So Below' in 2016, and most recently 'Great Hallucinations' in 2019. And while the worldwide pandemic doesn't currently allow, Nightstalker look forward to getting back on road to continue touring extensively; a medium that since day one has been at the forefront of Nightstalker's musical language, a celebration of all things loud.
Heavy sound, groovy rhythms, intense bass playing. All together with a lot of catchy melodies and the power of Argy's vocals are the secret of the music of Nightstalker. Raw rock 'n roll simplicity, stunning riffs and electric haze are what have kept the band going for more than 30 years.