---
Umberto Fiorentino & Claudio Quartarone
---
Biographie Umberto Fiorentino & Claudio Quartarone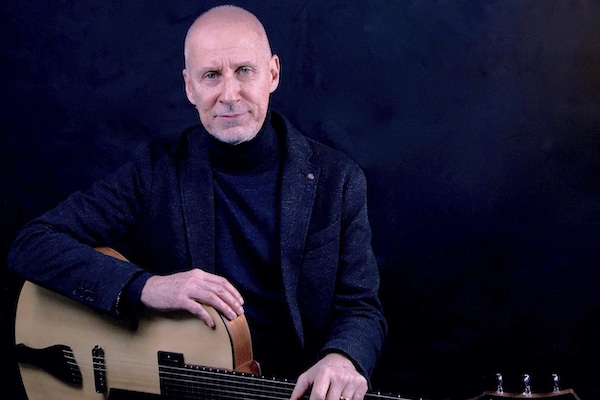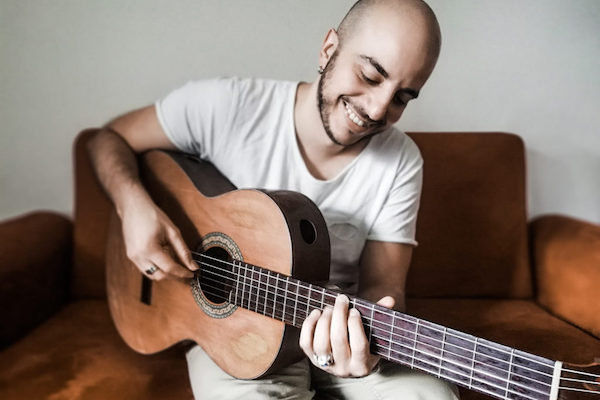 Umberto Fiorentino
guitarist and composer, made his debut in the 1970s alongside his peers from the Roman area such as Roberto Gatto and Danilo Rea. In the 1980s he participated in an innumerable number of concerts, international festivals and radio and television performances in Italy and abroad, earning great public and critical acclaim. As leader and side man he has had collaborations with big names such as: Paolo Fresu, Enrico Rava, Mike Stern, Manu Roche, Rita Marcotulli and many others. He also has the opportunity to participate in some important productions in the area of Pop music among which the name of Mina stands out. He collaborated from 1990 to 2000 on the teaching part of the major magazine in the field, "Chitarre," and has been teaching at the Frosinone Conservatory "Licinio Refice" since November 2008.
Claudio Quartarone
Born in Catania, September eight 1984, he shows an inclination for music from an early age, in fact he began studying classical guitar at the age of eight. As a child he won many classical guitar competitions, also making debut as a solo performer, his talent was so clear that he was considered an enfant prodige in the classical guitar environment.
At age fourteen, he temporarily leaves the guitar to devote himself to electronic music.
Just after high school, at nineteen, he discovers Jazz, which will become his main expressive channel. He was immediately noticed by the Sicilian jazz environment before attending the Umbria Jazz Clinics in Perugia in 2006. On this occasion he will be able to participate in prestigious masterclasses held by internationally renowned professors and musicians as well as professors of the prestigious Berklee College Of Music in Boston, such as: Ken Cervenka, Ron Savage, Dennis Montgomery III, Donna McElroy, David Clark, Michael Williams, David Howard, Sheryl Bailey, Suzanna Sifter, James Odgren, and Larry Monroe and Bruno Tommaso.
In 2007, through the Siena Jazz foundation, he won a scholarship to represent Italy at the I.A.S.J. (International Association Schools of Jazz) in Riga, Latvia. Here he will participate in courses of High Specialization with Claudio Fasoli, Pietro Condorelli, Paolino Dalla Porta, Enrico Rava, Tommaso Lama and Giovanni Mayer.
In the same year, during Siena Jazz, he was noticed by trumpeter Enrico Rava who decides to involve him on tour with his band Enrico Rava Special Edition, Rava will soon say about Claudio:
"A truly incredible guitarist, I think I've never heard one like this in Italy, it's called Quartarone, it's from Catania, like Francesco Cafiso, that area is giving monstrous musicians." In 2008 he began working with the RAI TRADE label (the label of the the national italian television RAI) which will see the release of the three album Even Eight, The Third Boss Guitar, Elevator.
In 2010 he opens the concert for Paolo Fresu and Omar Sosa at the Metropolitan theater in Catania.
In 2011 the Comar23 label produces and distributes the new Quartarone album entitled Subliminal.
From 2011 to 2016 he published a large number of digital releases ranging from jazz to electronic contamination, experimenting with new forms of musical communication, collaborating with Video Artists. Always looking for new languages ​​in the contemporary musical world.
In 2015 he made the music for the DVD inspired by the international best seller Think and Grow Rich by Napoleon Hill entitled Think and learn big produced and promoted by the Napoleon Hill Foundation based in the United States.
In the same year, a track of the Calling Any Station album was selected as the soundtrack for the VOR brand advertising spot.
The press on Claudio Quartarone is numerous and unanimously defined as an extraordinary talent, it is also mentioned in the most important sites of Italian jazz culture, newspapers and magazines: JAZZIT, JazzEspresso, All About Jazz, JazzItalia, Guitar Club Magazine, Neuguitars.
In January 2018 he published his first book entitled "Metodo per chitarristi improvvisatori" Published by Workin'Label productions.
For the same label in May 2018 comes out a new album entitled Changes, performed entirely in solo guitar.
In March 2019 a new album, Equilibrium, is distributed in all digital stores.
Among other accomplishments,The Australian Company Valiant Samples, has build a plug in based on Claudio's electric sound called Quartarone Guitar Reveries. This instrument has been used by Burkhard Dallwitz and other great composers.
During his career he plays with some of the most important musicians of the national and international jazz scene including: Francesco Cafiso, Enrico Rava, Yussef Dayes, Rocco Palladino, Umberto Fiorentino, Daniele Tittarelli, Fabrizio Sferra, Giovanni Guidi, Mauro Ottolini, Stefano Senni, Dino Rubino, Dan Kinzelman, Andrea Beneventano, Joao Lobo, just to name a few.