---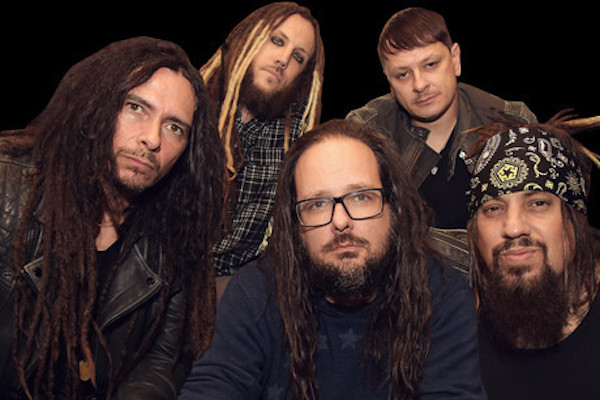 KORN
The members of Korn built an immortal bond back in 1993 the first time that Jonathan Davis, James "Munky" Shaffer, Reginald "Fieldy" Arvizu, and Brian "Head" Welch decided to make music as a unit. They shed blood, sweat, and tears in the studio and on stage, fashioning an undeniable, unsettling, and unique sound that would permanently alter the course of rock music.
After six seminal releases, two Grammy Award wins, countless sold out shows, and eventually selling 35 million albums worldwide, Head left the group in 2004 to face down the demons of addiction on his own. Korn soldiered on, permanently adding drummer Ray Luzier to the fold in 2007and releasing four more epic full-length releases, most recently 2011's groundbreaking dubstep-metal hybrid The Path of Totality.
The nu metal band Korn was born from the band previously known as L.A.P.D. and three of its original members – Reginald Arvizu, James Shaffer, and David Silvera. After L.A.P.D. disbanded, Silvera, Arvizu, and Shaffer brought Jonathan Davis and Brian Welch into the band and created Korn. The band started performing publicly in 1993, and began work on a demo album around the same time. Korn was self-released in the following year and the band's new metal sound piqued the interest of a number of music critics. That same year, Korn joined such notable artists as Ozzy Osbourne on tour, helping to further establish a fan base and bring them album into the Billboard 200 charts. The album eventually reached multi-platinum status and earned Korn a Grammy nomination for Best Metal Performance. The singles "Blind," "Shoots and Ladders," and "Need To," were all equally successful, launching a career for Korn which has lasted well into the new millennium.
Since that time, Korn has released the albums: Life Is Peachy (1996), Follow the Leader (1998), Issues (1999), Untouchables (2002), Take A Look in the Mirror (2003), See You on the Other Side (2005), Korn III: Remember Who You Are (2010), and The Path of Totality (2011.) The albums have spawned some of nu metal's biggest hits, including: "Got the Life," "Freak on a Leash," "Falling Away from Me," "Make Me Bad," "Somebody Someone," "Here to Stay," "Thoughtless," "Alone I Break," "Did My Time," "Right Now," "Everything I've Known," "Twisted Transistor," "Coming Undone," "Evolution," "Let the Guilt Go," "Narcissistic Cannibal," and "Way Too Far." For their contributions to metal music, Korn has been recognized with multiple awards, including two Grammy Awards (with seven nominations.) Korn's worldwide record sales have exceeded the fifty million mark, and they've placed eleven singles in the top ten of the Billboard 200. Korn's most recent release is Paradigm Shift, which arrived in 2013.