---
Theatre of Voices, Ars Nova Copenhagen & Paul Hillier
---
Biographie Theatre of Voices, Ars Nova Copenhagen & Paul Hillier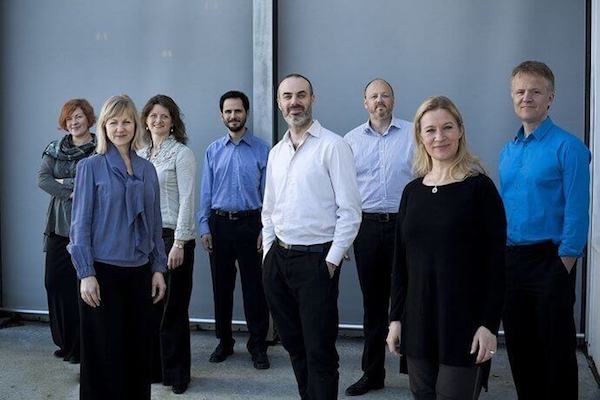 Theatre of Voices
widely recognized as one of the world's foremost vocal groups, was founded by Paul Hillier in 1990 and re-established in Denmark when he moved to that country in 2004. The group presents a wide range of contemporary music, often juxtaposed with elements of early music. Their programs feature many of today's most eminent composers - Berio, Pärt, Reich, Cage, Gudmundsen-Holmgreen, Stockhausen - while among their current favourite 'early' composers are Perotin, Dowland, and Buxtehude.
Amongst the group's early successes were the presentation of several new works by Arvo Pärt and the premiere of Steve Reich's Proverb – written for them – which they recorded for Nonesuch with a quartet of musicians from the composer's own ensemble. The group then collaborated with the theatre director Peter Sellars in a staged production of Stravinsky's Biblical Pieces at the Netherlands Opera in Amsterdam. They also performed with John Adams: Grand Pianola Music in Los Angeles, conducted by the composer, and the world-premiere in Paris of his Christmas oratorio El Niño, followed by a DVD recording and performances worldwide.
Theatre of Voices now regularly appears at international venues such as the Edinburgh Festival, Barbican Centre and Carnegie Hall. In 2007 they premiered David Lang's The Little Match Girl Passion at Carnegie Hall. This piece was commissioned for TOV and won the 2008 Pulitzer Prize; their CD of the work then received a Grammy Award in 2010 – on the group's 20th anniversary!
In 2008 the group opened the Berliner Festspiele with Stockhausen's Stimmung - at the composer's own request – also performing it at the BBC Proms and at venues across Europe and from Mexico to Australia. John Cage is another major figure in modern music who has often been featured by TOV. Most recently the group performed his Sinfonia for 8 voices and orchestra in Casas da Musica, Portugal.
Theatre of Voices enjoys collaborations with some of the world's finest instrumentalists, among them the Kronos Quartet, London Sinfonietta, Michala Petri, Andrew Lawrence-King, the Smith Quartet. They premiered Gavin Bryar's "The Stones of the Arch" with Kronos Quartet at Barbican Centre's Steve Reich Festival (2007), and the two ensembles have just completed a concert/recording project celebrating Gudmundsen-Holmgreen's 80th birthday.
In 2009 they commissioned and premiered a chamber opera by Chinese composer Liu Sola – "The Afterlife of Li Jiantong" – at the Royal Danish Opera and the Barbican Centre London, together with three brilliant musicians: Michala Petri (recorder), Andrew Lawrence-King (medieval harp), and Gert Mortensen (percussion). In 2010 Theatre of Voices premiered Gudmundsen-Holmgreen's Company with London Sinfonietta – this collaboration resulted in more premieres and recording in 2012. David Lang wrote 'Ark Luggage' for TOV and Smith Quartet the same year.
The past few years have included tours to Australia, Sweden, UK, Mexico, Denmark, the US, Italy, France, Poland, Belgium, Germany, Portugal, Luxemburg and Holland. Presently, the group is preparing projects with composers Jóhann Jóhannsson (film project), David Lang, Bent Sørensen, Sunleif Rasmussen and Bryce Dessner (of The National). The group's most recent CDs are Stockhausen's Stimmung (the Copenhagen version), David Lang's Little Match Girl Passion, Stories (Berio, Cage, Berberian), 'The Christmas Story', and Creator Spiritus (Arvo Pärt) - all on Harmonia Mundi USA. On Dacapo-Records TOV has released Buxtehude's Scandinavian Cantatas – the first in a series of five CDs.
Paul Hillier
specialises in vocal groups. In 1973 he founded and directed the the Hilliard Ensemble, taking this male-voice quartet to the peak of international recognition. In 1990 he moved to California and created the Theatre of Voices, to explore a greater range of musical styles using a more flexible cast of singers and instrumentalists. While teaching at the University of California, Davis, he presented an annual Festival of Voices and began to tour the USA with his new ensemble. At the same time he began a long and fruitful association with Harmonia Mundi USA, often recording among the vinyards of George Lucas's Skywalker Ranch. He remains grateful to U.C. Davis for the opportunities it gave him including, among many other things, the time to write a book about Arvo Pärt (for Oxford University Press).
From 1996-2003 Hillier was Director of the Early Music Institute at Indiana University, a distinguished school of music with vast opportunities, but after seven years he felt himself too far removed from performance life. So in 2001, when he was offered the position of Principal Conductor of the Estonian Philharmonic Chamber Choir, he accepted it - and this initiated his return to Europe. In 2003 he moved to Denmark and became, and remains, Chief Conductor of Ars Nova Copenhagen. Busy with both orchestra and choral conducting around the world, he still found time to edit the collected writings of Steve Reich (again for OUP).
In 2006 he was awarded an OBE for services to choral music. In 2007 he received the Order of the White Star of Estonia, and was awarded a Grammy for Best Choral Recording ("Da Pacem" – Arvo Pärt). He received another Grammy Award for the David Lang CD 'The Little Match Girl Passion'. In 2008 he became Chief Conductor of the National Chamber Choir of Ireland and was appointed artistic director of the Coro Casa da Música in Porto. That same year he created his own music publishing company - Theatre of Voices Edition (TOVE: distributed by Edition-S and by Peters Edition in the USA).
During 2009/10 he was artist in residence at Yale University's Institute for Sacred Music, and performed in New York at the Bang-on-a-Can Marathon and at Lincoln Centre, also at the Royal Opera in Copenhagen, the Barbican Centre in London, and the Perth International Arts Festival in Australia. In the 2012 Grammy Awards show Paul Hiller was competing for the seventh time in nine years – nominated with Ars Nova Copenhagen and music by Pelle Gudmundsen-Holmgreen. In 2013 he was awarded the Order of Dannebrog - the Danish knighthood - by Her Majesty, Queen Margaret of Denmark.