---
Biographie Michael Feinberg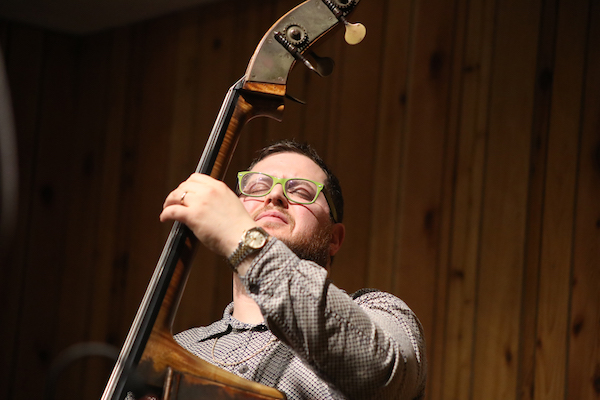 Michael Feinberg
Hailed as a "musical prodigy turned evil genius" (spinner) bassist Michael Feinberg has quickly "become one of the premier young artists on the New York scene" (Jazz Inside Magazine). Raised in Atlanta, Ga. Feinberg began his music career on the bandstand as a member of Grammy nominated trumpeter Russell Gunn's quartet. Performing every week at Churchill Grounds, 18 year old Feinberg held the bass chair for 6 months until he left for the University of Miami. As a sophomore at UM, Michael recorded his debut record "Harajuku" which helped him to earn a residency at Betty Carter's Jazz Aheadat the Kennedy Center in Washington, DC.
Back in Miami, Feinberg decided to take composition more seriously, and began work on his sophomore album 2009's "Evil Genius." Following the release of "Evil Genius" Michael was invited to headline at the South By Southwest festival in Austin, Texas. Following graduation Feinberg pomptly moved to New York
In 2009 Feinberg began his graduate studies at NYU and quickly found himself working and performing with some members of the faculty including John Scofield, Jean Michel Pilc, George Garzone, Kenny Werner and Billy Drummond. Equally inspired by the wealth of talent from his peers around NYC he began working on his next record. After workshopping the music for over a year at the 55 bar, Smalls, and Fat Cat, Feinberg was ready to hit the studio and in 2010 he released "With Many Hands" to critical acclaim including Bass Player Magazine, who featured Feinberg in its July 2011 issue.
In 2012 Feinberg signed with Sunnyside Records to record the "Elvin Jones Project" with an all star lineup of Billy Hart, George Garzone, Tim Hagans, Leo Genovese, and Alex Wintz. While on a self imposed break from composing, Feinberg found himself digging deep into the great drummer Elvin Jones' catalogue. Subsequent gigs would consist of more and more Elvin themed tunes until Feinberg made the decision to form his Elvin Jones Project. Much like his previous album, the EJP matured in the jazz clubs of the west village and features many of the great young stars of jazz including Billy Buss, Tivon Pennicott, Leo Genovese, Noah Preminger, Godwin Louis, Joe Santa Maria, Chad Lefkowitz-Brown, Victor Gould, and Glenn Zaleski.
In 2014, Atlanta based BeHip records released: Michael Feinberg's HUMBLEBRAG Live at 800 East, Feinberg's 5th album as a leader. The album features Terreon Gully, Billy Buss, Godwin Louis, and Julian Shore and was heralded by critics and audiences alike. As the Midwest Record puts it: "This is high tone, sitting down jazz that blows your ears and your mind wide open. Killer stuff for those ready to saddle up for a wild ride."
After a couple years off from recording Feinberg released "Whatever Possessed Me" with his quintet feat Kebbi Williams, Noah Preminger, Ian Froman, and BIlly Test. The success of this recording caught the attention of Steeplechase records who will be producing Feinberg's next recording featuring NEA Jazz master Dave Liebman.
Feinberg is the recipient of Louis Armstrong Foundation Grant 2020, Chamber Music America Grant 2020, resident of the Betheney Arts Collective 2021, winner of the Six String Theory Rhythm Section Contest 2012, recipient of 2010 Downbeat Student Music Award, headliner of the 2010 sxsw festival, resident at 2008 Betty Carter Jazz Ahead, finalist in the 2007 International Songwriting Competition for performance and jazz composition, finalist in the unsigned only competition 2021.
Michael has performed or recorded with: Billy Hart, Dave Liebman, George Garzone, Lee Ritenour, Ari Hoenig, Elliot Mason, Jeff Coffin, Terreon Gully, Donnie, Russell Gunn, Dave Samuels, Larry Koonse, Daniel Platzman, JD Allen, Ted Nash, Kosha Dillz, Tim Hagans, Melanie Charles, Braxton Cook, Dayme Arocena, Orrin Evans, Myron Walden, Jonathan Kreisberg, Jim Black, Jonathan Batiste, John Scofield, Peter Bernstein, Mark Whitfield, Peter Evans, Jason Lindner, Ambrose Akinmusire, Sam Barsh, Noah Preminger, Bobby Broom, Logan Richardson, Dana Hawkins, Pascal and Remy LeBoeuf, Jason Palmer, Dayna Stephens, Leo Genovese, Aaron Parks, Louis Cole and Genevieve Artadi (KNOWER), Phil Dizack, Miguel Atwood Ferguson, Kebbi Williams, Aaron Goldberg and Run DMC among others.
Michael is also an active Clinician and educator and has conducted master classes and clinics at: Emory University, Ga. State University, Belmont University, University of Miami, Indaba Music, The Paideia School, NJPAC, Coastal Carolina University, Universidad De Centro America, Universidad de Habana, and New York University. He is an artist faculty at Berklee College of Music, Union County College, NJPAC and New York Jazz Academy and has contributed to several publications including McGraw Hill. Michael endorses Aguilar Amps, Master Strap, Warrior Guitars, and Mono Case.