---
Album Info
Album Veröffentlichung:
2022
HRA-Veröffentlichung:
02.12.2022
Das Album enthält Albumcover Booklet (PDF)
1

Méandres

07:07

2

Gliding

08:32

3

Clärchen's Ballhaus

08:58

4

Birth of a Sylph

02:00

5

La Javanaise

08:24

6

Hanging Gardens

03:24

7

Helix

06:49

8

À Main Levée

05:18

9

Slandia

08:59

Total Runtime

59:31
Info zu Hanging Gardens
Yannick Delez's new project is a unique chamber jazz repertoire for string quartet and piano that draws its inspiration from Impressionist music and contemporary jazz. Sometimes a dialogue, sometimes a symbiosis of timbre between the piano and the quartet, this music crosses musical styles in a rigorous and free weaving.
This theme, which you didn't write yourself, is nevertheless most obviously integrated into your quintet's repertoire. As is often the case in your music, there is a "perpetual phrase", a deliberately unstructured flow of speech. It indeed evokes meandering, but without giving the impression of wandering.
In traditional jazz, the theme is a structured base on which the freedom of improvisation sets in during the choruses. However, one has the feeling in your music that the theme statement ostensibly avoids disclosing its structure, which is somewhat paradoxically revealed during the improvised solos. Is this a way for you to question or even hustle the jazz tradition while still respecting it?
Yes, that's true. Coming from this tradition, I remain, in some respects, quite attached to it. It's a very efficient system that has proved its worth for over a century! But it's a structure that literally runs in a closed circuit. So yes, I often try to shake it up or even abolish it. That's what I'm striving for in each new project: the opportunity to find new ways of conceiving the writing-improvisation structure, to make a tailor-made language.
In this piece, I have meaningfully disjointed and scattered the thematic elements vertically and horizontally. Not only because this piece (composed by Xavier Good) makes use of a very recognisable melodic sequence but also because it is a piece that I did not compose myself. This implies a different relationship towards the writing, with more freedom and playfulness.
Gerdur Gunnarsdottir, violin
Rodrigo Bauzá, violin
Raphaël Grunau, viola
Susanne Paul, cello
Yannick Delez, piano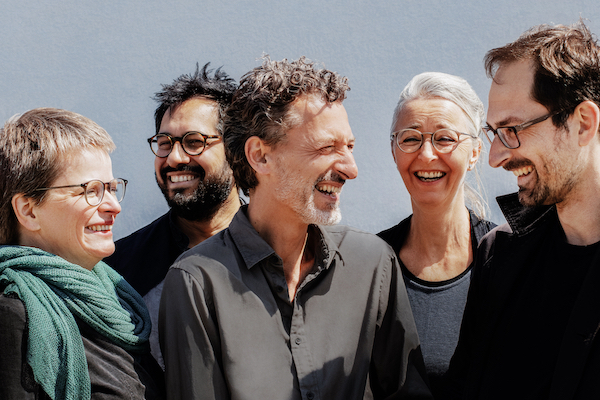 Yannick Délez
is a Swiss pianist-composer. Self- educated musician from a very young age, he undertook professional studies at the Ecole de Jazz of Lausanne in 1990 where he obtains a piano diploma. He develops a personal playing amongst many acoustic jazz bands. Then he joins the band Piano Seven (7 pianos and guests) with which he records 4 albums and plays in many concert halls of Hong Kong, Sao Paulo, Taipei, Singapore, Beirut and Beijing, Shangai, Saigon, among others. He participates in three creations of the group for which he composes and arranges, one of those being an original performance with 7 pianos, percussion, and brass quintet for the Swiss National Exhibition in 2002.
The first record bearing his name is "Rouge" (Altrisuoni 2003) a piano solo album that received international acclaim. One can appreciate the particularity of his piano playing simultaneously with pointillist and lyric. ..."based on rhythmical ostinati and a truly original technique..." (RSR La Première), "... a family of thinking favoring romantic lyricism and sophisticated harmonic choices..." (Jazzman***).
In 2004 he composes a repertoire for piano – bass clarinet – soprano saxophone and creates his own trio (Yannick Délez Trio) with Philippe Ehinger (bass clarinet) and Stefano Saccon (soprano saxophone). They are selected for the Swiss Diagonales Jazz 07.
In 2004, he also constituted a Duo with the singer ChloéLévy. The ChloéLévy Yannick Délez Duo records in December 2006 his first album Leinicha at the Rainbow Studio in Oslo with the audio engineer Jan Erik Kongshaug. This album received positive feedback from the specialized press (Jazzman****. Télérama ffff, Concerto*****).
In 2010 he publish his second piano solo album: Boreales (Unit Records UTR 4271) which receive also very positive feedback from the European press (Jazz'n'more *****, Concerto ****)
In 2016 he publish a third piano solo album. LIVE / MONOTYPES (Unit Records / Deutschlandradio UTR 4755) a double album based on a live performance recorded by Deutschland radio. The album was acclaimed by the European press and is nominated for the National discographic's critic award in Germany (Preis der Deutschen Schallplattenkritik).


Booklet für Hanging Gardens