---
Album Info
Album Veröffentlichung:
2022
HRA-Veröffentlichung:
13.01.2023
Das Album enthält Albumcover Booklet (PDF)
Franz Schmidt (1874 - 1939): Quintette pour clarinette en Si Bémol, piano main gauche, violon, alto et violoncelle en Si Bémol Majeur:

1

Schmidt: Quintette pour clarinette en Si Bémol, piano main gauche, violon, alto et violoncelle en Si Bémol Majeur: Andante tranquillo

12:00

2

Schmidt: Quintette pour clarinette en Si Bémol, piano main gauche, violon, alto et violoncelle en Si Bémol Majeur: Lento

16:11

3

Schmidt: Quintette pour clarinette en Si Bémol, piano main gauche, violon, alto et violoncelle en Si Bémol Majeur: Allegro ma non troppo

10:31

Quintette pour piano main gauche, deux violons, alto et violoncelle en Sol Majeur:

4

Schmidt: Quintette pour piano main gauche, deux violons, alto et violoncelle en Sol Majeur: Lebhaft, doch nicht schnell

12:49

5

Schmidt: Quintette pour piano main gauche, deux violons, alto et violoncelle en Sol Majeur: Adagio

10:29

6

Schmidt: Quintette pour piano main gauche, deux violons, alto et violoncelle en Sol Majeur: Sehr ruhig

08:41

7

Schmidt: Quintette pour piano main gauche, deux violons, alto et violoncelle en Sol Majeur: Sehr lebhaft

07:43

Total Runtime

01:18:24
Info zu Œuvres pour la main gauche - Anthologie, Vol. 10
Der österreichische Komponist Franz Schmidt ist als Verfasser der romantischen Oper »Notre Dame« und des Oratoriums »Das Buch mit sieben Siegeln« sowie von vier Sinfonien bekannt. Für den Pianisten Paul Wittgenstein, der im Ersten Weltkrieg einen Arm verloren hatte, schrieb er – wie zahlreiche andere Komponisten – einige kammermusikalische Werke. Zwei seiner Quintette bilden die abschließende zehnte Folge der monumentalen Serie mit Werken für die linke Hand des Pianisten Maxime Zecchini, unter prominenter Unterstützung des Klarinettisten Patrick Messina sowie des Quatuor Ellipse.
Maxime Zecchini, Klavier
Patrick Messina, Klarinette
Quatuor Ellipse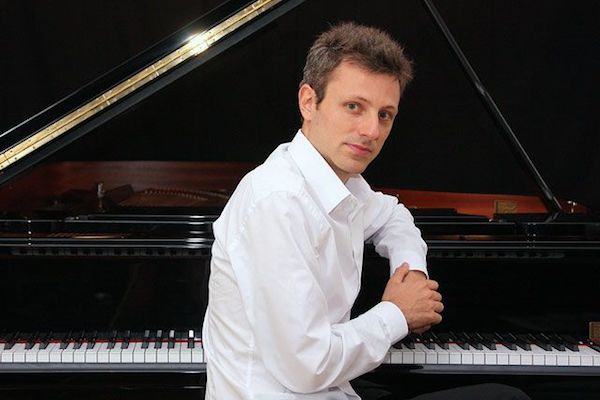 Maxime Zecchini
Born in Paris in 1979, Maxime Zecchini. He began a course of study at the "Conservatoire National Supérieur de Musique" of Lyon, in Géry Moutier 's and Danièle Renault- Fasquelle 's class, where, in June of 2001, he earned the DNESM (Diplôme National d'Etudes Supérieures Musicales) with highest honors and special commendation (by a unanimous vote). He is accepted at the "Conservatoire National Supérieur de Musique" of Paris in Jean-François Heisser 's advanced proficiency class.
Maxime Zecchini is the first French pianist to receive a degree from the prestigious "Incontri col Maestro Academy" in Imola (Italy), he is winner of the international competition in Arcachon in 2000, First Prize (by unanimous decision) of competition of Forum de Noemandie, he was awarded in 2002 the Cziffra Foundation Prize and the Ragusa-Ibla competition (Sicily). In 2003, he won the First Prize by a unanimous decision at the international competition at Varenna-Lake Como (Italy).
Maxime Zecchini has received a scholarships from the Marcel Bleustein- Blanchet foundation for the Vocation, as well as further awards from the Meyer Foundation, and the Mécénat Musical Société Générale. He was also supported by the Bru Zane Foundation of Venice, and his project about the left hand repertoire has the label "Mission du Centenaire" for the tribute about the Centenary of the World War One.
His discography includes the first Anthology of the works for the left hand in 10 volumes, among which 6 are already available, under the label Advitam Records and distributed in the world by Harmonia Mundi.
He has played in Paris (Salle Gaveau, Théâtre du Châtelet, Salle Cortot, Théâtre Marigny,...) as well as in numerous festivals and concerts in France and abroad (in Italy, Germany, Austria, England, South Africa, China, Japan, South Korea, Indonesia, Kenya...).
Maxime Zecchini is an eclectic musician: he has orchestrated music for television, and directed musicals. He has also played with the singer Julia Migenes and gave "concerts-lectures" with the actress Anouk Aimlée. Fascinated with composition since early childhood, and is the composer of numerous original works and transcriptions. He is published at the Editions Durand-Salabert-Universal Music.


Booklet für Œuvres pour la main gauche - Anthologie, Vol. 10