---
Tony Bennett At Carnegie Hall - The Complete Concert (Remastered) Tony Bennett
Album Info
Album Veröffentlichung:
1962
HRA-Veröffentlichung:
25.01.2018
Das Album enthält Albumcover
Entschuldigen Sie bitte!
Sehr geehrter HIGHRESAUDIO Besucher,
leider kann das Album zurzeit aufgrund von Länder- und Lizenzbeschränkungen nicht gekauft werden oder uns liegt der offizielle Veröffentlichungstermin für Ihr Land noch nicht vor. Wir aktualisieren unsere Veröffentlichungstermine ein- bis zweimal die Woche. Bitte schauen Sie ab und zu mal wieder rein.
Wir empfehlen Ihnen das Album auf Ihre Merkliste zu setzen.
Wir bedanken uns für Ihr Verständnis und Ihre Geduld.
Ihr, HIGHRESAUDIO
1

Introduction / Lullaby Of Broadway (From "Forty Second Street") (Album Version)

02:20

2

Just In Time (From "Bells Are Ringing") (Live)

02:12

3

All The Things You Are (From "Very Warm For May") (Live)

03:08

4

Fascinating Rhythm (From "Lady, Be Good") (Live)

01:21

5

Stranger In Paradise (From "Kismet") (Album Version)

03:18

6

Our Love Is Here to Stay (From "The Goldwyn Follies") (Live)

02:14

7

Love Look Away (From "Flower Drum Song") (Album Version)

02:30

8

Climb Ev'ry Mountain (From "The Sound Of Music") (Live)

02:12

9

Medley: Put On A Happy Face/Comes Once In A Lifetime (Album Version)

02:09

10

My Ship (From "Lady In The Dark") (Album Version)

02:36

11

Speak Low (From "One Touch Of Venus") (Album Version)

02:02

12

Lost In The Stars (From "Lost In The Stars") (Live)

03:34

13

Always (Live)

01:46

14

Anything Goes (From "Anything Goes") (Live)

01:29

15

Ol' Man River (From "Show Boat") (Live)

02:59

16

Lazy Afternoon (From "The Golden Apple") (Album Version)

02:34

17

Sometimes I'm Happy (From "Hit The Deck") (Album Version)

02:28

18

Have I Told You Lately? (From "I Can Get It For You Wholesale") (Album Version)

03:02

19

That Old Black Magic (Album Version)

01:25

20

A Sleepin' Bee (From "House Of Flowers") (Album Version)

02:58

21

I've Got The World On A String (From "I'll Get By") (Album Version)

03:03

22

What Good Does It Do (From "Jamaica") (Album Version)

03:56

23

One For My Baby (And One More for the Road) (FROM "The Sky's the Limit")

02:33

24

This Could Be The Start Of Something Big (Album Version)

01:35

25

Without A Song (From "Great Day!") (Album Version)

03:03

26

Toot Toot Tootsie (Goodbye) (From "Bombo") (Album Version)

02:01

27

It Amazes Me (Album Version)

03:02

28

The Rules Of The Road (Album Version)

02:25

29

Firefly (Album Version)

01:11

30

The Best Is Yet To Come (Album Version)

02:39

31

(I Left My Heart) In San Francisco (Live)

02:55

32

Medley: (I Like New York In June) How About You/April In Paris (Album Version)

02:34

33

Chicago (That Toddlin' Town) (Live)

01:24

34

Solitude (Album Version)

03:36

35

I'm Just A Lucky So And So (Album Version)

02:36

36

Taking A Chance On Love (From "Cabin In The Sky") (Album Version)

01:33

37

My Heart Tells Me (Should I Believe My Heart?) (Album Version)

02:23

38

Pennies from Heaven (From "Pennies from Heaven") (Live)

02:17

39

Rags To Riches (Album Version)

01:12

40

Blue Velvet (Album Version)

02:44

41

Smile (From "Modern Times") (Album Version)

01:23

42

Because of You (Live)

01:42

43

Sing You Sinners (From "Honey") (Album Version)

02:01

44

De Glory Road (Album Version)

08:43

Total Runtime

01:50:48
Info zu Tony Bennett At Carnegie Hall - The Complete Concert (Remastered)
Live in 1962, Tony Bennett at Carnegie Hall, a testament to Bennett's live vocal ability! Available in its entirety for the first time on HighResAudio! This legendary '62 performance was an instant classic when it first came out, but now it's back with 18 tracks that have never been released. Includes Rags to Riches; (I Left My Heart in) San Francisco; That Old Black Magic; Fascinating Rhythm; I'm Just a Lucky So and So, and more.
"This double album adds unreleased tracks to what was already a superb representation of Tony Bennett's art, the 1962 concert catching Bennett at an early peak in his career. He was already a major exponent of the classic American songbook, and here he's both summarizing his work and branching out into then-new directions. He's equally effective as a ballad singer, including seldom-heard gems like Kurt Weill's "Lost in the Stars," and as a rousing jazz stylist, swinging effortlessly on familiar tunes like "All the Things You Are" and "Chicago." The concert includes a rendition of "I Left My Heart in San Francisco," a song that had just been released at the time." (Stuart Broomer)
Tony Bennett, vocals
Ralph Sharon Orchestra
Mastered by Ryan Smith at Sterling Sound
Produced by Ernie Altschuler
Digitally remastered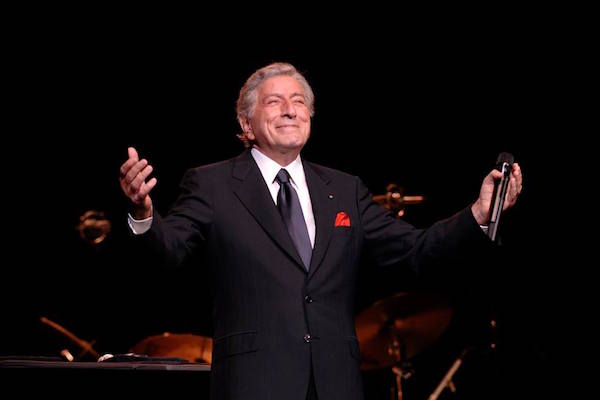 Tony Bennett
The son of a grocer and Italian-born immigrant, Anthony Dominick Benedetto was born on August 3, 1926, in the Astoria section of Queens. He attended the High School of Industrial Arts in Manhattan, where he continued nurturing his two passions - singing and painting. His boyhood idols included Bing Crosby and Nat King Cole, both big influences on his easy, natural singing style.
Tony Bennett sang while waiting tables as a teenager then performed with military bands during his Army enlistment in World War II. He later had vocal studies at the American Theatre Wing school. The first time he sang in a nightclub was 1946 when he sat in with trombonist Tyree Glenn at the Shangri-La in Astoria.
Bennett's big break came in 1949 when comedian Bob Hope noticed him working with Pearl Bailey in Greenwich Village in New York City. As Bennett recalls, "Bob Hope came down to check out my act. He liked my singing so much that after the show he came back to see me in my dressing room and said, 'Come on kid, you're going to come to the Paramount and sing with me.' But first he told me he didn't care for my stage name (Joe Bari) and asked me what my real name was. I told him, 'My name is Anthony Dominick Benedetto,' and he said, 'We'll call you Tony Bennett.' And that's how it happened. A new Americanized name, the start of a wonderful career and a glorious adventure that has continued for fifty years."
His initial successes came via a string of Columbia singles in the early 1950's, including such chart-toppers as "Because of You," "Rags To Riches" and a remake of Hank Williams' "Cold, Cold Heart" and has ten Grammy Awards to his credit, including a Grammy Lifetime Achievement Award. He has had 24 songs in the Top 40, including "I Wanna Be Around," "The Good Life," "Who Can I Turn To (When Nobody Needs Me)" and his signature song, "I Left My Heart In San Francisco," which garnered him two Grammy Awards.
Tony Bennett - booking information Tony Bennett is one of a handful of artists to have new albums charting in the 50's, 60's, 70's, 80's and 90's. He introduced a multitude of songs into the great American Songbook that have since become standards for pop music. He has toured the world to sold out audiences with rave reviews whenever he performs. Bennett re-signed with Columbia Records in 1986 and released the critically acclaimed "The Art Of Excellence."
Since his 1991 show-stopping performance at the Grammy Awards of "When Do The Bells Ring For Me," from his Astoria album, he has received a string of Grammy Awards for releases including "Steppin' Out," "Perfectly Frank," and "MTV Unplugged," for which Bennett took home Album of the Year, Grammy's top honor.
In celebration of his unparalleled contributions to popular music with worldwide record sales of more than 30 million, Columbia/Legacy assembled "Forty Years: The Artistry Of Tony Bennett." The four-CD boxed set, released in 1991, chronicles the singer's stellar recording career and documents his growth as an artist, inspiring Time magazine to call the set "the essence of why CD boxed sets are a blessing."
Tony Bennett also received an Emmy Award and a Cable Ace Award for his groundbreaking television special, "Live By Request...Tony Bennett" which featured a unique interactive format in which the viewing audience called in song requests to the performer live during the program, a concept created by Bennett that has become a regular special on the A&E network. Bennett has also authored two books, "What My Heart Has Seen," a beautifully bound edition of his paintings published in 1996, and "The Good Life," his heartfelt autobiography released in 1998.
Throughout his career he has participated in humanitarian causes and concerns. He has raised millions of dollars for diabetes research through the Juvenile Diabetes Foundation, which established a fund in his name. His artwork graces the cover of the American Cancer Society's annual holiday card, proceeds from which are earmarked for cancer research. He has worked with the Center for Handgun Control and has supported environmental issues through such organizations as Save the Rainforest and the Project for Walden Woods.
In the 1950's, thousands of screaming bobby-soxers surrounded the Paramount Theatre in New York, held back only by police barricades, to see their singing idol, Tony Bennett. Today the children and grandchildren of those fans are enjoying the same experience. As The New York Times pointed out, "Tony Bennett has not just bridged the generation gap, he has demolished it. He has solidly connected with a younger crowd weaned on rock. And there have been no compromises."
This is proof positive that if the music is good it will abide. From the 20th century to the 21st and beyond, the legacy of Tony Bennett - like that of the blues themselves - promises to live forever.


Dieses Album enthält kein Booklet