---
Album Info
Album Veröffentlichung:
2020
HRA-Veröffentlichung:
07.08.2020
Das Album enthält Albumcover
Arcangelo Corelli (1653 - 1713): Concerto grosso in D Major, Op. 6 No. 1:

1

Arcangelo Corelli: Concerto grosso in D Major, Op. 6 No. 1: 1. Largo – Allegro – Adagio – Allegro – Adagio – Allegro – Adagio

02:21

2

Arcangelo Corelli: Concerto grosso in D Major, Op. 6 No. 1: 2. Largo - Allegro

02:41

3

Arcangelo Corelli: Concerto grosso in D Major, Op. 6 No. 1: 3. Largo

03:09

4

Arcangelo Corelli: Concerto grosso in D Major, Op. 6 No. 1: 4. Allegro – Adagio

02:03

5

Arcangelo Corelli: Concerto grosso in D Major, Op. 6 No. 1: 5. Allegro

02:28

Concerto Grosso in F Major, Op. 6 No. 2:

6

Arcangelo Corelli: Concerto Grosso in F Major, Op. 6 No. 2: 1. Vivace - Allegro - Adagio - Vivace - Allegro - Adagio - Largo andante

04:02

7

Arcangelo Corelli: Concerto Grosso in F Major, Op. 6 No. 2: 2. Allegro – Adagio

02:01

8

Arcangelo Corelli: Concerto Grosso in F Major, Op. 6 No. 2: 3. Grave - Andante Largo

01:46

9

Arcangelo Corelli: Concerto Grosso in F Major, Op. 6 No. 2: 4. Allegro

03:04

Concerto Grosso in C Minor, Op. 6 No. 3:

10

Arcangelo Corelli: Concerto Grosso in C Minor, Op. 6 No. 3: 1. Largo

02:01

11

Arcangelo Corelli: Concerto Grosso in C Minor, Op. 6 No. 3: 2. Allegro – Adagio

02:06

12

Arcangelo Corelli: Concerto Grosso in C Minor, Op. 6 No. 3: 3. Grave

01:37

13

Arcangelo Corelli: Concerto Grosso in C Minor, Op. 6 No. 3: 4. Vivace

02:30

14

Arcangelo Corelli: Concerto Grosso in C Minor, Op. 6 No. 3: 5. Allegro

02:44

Concerto grosso in D Major, Op. 6 No. 4:

15

Arcangelo Corelli: Concerto grosso in D Major, Op. 6 No. 4: 1. Adagio - Allegro

03:39

16

Arcangelo Corelli: Concerto grosso in D Major, Op. 6 No. 4: 2. Adagio

01:55

17

Arcangelo Corelli: Concerto grosso in D Major, Op. 6 No. 4: 3. Vivace

01:05

18

Arcangelo Corelli: Concerto grosso in D Major, Op. 6 No. 4: 4. Allegro – Allegro

03:34

Concerto grosso in B-Flat Major, Op. 6 No. 5:

19

Arcangelo Corelli: Concerto grosso in B-Flat Major, Op. 6 No. 5: 1. Adagio - Allegro - Adagio

03:13

20

Arcangelo Corelli: Concerto grosso in B-Flat Major, Op. 6 No. 5: 2. Adagio

01:31

21

Arcangelo Corelli: Concerto grosso in B-Flat Major, Op. 6 No. 5: 3. Allegro - Adagio

02:11

22

Arcangelo Corelli: Concerto grosso in B-Flat Major, Op. 6 No. 5: 4. Largo

00:52

23

Arcangelo Corelli: Concerto grosso in B-Flat Major, Op. 6 No. 5: 5. Allegro

02:27

Concerto Grosso in F Major, Op. 6 No. 6:

24

Arcangelo Corelli: Concerto Grosso in F Major, Op. 6 No. 6: 1. Adagio

01:18

25

Arcangelo Corelli: Concerto Grosso in F Major, Op. 6 No. 6: 2. Allegro

01:58

26

Arcangelo Corelli: Concerto Grosso in F Major, Op. 6 No. 6: 3. Largo

02:55

27

Arcangelo Corelli: Concerto Grosso in F Major, Op. 6 No. 6: 4. Vivace

02:28

28

Arcangelo Corelli: Concerto Grosso in F Major, Op. 6 No. 6: 5. Allegro

01:59

Concerto Grosso in D Major, Op. 6 No. 7:

29

Arcangelo Corelli: Concerto Grosso in D Major, Op. 6 No. 7: 1. Vivace - Allegro - Adagio

02:17

30

Arcangelo Corelli: Concerto Grosso in D Major, Op. 6 No. 7: 2. Allegro

02:12

31

Arcangelo Corelli: Concerto Grosso in D Major, Op. 6 No. 7: 3. Andante Largo

02:27

32

Arcangelo Corelli: Concerto Grosso in D Major, Op. 6 No. 7: 4. Allegro

01:10

33

Arcangelo Corelli: Concerto Grosso in D Major, Op. 6 No. 7: 5. Vivace

01:13

Concerto Grosso in G Minor, Op. 6, No. 8, MC 6.8 "Fatto per la Notte di Natale":

34

Arcangelo Corelli: Concerto Grosso in G Minor, Op. 6, No. 8, MC 6.8 "Fatto per la Notte di Natale": 1. Vivace - Grave

01:16

35

Arcangelo Corelli: Concerto Grosso in G Minor, Op. 6, No. 8, MC 6.8 "Fatto per la Notte di Natale": 2. Allegro

02:31

36

Arcangelo Corelli: Concerto Grosso in G Minor, Op. 6, No. 8, MC 6.8 "Fatto per la Notte di Natale": 3. Adagio - Allegro - Adagio

02:52

37

Arcangelo Corelli: Concerto Grosso in G Minor, Op. 6, No. 8, MC 6.8 "Fatto per la Notte di Natale": 4. Vivace

01:11

38

Arcangelo Corelli: Concerto Grosso in G Minor, Op. 6, No. 8, MC 6.8 "Fatto per la Notte di Natale": 5a. Allegro

02:38

39

Arcangelo Corelli: Concerto Grosso in G Minor, Op. 6, No. 8, MC 6.8 "Fatto per la Notte di Natale": 5b. Pastorale: Largo

03:32

Concerto Grosso in F Major, Op. 6 No. 9:

40

Arcangelo Corelli: Concerto Grosso in F Major, Op. 6 No. 9: 1. Preludio: Largo

01:20

41

Arcangelo Corelli: Concerto Grosso in F Major, Op. 6 No. 9: 2. Allemande: Allegro

02:58

42

Arcangelo Corelli: Concerto Grosso in F Major, Op. 6 No. 9: 3. Corrente: Vivace

02:02

43

Arcangelo Corelli: Concerto Grosso in F Major, Op. 6 No. 9: 4. Gavotta: Allegro

00:53

44

Arcangelo Corelli: Concerto Grosso in F Major, Op. 6 No. 9: 5. Adagio

00:48

45

Arcangelo Corelli: Concerto Grosso in F Major, Op. 6 No. 9: 6. Minuetto: Vivace

01:51

Concerto Grosso in C Major, Op. 6 No. 10:

46

Arcangelo Corelli: Concerto Grosso in C Major, Op. 6 No. 10: 1. Preludio: Andante largo

02:22

47

Arcangelo Corelli: Concerto Grosso in C Major, Op. 6 No. 10: 2. Allemanda: Allegro

02:50

48

Arcangelo Corelli: Concerto Grosso in C Major, Op. 6 No. 10: 3. Adagio

00:56

49

Arcangelo Corelli: Concerto Grosso in C Major, Op. 6 No. 10: 4. Corrente: Vivace

02:55

50

Arcangelo Corelli: Concerto Grosso in C Major, Op. 6 No. 10: 5. Allegro

02:34

51

Arcangelo Corelli: Concerto Grosso in C Major, Op. 6 No. 10: 6. Minuetto: Vivace

02:01

Concerto Grosso in B-Flat Major, Op. 6 No. 11:

52

Arcangelo Corelli: Concerto Grosso in B-Flat Major, Op. 6 No. 11: 1. Preludio: Andante Largo

02:09

53

Arcangelo Corelli: Concerto Grosso in B-Flat Major, Op. 6 No. 11: 2. Allemanda: Allegro

02:42

54

Arcangelo Corelli: Concerto Grosso in B-Flat Major, Op. 6 No. 11: 3. Adagio

00:29

55

Arcangelo Corelli: Concerto Grosso in B-Flat Major, Op. 6 No. 11: 4. Andante Largo

01:22

56

Arcangelo Corelli: Concerto Grosso in B-Flat Major, Op. 6 No. 11: 5. Sarabanda: Largo

01:09

57

Arcangelo Corelli: Concerto Grosso in B-Flat Major, Op. 6 No. 11: 6. Giga: Vivace

01:26

Concerto Grosso in F Major, Op. 6 No. 12:

58

Arcangelo Corelli: Concerto Grosso in F Major, Op. 6 No. 12: 1. Preludio: Adagio

02:15

59

Arcangelo Corelli: Concerto Grosso in F Major, Op. 6 No. 12: 2. Allegro

02:33

60

Arcangelo Corelli: Concerto Grosso in F Major, Op. 6 No. 12: 3. Adagio

01:16

61

Arcangelo Corelli: Concerto Grosso in F Major, Op. 6 No. 12: 4. Sarabanda: Vivace

00:59

62

Arcangelo Corelli: Concerto Grosso in F Major, Op. 6 No. 12: 5. Giga: Allegro

03:20

Total Runtime

02:12:07
Info zu Corelli: Concerti Grossi Opus 6
Arcangelo Corelliis one of the great composers of the Baroque era, a trailblazer who forever changed the relationship between soloist and orchestra, and did much to establish the violin as the star of the orchestra. He is considered the 'father' of the concerto grosso – apiece for several soloists accompanied by an orchestra – and his seminal Opus 6 volume became the benchmark for his contemporaries, including Handel, Vivaldi and Geminiani.
Here, one of Melbourne's premier early music ensembles, Genesis Baroque,brings these extraordinary works to life with great energy and enthusiasm. Adding to the uniqueness of the occasion, not only is this the ensemble's first studio recording, but it is also the first complete recording of these works by an Australian orchestra.
In this recording, the ensemble is led by consummate expatriate violinist Sophie Gent, who returned to Australia for the first time in many years to perform with Lucinda Moonas co-directors and soloists. Both musicians are notable for their nuanced, elegant approach and creative flair, and will enchant listeners through the sublime colours and conversations of Corelli's masterworks.
Genesis Baroque was founded in 2017 by Baroque violinist and artistic director, Jennifer Kirsner, and are led by renowned Baroque violinist, Lucinda Moon. Based in Melbourne, the ensemble is comprised of some of Australia's finest historically informed musicians and presents an exploration of the spontaneity, excitement and contemporary richness of music from the 17th and 18th centuries. The ensemble is fast developing a reputation as one of the country's finest, with a particular capacity for emotive, vibrant performances that connect closely with their audiences.
Sophie Gentwas born in Perth, Western Australia. After completing a Bachelor's degree she pursued further studies at the Royal Conservatorium in The Hague with Ryo Terakado, completing her Master's degree with distinction in 2005. In 2002 she was awarded first prize in two chamber music competitions: the International Van Wassenaer Competition (The Netherlands) and the International Premio Bonporti Concours (Italy), with the ensemble Opera Quarta. Their first recording, of trio sonatas by Jean-Marie Leclair, was awarded a Diapason d'Or in July 2007. Sophie is active as a soloist and chamber musician, performing and recording frequently as concertmaster with the Ricercar Consort, Il Gardellino, Capriccio Stravagante, Les Muffatti, Ensemble Masques and also as a member of the period instrument string quartet Mito dell'Arco, based in Japan. She was appointed Professor of Baroque violin at the Amsterdam Conservatorium in 2011 and regularly coaches chamber music at the Early Music Department Conservatorium in Antwerp.
With over 25 years performance and recording experience, Lucinda Moonis a highly respected and sought-after Baroque violinist. After graduating from the Victorian College of the Arts, Lucinda travelled to The Netherlands to study Baroque violin with Sigiswald Kuijken at the Royal Conservatorium in The Hague. On her return to Australia she was appointed as concertmaster of the Australian Brandenburg Orchestra; a position she held from 1995 until 2008, and with whom she recorded extensively as concertmaster and soloist. Lucinda now performs and records in Australia with the Elysium Ensemble, Accademia Arcadia, Latitude 37 and Van Diemen's Band. Lucinda joined Genesis Baroque as Musical Director and concertmaster at the group's inception in 2017.
Sumptuous and refined…Genesis Baroque is a unique and polished — and importantly, welcome — voice in the vibrant Melbourne Baroque music scene." (CutCommon)
Sophie Gent, violin
Lucinda Moon, violin
Genesis Baroque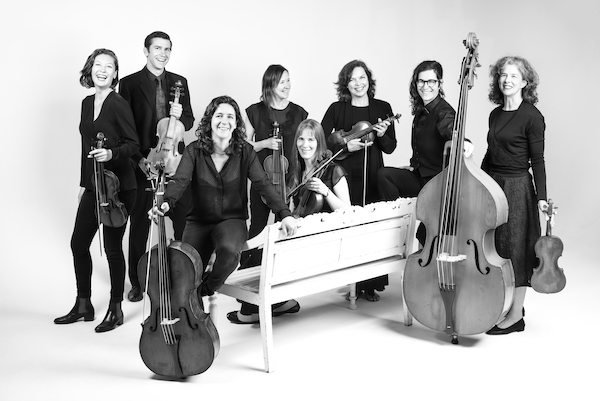 Genesis Baroque
is a vibrant Melbourne-based period instrument ensemble founded by Artistic Director, Jennifer Kirsner, and directed by renowned violinist Lucinda Moon. The ensemble comprises some of Australia's finest historically-informed performers, and aims to explore the spontaneity, imagination, and richness of music from the 17th and 18th centuries. Moon brings her wealth of experience and energy to the ensemble, crafting a refined, emotive, and expressive approach to the repertoire, and providing audiences with deeply moving, engaging performance experiences.
The ensemble collaborates with renowned soloists based locally, interstate and overseas, and has a particular focus on providing a platform for Australian soloists, both local and expatriate, to perform for Victorian audiences.
Genesis Baroque is a rich addition to the Melbourne's diverse and lively arts scene – a distinguished, locally-based period chamber orchestra at the forefront of the genre.


Dieses Album enthält kein Booklet