---
Album Info
Album Veröffentlichung:
2017
HRA-Veröffentlichung:
29.09.2017
Das Album enthält Albumcover Booklet (PDF)
Johann Sebastian Bach (1685 - 1750): Ich Hatte Viel Bekümmernis, BWV 21:

1

Ich Hatte Viel Bekümmernis, BWV 21: I. Sinfonia

02:43

Ich habe genug, BWV 82:

2

Ich habe genug, BWV 82: I. Arie

07:06

3

Ich habe genug, BWV 82: II. Rezitativ

01:12

4

Ich habe genug, BWV 82: III. Arie

09:10

5

Ich habe genug, BWV 82: IV. Rezitativ

00:54

6

Ich habe genug, BWV 82: V. Arie

03:33

Am Abend aber desselbigen Sabbats, BWV 42:

7

Am Abend aber desselbigen Sabbats, BWV 42: I. Sinfonia

05:58

Der Friede sei mit dir, BWV 158:

8

Der Friede sei mit dir, BWV 158: I. Rezitativ

01:38

9

Der Friede sei mit dir, BWV 158: II. Arie mit Choral

06:08

10

Der Friede sei mit dir, BWV 158: III. Rezitativ

01:15

11

Der Friede sei mit dir, BWV 158: IV. Choral

00:55

Gott soll allein mein Herze haben, BWV 169:

12

Gott soll allein mein Herze haben, BWV 169: I. Sinfonia

07:20

Ich will den Kreuzstab gerne tragen, BWV 56:

13

Ich will den Kreuzstab gerne tragen, BWV 56: I. Arie

07:03

14

Ich will den Kreuzstab gerne tragen, BWV 56: II. Rezitativ

01:49

15

Ich will den Kreuzstab gerne tragen, BWV 56: III. Arie

07:20

16

Ich will den Kreuzstab gerne tragen, BWV 56: IV. Rezitativ

01:35

17

Ich will den Kreuzstab gerne tragen, BWV 56: V. Choral

01:13

Total Runtime

01:06:52
Info zu J. S. Bach: Solo Cantatas for Bass
Nur zwei Kantaten aus seinem schier unerschöpflichen OEuvre hat Johann Sebastian Bach für Solo-Bass geschrieben. Michael Volle leiht ihnen in Konzerten auf der ganzen Welt regelmäßig seinen warmen und dennoch kraftvollen Bass-Bariton.
Im Dezember 2016 hat er sie zusammen mit der Akademie für Alte Musik Berlin in der Christuskirche Oberschöneweide in Berlin eingespielt. Ergänzt wurde das Programm durch die nur viersätzige Kantate "Der Friede sei mit Dir" für Sopran, Bass und vierstimmigen Chor, wobei Volle und die Akademie von der Sopranistin Robin Johannsen und von Mitgliedern des RIAS Kammerchors unterstützt wurden.
Michael Volle, Bariton
Robin Johannsen, Sopran
Miglieder des RIAS Kammerchor
Raphael Alpermann, Orgel & musikalische Leitung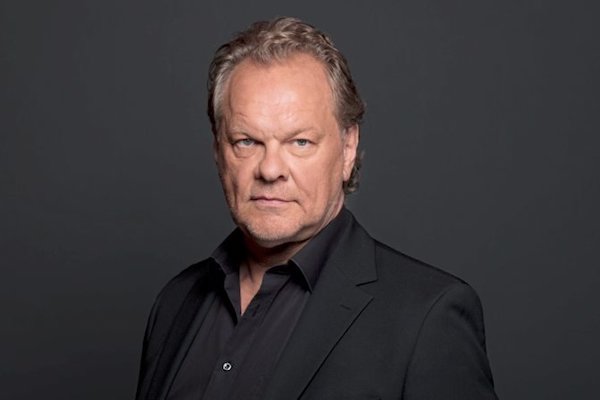 Michael Volle
first permanent engagement in 1990 at the National Theatre in Mannheim, followed by engagements at the Opera House in Bonn and the Deutsche Oper am Rhein Düsseldorf. Engagement by Günther Krämer for the Cologne Opera - seasons 1999/2000 and 2000/2001 - for roles like Eugen Onegin, Billy Budd, Ford/Falstaff, Count/Le Nozze di Figaro. In 1997 Michael Volle debuted at the Royal Opera House London with the role of Heerrufer under the musical direction of Valery Gergiev and the year before debut at the Opera National de Paris with the same role. For the Schwetzingen Festival 1998 Michael Volle interpreted the title role of Don Giovanni (leading team: Thomas Hengelbrock/Achim Freyer), which was telecasted by ARTE and performed at the Opera du Rhin,1998/ 1999 season. The Dresden State Opera engaged Michael Volle for Don Giovanni until including 2005/2006. Salzburg Festival 1998 Fidelio/Minister under Michael Gielen, guest appearances at La Scala di Milano with Oedipus Rex in 1999 and Torino with the Paris production of Die lustige Witwe/Danilo. 1999/2000 debut at the Deutsche Oper Berlin with immediate reinvitation for 2000/2001, Le Nozze di Figaro/Figaro. Debut at the Berlin State Opera, Don Giovanni/title role (2000/2001) with reinvitation for the revival, 2001/2002 season:
Le Nozze di Figaro/Count and new production Ariadne auf Naxos, 2002/2003. Théâtre de la Monnaie, Brussels, 2000/2001, Falstaff/Ford under Antonio Pappano and role debut as Figaro/Le Nozze di Figaro in 2001. Debuts Munich State Opera, new production The Cunning Little Vixen and Vienna State Opera, Le Nozze di Figaro/ Count, both engagements in 2001/2002. Don Giovanni/title role, Vienna State Opera, 2003/2004, Seiji Ozawa conducting. Upcoming engagements include among others Le Nozze di Figaro/Count at the Royal Opera House London under Sir Colin Davis in 2006.
Since 1999/2000 contract with the Zurich Opera. 2003/2004 season: role debut as Beckmesser/Die Meister-singer von Nürnberg (leading team: Lehnhoff/Welser-Möst) and Eugen Onegin/title role under the musical direction of Vladimir Fedosseyev). 2004/2005 season: new production Pelléas et Mélisande/Golaud.
Michael Volle dedicates also a great part of his career to concert commitments with such important conductors as Zubin Mehta (Carmina Burana, Israel Philharmonic), Seiji Ozawa (St. Matthew's Passion, Japan), Michel Plasson (Dresden Philharmonic), Charles Dutoit, James Conlon, Ricardo Muti, Marcello Viotti, Franz Welser-Möst, Antonio Pappano, Ingo Metzmacher (Bamberg Symphony), Helmuth Rilling, Claus-Peter Flor (Munich Philharmonic in 1999/2000, Berlin and Milan 2004), Valery Gergiev, Gewandhausorchester Leipzig, Barcelona, Beethoven Symphony No. 9, Lawrence Foster and Bavarian Radio: War Requiem, Rostropowitch (2000) and Elias (2001) under Wolfgang Sawallisch. Kent Nagano (DSO Berlin), Marek Janowski (Dresden Philharmonic), Philippe Herreweghe (Concertgebouw Amsterdam). Dresden Staatskapelle, tour to Japan, Brahms-Requiem, James Conlon, April 2002. Munich Philharmonic, James Levine (2002 and 2003).


Booklet für J. S. Bach: Solo Cantatas for Bass