---
Album Info
Album Veröffentlichung:
1990
HRA-Veröffentlichung:
17.02.2023
Das Album enthält Albumcover Booklet (PDF)
Bernado Pasquini (1637 - 1710):

1

PASQUINI: TOCCATA IN RE MINORE

03:40

2

PASQUINI: VARAZIONE IN SOL MINORE

04:52

3

PASQUINI: ARIA

01:03

4

PASQUINI: ARIA

01:09

5

PASQUINI: ARIA

00:47

6

PASQUINI: SONATA IN DO MAGGIORE

01:57

Domenico Scarlatti (1685 - 1757):

7

SCARLATTI: SONATA IN RE MINORE K77, MODERATO E CANTABILE

03:16

8

SCARLATTI: SONATA IN RE MINORE K77, MINUETTO

01:33

9

SCARLATTI: SONATA IN SOL MAGGIORE K328

03:06

Giovambattista Martini (1706 - 1784):

10

MARTINI: TOCCATA IN DO MAGGIORE

01:21

11

MARTINI: GRAVE IN FA MINORE

03:41

12

MARTINI: VI SONATA IN DO MAGGIORE, ADAGIO

02:57

13

MARTINI: VI SONATA IN DO MAGGIORE, ALLEGRO

01:39

Gaetano Valeri (1760 - 1822):

14

VALORI: SONATA IN FA MAGGIORE

02:48

15

VALORI: SONATA IN DO MINORE (SICILIANA)

02:53

16

VALORI: SONATA IN DO MAGGIORE

03:34

Anonimo:

17

ANONIMO: POST COMMUNIO IN SOL MINORE

03:15

Giuseppe Gherardeschi (1759 - 1815):

18

GHERARDESCHI: TRE VERSETTI CONCERTATI, ADAGIO

00:50

19

GHERARDESCHI: TRE VERSETTI CONCERTATI, ANDANTINO AFFETTUOSO

01:19

20

GHERARDESCHI: TRE VERSETTI CONCERTATI, ALLEGRETTO

00:27

21

GHERARDESCHI: RONDO' IN FA MAGGIORE

02:55

Total Runtime

49:02
Info zu Luigi Ferdinando Tagliavini
Luigi Ferdinando Tagliavini organist, harpsichordist and musicologist, completed his studies at the Conservatories of Bologna and Paris and at the University of Padua. He carries out intense concert activities in Europe, America, Japan and Australia. He has made numerous recordings and edited for Ricordi the series "Antichi Organi Italiani" for which he recorded discs dedicated to Frescobaldi and the 1800s. He has publishedStudies on the texts of Johann Sebastian Bach's sacred cantatas (Cedam) and critical editions of Mozart's Mitridate, Ascanio in Alba and Betulia Liberata (Barenreiter und Kassel). He edits with O. Mischiati the journal "l'Organo" (Patron). He has taught courses at various universities in the United States and Japan and is a lecturer at the International Summer Academies in Haarlem, Innsbruck and Pistoia. He is a full professor of musicology at the University of Fribourg in Switzerland. He is a member of commissions for the protection of historic organs in Lombardy and Switzerland. In 1974 the Italian Ministry ofPublic Education awarded him the gold medal of benemerito della cultura.
The Vignole instrument is one of the most significant of those jointed by the Pistoiese builder Pietro Agati (1735-1806), progenitor of one of the two important Pistoiese organ factories of the 18th-19th centuries. At first a worker of the Tronci, the other original Pistoiese family whose rival he was to become, and trained first at the school of the Bolognese Filippo Gatti, he was crucially influenced by the Flemish Jesuit builder Willem Hermansthrough the organ he built in 1664 in the church of S. Ignazio, now Spirito Santo, in Pistoia. Certain proof is already his second work, still preserved in the church of S. Vitale in Pistoia, in which he even copies its case, something he will repeat at least one more time and that is in 1780 in the parish of Serra Pistoiese. But above all, the colorful sound aesthetic of Hermans' so-called "concert" registers must have fascinated Pietro Agati, so much so that even when he no longer copied the case of the Holy Spirit organ, he continued to copy its registers. For example, right in Vignole, among the very many "concert" registers, those of Hermans are right there, and taken from Hermans is even the unusual division between basses and sopranos (F#3-Sol3). It should be noted that the Hermans aesthetic influenced not only Pietro Agati, but the entire Pistoia organ and organ world. So also the Tronci family and the various organists who left written recording indications, for example, Giuseppe Gherardeschi and Giovan Pietro Baldi.
Luigi Ferdinando Tagliavini, organ
Digitally remastered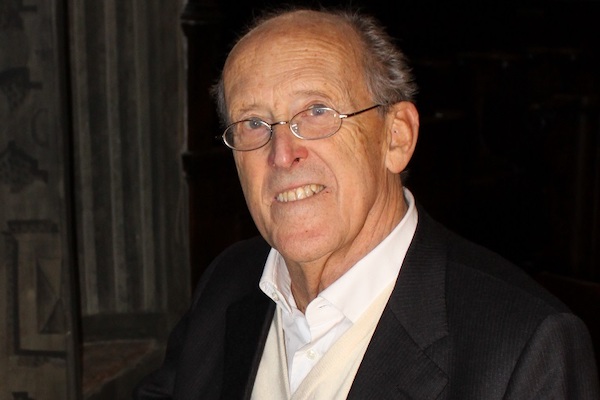 Luigi Ferdinando Tagliavini
Born in Bologna, Tagliavini studied at Bologna and Paris conservatoires before graduating from the University of Padua with a dissertation on Bach's sacred cantatas in 1951. He taught organ at the conservatoires of Bolzano and Bologna and music history at the University of Parma before being appointed professor for musicology at the University of Fribourg, Switzerland in 1965; he occupied this position for 35 years.
His expertise in historic instruments was recognised when he was jointly appointed (with Liuwe Tamminga) as head of historic organs at the Basilica of San Petronio in Bologna, giving him access to instruments by Lorenzo da Prato (1471-75) and Baldassarre Malamini (1596).
Tagliavini regularly performed as a concert organist in Italy and abroad, and received a number of prizes for his performances and recordings. These included the Premio della discografia italiana in 1972 and 1973, the record prize of the German Phono Academy in 1976, and the Tiroler Adler Order in 1982; in the same year, he became a member of the Accademia Nazionale di Santa Cecilia.
An active musicologist, Tagliavini co-founded the journal L'organo in 1960. He also wrote a number of papers and published critical editions of works by Frescobaldi, Zipoli and Mozart.
Tagliavini had an important collection of approximately 70 historical keyboard instruments, including harpsichords, organs, pianos and clavichords, which is currently displayed in the Church of San Colombano, Bologna.


Booklet für Luigi Ferdinando Tagliavini