---
Album Info
Album Veröffentlichung:
2018
HRA-Veröffentlichung:
18.10.2018
Das Album enthält Albumcover
Georg Philipp Telemann (1681 - 1767): Violin Sonata in G Minor, TWV 41:g1:

1

Violin Sonata in G Minor, TWV 41:g1: I. Adagio

01:27

2

Violin Sonata in G Minor, TWV 41:g1: II. Allegro

02:58

3

Violin Sonata in G Minor, TWV 41:g1: III. Adagio

01:39

4

Violin Sonata in G Minor, TWV 41:g1: IV. Vivace

02:39

Violin Sonata in D Major, TWV 41:D1:

5

Violin Sonata in D Major, TWV 41:D1: I. Allemanda. Largo

07:59

6

Violin Sonata in D Major, TWV 41:D1: II. Corrente. Vivace

03:45

7

Violin Sonata in D Major, TWV 41:D1: III. Sarabanda

01:37

8

Violin Sonata in D Major, TWV 41:D1: IV. Giga

03:16

Violin Sonata in B Minor, TWV 41:h1:

9

Violin Sonata in B Minor, TWV 41:h1: I. Cantabile

02:45

10

Violin Sonata in B Minor, TWV 41:h1: II. Allegro assai

02:53

11

Violin Sonata in B Minor, TWV 41:h1: III. Andante

02:42

12

Violin Sonata in B Minor, TWV 41:h1: IV. Vivace

03:16

Violin Sonata in G Major, TWV 41:G1:

13

Violin Sonata in G Major, TWV 41:G1: I. Largo

02:09

14

Violin Sonata in G Major, TWV 41:G1: II. Allegro

02:53

15

Violin Sonata in G Major, TWV 41:G1: III. Adagio

02:28

16

Violin Sonata in G Major, TWV 41:G1: IV. Allegro

02:31

Violin Sonata in A Minor, TWV 41:a1:

17

Violin Sonata in A Minor, TWV 41:a1: I. Allemanda. Largo

04:29

18

Violin Sonata in A Minor, TWV 41:a1: II. Corrente. Vivace

02:17

19

Violin Sonata in A Minor, TWV 41:a1: III. Sarabanda

01:42

20

Violin Sonata in A Minor, TWV 41:a1: IV. Giga

03:02

Violin Sonata in A Major, TWV 41:A1:

21

Violin Sonata in A Major, TWV 41:A1: I. Allemanda. Largo

03:28

22

Violin Sonata in A Major, TWV 41:A1: II. Corrente. Allegro

02:29

23

Violin Sonata in A Major, TWV 41:A1: III. Sarabanda

02:33

24

Violin Sonata in A Major, TWV 41:A1: IV. Giga

02:59

Violin Sonata in F-Sharp Minor, TWV 41:fis2:

25

Violin Sonata in F-Sharp Minor, TWV 41:fis2: I. Largo

01:35

26

Violin Sonata in F-Sharp Minor, TWV 41:fis2: II. Andante

02:03

27

Violin Sonata in F-Sharp Minor, TWV 41:fis2: III. Adagio

04:46

28

Violin Sonata in F-Sharp Minor, TWV 41:fis2: IV. Un poco presto

01:30

Total Runtime

01:19:50
Info zu Telemann: Sonatas for Violin & Harpsichord
Telemann (1681-1767) was one of musics great mavericks, an aesthete with a restless mind and cosmopolitan tastes. During his nearly seven-decade career, he sampled every conceivable genre, idiom, and national style, and incorporated a dizzying number of them into his music. The Violin Sonatas of 1715 are so wide-ranging in both idiom and expression that, heard together, they constitute a microcosm of Telemanns art. Other recordings of these works often include cello. These pieces, however, were written specifically for the duo instruments just violin and harpsichord, performed brilliantly here by and Dorian Komanoff Bandy, violin and Paul Cienniwa, harpsichord. In making this unique recording, Bandy and Cienniwa didnt think of them as six individual pieces, but a single big piece with 24 movements. The Sonata in F sharp minor is a real rarity and this is its world premiere recording. Unpublished in his lifetime, the manuscript is signed as George Melante, a nearly-anagrammatic pseudonym. Comparing the seven works on this recording, it is clear that Telemann had no simple schema, no formula that would produce a single piece of music over and over. These are seven truly distinct sonatas: each unique, daring, and extraordinary in its own way.
Dorian Komanoff Bandy, baroque violin
Paul Cienniwa, harpsichord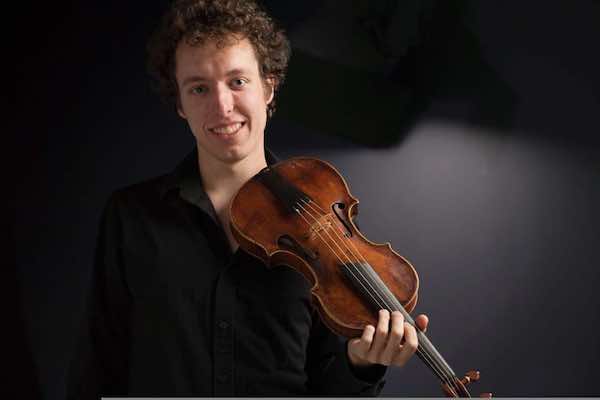 Dorian Komanoff Bandy
Over the past seven years, Dorian has established himself as an authority on the works of Mozart, whose operas he 'brings to life' with 'unquestionable theatricality', 'palpable passion' (Opera Today) and 'ingenious recitative accompaniment' (Counterpunch), all the while 'treading the line between joy and sadness' (Opera Now). His 2012 production of Così fan tutte (London, Hampstead Garden Opera), which featured improvised ornamentation and cadenzas, was recognised by the OffWestEnd Awards as the 'UK's Best Opera Production'. He has served as a guest music-director and conductor with ensembles on both sides of the Atlantic, including Musica Poetica London, Hampstead Garden Opera, Sinfonia New York, Underworld Productions Opera, and others.
When not conducting, Dorian maintains a thriving career as a performer on early violins and keyboards. His 'spectacular violin playing' (PlanetHugill), marked by 'sensibility and virtuosity' (Musical Pointers), has charmed audiences in venues ranging from London's Wigmore and Cadogan Halls to Amsterdam's Concertgebouw and New York's Symphony Space. He spent four years as leader and co-director of Musica Poetica London, and has been a frequent guest concertmaster/soloist with Sinfonia New York, the Amphion Consort (London), Musical Offering (Boston), and other groups across Europe and North America. He is also an experienced harpsichordist and fortepianist, with a repertoire including suites by Bach and Handel, concertos by Haydn and Mozart (with improvised cadenzas), and Schubert's song cycles.
In addition to his performing activities, Dorian is increasingly in demand as a teacher and educator. In Spring 2015 he gave an acclaimed lecture-series on Mozart and Beethoven, which he repeated, by popular demand, the following summer. He has coached students and taught masterclasses at the Longy School of Music (Cambridge, MA) and the Colburn School of Performing Arts (Los Angeles); he also maintains private vocal- and instrumental-coaching studios in New York, Boston and Los Angeles. With art historian Ruth Ezra, he has led a popular series of gallery lectures at Boston's Museum of Fine Arts, investigating deep aesthetic connections between art and music. Between 2014 and 2016 he served as an Affiliate Tutor of Quincy House at Harvard University, and in 2016 he became a visiting lecturer at the Royal Conservatoire of Scotland.
Dorian holds degrees from the Royal Academy of Music (London) and Cornell University. In 2010 he was awarded the coveted Marshall Scholarship. He currently resides in Italy and Scotland, and is writing a dissertation on operatic ornamentation in Mozart.
Paul Cienniwa
Cited by the Huffington Post for his "inner sense of creative flow, fueled by an abundance of musical imagination and desire," harpsichordist Paul Cienniwa has an active career as a soloist, ensemble player, recording artist, and teacher. He strives to bring the harpsichord to new audiences by creating a spiritual communion through focused interpretations intensified by memorized repertoire. His first solo recording, Harpsichord Music for a Thin Place (Whaling City Sound), exemplifies his artistic goals as a "transport to the threshold between the ordinary and the spiritual...to the point where the ordinary becomes spiritual and the spiritual becomes ordinary."
His playing of Francis Poulenc's Concert champêtre was heralded by the New Bedford Standard-Times as "exquisite—no drama, no posturing—just consummate artistry and a superb performance of a marvelous concerto," and The Boston Musical Intelligencer called his performance of Bach's Harpsichord Concerto in A Major "a joyous romp." EDGE Boston found his playing "expert," while The Listening Room said that his performance was "charming, polished, musically profound, and technically brilliant."
For his CD of the Bach Viola da Gamba Sonatas with cellist Audrey Sabattier-Cienniwa (Whaling City Sound), KBAQ radio (Phoenix, AZ) called his ability to accompany "spot-on...perfect." His recording with Grammy Award-winning uilleann piper Jerry O'Sullivan was called "drop-dead gorgeous" and named one of the top ten Irish traditional albums of 2010 by The Irish Echo. An advocate of new music, he is featured on a two-CD set of music by composer Larry Thomas Bell titled In a Garden of Dreamers (Albany Records).
A frequent chamber music collaborator, he has performed the complete Bach Violin Sonatas with renowned violinist Rachel Barton Pine on Chicago's WFMT radio and during the 2013 Boston Early Music Festival. As an orchestral continuo player, he played regularly with the New Bedford Symphony Orchestra and Rhode Island Philharmonic. In recent years, he has appeared at Emmanuel Music with violinist Nicholas Kitchen, the Kingston Chamber Music Festival, the White Mountain Bach Festival, VentiCordi, and, with uilleann piper Jerry O'Sullivan, the Catskills Irish Arts Week.
Originally from Niles, IL, Paul Cienniwa began his keyboard studies at age six. In his teen years, he played thrash guitar with the Evanston, IL punk band Malicious Intent, followed by seven years as keyboardist with the innovative Chicago-based Irish group Baal Tinne. From 2003-2010, he led Newport Baroque in works from Arne to Zelenka, including performances of Bach cantatas and Purcell's Dido & Aeneas, and in 2009, he was music director for Boston Opera Collaborative's acclaimed production of Handel's Alcina.
He been awarded Belgian American Educational Foundation and Fulbright grants, and his musicological articles and reviews have appeared in American and European journals, including Early Music, Ad Parnassum and Early Music America. As an educator, he has taught at the Yale University School of Music, Salve Regina University, Stonehill College, Framingham State University, UMass-Dartmouth, Mount Ida College, and the Music School of the Rhode Island Philharmonic.
In 2017 he began serving as Director of Music Ministries at St. Paul's Episcopal Church in Delray Beach, FL. Prior to that, he was music director at First Church in Boston and Chorus Master of the New Bedford Symphony Orchestra.
Paul Cienniwa started his undergraduate studies as a pianist in the studio of Michael Ruiz at the American Conservatory of Music in Chicago. After completing his bachelor's degree at DePaul University with harpsichordist Roger Goodman and organist Jerome Butera, he received the Doctor of Musical Arts degree in harpsichord from Yale University, where he was a student of Richard Rephann. He has also studied harpsichord with Peter Watchorn, John Whitelaw, and David Schrader.


Dieses Album enthält kein Booklet