---
Album Info
Album Veröffentlichung:
2021
HRA-Veröffentlichung:
24.06.2022
Das Album enthält Albumcover
1

Money Train

04:38

2

Misery Loves Company

03:27

3

Into the Sunlight

02:28

4

Crazy Man Blues

03:57

5

Your Kin

03:44

6

Damn Rainy Day

03:52

7

Higher Ground

04:20

8

Good Intentions

04:16

9

On Tennessee Land

02:19

10

Lenora Cynthia

02:36

11

Tricks of the Trade

03:06

12

Shaky Ground

03:35

Total Runtime

42:18
Info zu Tricks of the Trade
"Tricks Of The Trade" by Malcolm Holcombe is easily his most "accessible" album yet. It's chock-full of his trademark angry old man folk and suffer-no-fools blues. But there are also some tracks that are a little more like rock and there's even one track that can best be described as a honkytonk tearjerker. So yeah it's a good gateway drug to some of the more intense hardline albums in his back catalog. Which is not to say he's pulling his punches on this one. The social criticism is just as biting as ever and the seething rage is as intense as ever. What sets Hocombe apart from so many other angry songwriters is that he knows how to make songs sound timeless, universal, old as the mountains he comes from, and most of all, his songs sound true. Highlights for me are "Money Train," "Misery Loves Company," "Crazy Man Blues," "Your Kin," "Good Intentions," "Tricks Of The Trade," and "Shaky Ground." (Calvin Powers)
Malcolm Holcombe. Just say that name over a few times in your head. I first heard it sometime in the mid 90's in Nashville when a friend said, "RB, there's a guy you really got to see, Malcolm Holcombe."
So, I went to the old original Sutler to check out a Malcolm Holcombe show. Malcolm and his little combo were in mid-flow when I got there and I was stopped in my tracks just past the door. In a music city full of singer songwriters, I hadn't heard anything like this guy, there or anywhere else. Malcolm was a study, head to toe and heart to mind.
He was definitely possessed of the work at hand, what you'd call in a zone. He had a powerful and unusual voice, and an urgent and honest expression. What he said you could feel on a personal level if not completely discern all the words. I listened close as the songs poured out of him, one song turning into the next, Malcolm hardly taking a breath between, not playing for or waiting on applause.
The players rolled with him. I didn't know the bass man, but Kenny Malone was on drums and Jelly Roll Johnson on mouth harp. Malcolm sat in a chair in the midst of them reeling and rocking and sometimes seeming to levitate. He played an acoustic guitar with no flat pic or finger pics, sometimes tapping or banging on it like he was knocking on the door of the song. His right hand like no other I'd ever seen flail on a flattop. The guitar was alive and at the mercy of the man who held it, and when his voice rang out above it, telling its tale, well it was a wonder to behold. ...
"With a great studio band behind him and the support of high-class guest vocalists such as Mary Gauthier, Holcombe wraps these impeccable lyrics in a musical package of the highest order. It is an album to savour and, as is often the wont of the Americana singer-songwriter, an important and invaluable insight into the underbelly of the USA." (Peter Churchill, americana-uk.com)
"chock-full of his trademark angry-old-man folk and suffer-no-fools blues." (Calvin Powers)
"There is a distinctly rock foundation to Tricks of the Trade. But ultimately it's Holcombe's lyrics with their vivid, no holds barred view on life that hit hardest." (Lyndon Bolton)
"I like the variety of song styles, from weary, bluesy protestations, to country style bar sing-alongs, to pretty melodies…" (Bill Rutsch)
Malcolm Holcombe, vocals, guitars
Dave Roe, bass
Jerry Roe, drums
Mile McPherson, drums
Jared Tyler, guitars
Iris DeMent, backing vocals
Greg Brown, backing vocals
Mary Gauthier, backing vocals
Jaimee Harris, backing vocals
Ron de la Vega, cello (on Lenora Cynthia)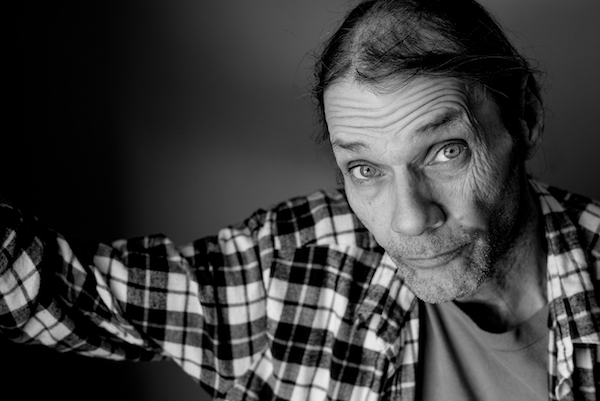 Malcolm Holcombe
Born and raised in the Blue Ridge mountains of North Carolina, Malcolm Holcombe is being recognized by the contemporary U.S and European folk/americana community as a performer of national stature, and an uncommonly unique guitarist/vocalist about whom Rolling Stone magazine says: "Haunted country, acoustic blues and rugged folk all meet [here]..."
The acts of writing songs and playing music have always been hopeful ones, however bleak the subject matter of the songs might be. With Down the River, Malcolm Holcombe has once again given us a handful of songs that are testimony to the human spirit. In these songs, the old truths still hold. Love, the inner life, music, these are eternal verities and will outlast the trickery and chicanery of those who would turn us against each other. In these strange and troubled times, we need Holcombe's witness as much as we ever have, and it is our good fortune to receive it.
A study in paradox, Malcolm is well-known and unknown. He's praised as a national treasure, and yet he's not sitting by the phone, waiting to receive any shiny awards. He's a musician who hones his craft for the sake of the craft- a quality that's in short supply in a world where the shortest route to getting famous is the most frequently taken.
Within this dance between reverence and anonymity, Holcombe has managed to reap high praise in more music reviews than can be counted throughout his more than twenty years of making music. He's from the back- backwoods of North Carolina, yet he's managed to touch a global audience, receiving accolades from as far away as Germany and Italy.
His gritty, honest, woeful guitar beckons you to listen to his often tongue-in-cheek tales of hard living, simple pleasures, and sage-like wisdom, yet Holcombe gives us so much more. This is music designed not just to tell us a story about people and places, but walk us directly to another place and time.


Dieses Album enthält kein Booklet