---
Album Info
Album Veröffentlichung:
2023
HRA-Veröffentlichung:
06.01.2023
Label: Genuin
Genre: Classical
Subgenre: Chamber Music
Interpret: Felix Vogelsang
Komponist: Johann Sebastian Bach (1685-1750), Gerhard Gemke (1962), Paul Glass (1934), Carl Theodor Hütterott (1926), Chunhe Gao (1959), Ernest Bloch (1880-1959), Jeremie Rhorer (1973)
Das Album enthält Albumcover Booklet (PDF)
Johann Sebastian Bach (1685 - 1750): Cello Suite No. 1 in G Major, BWV 1007:

1

Bach: Cello Suite No. 1 in G Major, BWV 1007: I. Prélude

02:23

2

Bach: Cello Suite No. 1 in G Major, BWV 1007: II. Allemande

04:07

3

Bach: Cello Suite No. 1 in G Major, BWV 1007: III. Courante

02:34

4

Bach: Cello Suite No. 1 in G Major, BWV 1007: IV. Sarabande

03:03

5

Bach: Cello Suite No. 1 in G Major, BWV 1007: V. Menuett I & II

03:27

6

Bach: Cello Suite No. 1 in G Major, BWV 1007: VI. Gigue

01:48

Gerhard Gemke (b. 1962): Courante de Félixe (After Bach's BWV 1007):

7

Gemke: Courante de Félixe (After Bach's BWV 1007)

04:30

Johann Sebastian Bach: Cello Suite No. 2 in D Minor, BWV 1008:

8

Bach: Cello Suite No. 2 in D Minor, BWV 1008: I. Prélude

03:24

9

Bach: Cello Suite No. 2 in D Minor, BWV 1008: II. Allemande

03:27

10

Bach: Cello Suite No. 2 in D Minor, BWV 1008: III. Courante

02:02

11

Bach: Cello Suite No. 2 in D Minor, BWV 1008: IV. Sarabande

04:21

12

Bach: Cello Suite No. 2 in D Minor, BWV 1008: V. Menuett I & II

03:07

13

Bach: Cello Suite No. 2 in D Minor, BWV 1008: VI. Gigue

02:45

Paul Glass (b. 1934): Bach im Spiegel (After Bach's BWV 1008):

14

Glass: Bach im Spiegel (After Bach's BWV 1008)

06:18

Johann Sebastian Bach: Cello Suite No. 3 in C Major, BWV 1009:

15

Bach: Cello Suite No. 3 in C Major, BWV 1009: I. Prélude

03:44

16

Bach: Cello Suite No. 3 in C Major, BWV 1009: II. Allemande

03:55

17

Bach: Cello Suite No. 3 in C Major, BWV 1009: III. Courante

02:49

18

Bach: Cello Suite No. 3 in C Major, BWV 1009: IV. Sarabande

04:36

19

Bach: Cello Suite No. 3 in C Major, BWV 1009: V. Bourrée I & II

04:19

20

Bach: Cello Suite No. 3 in C Major, BWV 1009: VI. Gigue

03:23

Carl Theodor Hütterott (b. 1926): Tanz zu Bach im Spiegel (After Bach's BWV 1009):

21

Hütterott: Tanz zu Bach im Spiegel (After Bach's BWV 1009)

04:28

Johann Sebastian Bach: Cello Suite No. 4 in E-Flat Major, BWV 1010:

22

Bach: Cello Suite No. 4 in E-Flat Major, BWV 1010: I. Prélude

03:40

23

Bach: Cello Suite No. 4 in E-Flat Major, BWV 1010: II. Allemande

04:23

24

Bach: Cello Suite No. 4 in E-Flat Major, BWV 1010: III. Courante

03:19

25

Bach: Cello Suite No. 4 in E-Flat Major, BWV 1010: IV. Sarabande

04:05

26

Bach: Cello Suite No. 4 in E-Flat Major, BWV 1010: V. Bourrée I & II

05:24

27

Bach: Cello Suite No. 4 in E-Flat Major, BWV 1010: VI. Gigue

02:44

Chunhe Gao (b. 1959): Gengisbach (After Bach's BWV 1010):

28

Gao: Gengisbach (After Bach's BWV 1010)

04:54

Johann Sebastian Bach: Cello Suite No. 5 in C Minor, BWV 1011:

29

Bach: Cello Suite No. 5 in C Minor, BWV 1011: I. Prélude

06:10

30

Bach: Cello Suite No. 5 in C Minor, BWV 1011: II. Allemande

05:58

31

Bach: Cello Suite No. 5 in C Minor, BWV 1011: III. Courante

02:31

32

Bach: Cello Suite No. 5 in C Minor, BWV 1011: IV. Sarabande

03:48

33

Bach: Cello Suite No. 5 in C Minor, BWV 1011: V. Gavotte I & II

05:02

34

Bach: Cello Suite No. 5 in C Minor, BWV 1011: VI. Gigue

02:17

Ernest Bloch (1880 - 1959): Suite No. 1 for Solo Cello, B. 93 (After Bach's BWV 1011):

35

Bloch: Suite No. 1 for Solo Cello, B. 93 (After Bach's BWV 1011): I. Prélude

02:47

36

Bloch: Suite No. 1 for Solo Cello, B. 93 (After Bach's BWV 1011): II. Allegro

02:12

37

Bloch: Suite No. 1 for Solo Cello, B. 93 (After Bach's BWV 1011): III. Canzona

02:17

38

Bloch: Suite No. 1 for Solo Cello, B. 93 (After Bach's BWV 1011): IV. Allegro

02:32

Johann Sebastian Bach: Cello Suite No. 6 in D Major, BWV 1012:

39

Bach: Cello Suite No. 6 in D Major, BWV 1012: I. Prélude

04:37

40

Bach: Cello Suite No. 6 in D Major, BWV 1012: II. Allemande

07:02

41

Bach: Cello Suite No. 6 in D Major, BWV 1012: III. Courante

03:31

42

Bach: Cello Suite No. 6 in D Major, BWV 1012: IV. Sarabande

04:41

43

Bach: Cello Suite No. 6 in D Major, BWV 1012: V. Gavotte I & II

04:29

44

Bach: Cello Suite No. 6 in D Major, BWV 1012: VI. Gigue

04:15

Jérémie Rhorer (b. 1973): Incantation (After Bach's BWV 1012):

45

Rhorer: Incantation (After Bach's BWV 1012)

02:32

Total Runtime

02:49:40
Info zu Bach im Spiegel
Seit Pablo Casals um 1900 Bachs Suiten für Violoncello solo aus einem über 150-jährigen Dornröschenschlaf erweckte, haben sie nicht nur Interpreten und Publikum, sondern auch Komponisten gleichermaßen fasziniert und inspiriert. Ein Gebirgsmassiv mit sechs Gipfeln, das Felix Vogelsang bei GENUIN im Rahmen eines besonderen Projekts eingespielt hat. Ergänzt werden sie hier nämlich durch sechs weitere Werke, davon fünf, die der Künstler eigens für diese Produktion beauftragt hat. Vogelsang arbeitet mit farbenreichem und klaren Spiel die Beziehungen der Werke zueinander heraus.
Felix Vogelsang, Cello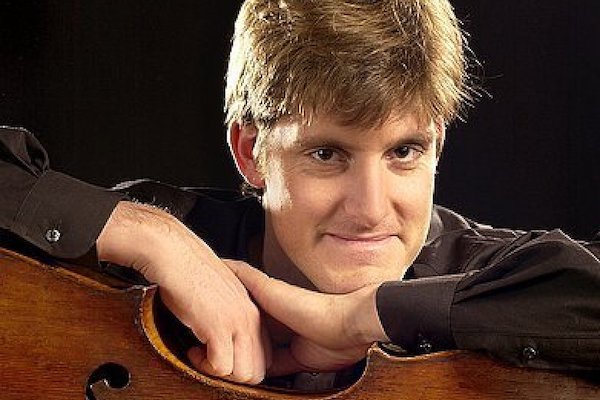 Felix Vogelsang
worked as an assistant to Tilmann Wick at the Hanover University of Music, Drama, and Media from 2001 to 2004. After gaining orchestral experience in the European Union Youth Orchestra, the Detmold Chamber Orchestra, and the NDR Radio Philharmonic Orchestra, among other ensembles, he was encouraged by artists such as Mstislav Rostropovich, Arto Noras, and Sir Colin Davis to initially devote himself to freelance performing.
His concert career has taken him through Europe, Chile, and South Africa to the USA, where he gave his New York debut in April 2002 with pianist Christopher Cooley. Since 2004 he has been assistant principal cellist of the Orchestra della Svizzera Italiana. In the spring of 2005 he performed as a soloist with the German Chamber Orchestra of Berlin under the direction of Markus Poschner in the Berlin Philharmonie. Since then, he has given frequent solo performances with a number of European orchestras, but above all Vogelsang has devoted himself to chamber music.
During his time as a member of the Quartetto Energie Nove (2009–2019), he performed throughout Europe and released four CDs which were highly praised by the international press. For example, Andrew Mellor wrote in The Strad (2018): "The emotional layers in the Largo run deep, right from the opening cello solo, played with sadness yet fortitude by Felix Vogelsang."
Felix Vogelsang has won awards at several international competitions, including at the International Dmitri Shostakovich Concours, the Liezen International Cello Competition, and the International Piestany Festival. Thanks to the support of PE-Förderungen, Vogelsang plays a cello by Don Nicolò Amati from 1730.


Booklet für Bach im Spiegel