---
Album Info
Album Veröffentlichung:
2020
HRA-Veröffentlichung:
27.05.2020
Das Album enthält Albumcover Booklet (PDF)
Carl Philipp Emanuel Bach (1714 - 1788): Symphony in D Major, Wq. 183.1, H. 663:

1

Symphony in D Major, Wq. 183.1, H. 663: I. Allegro di molto

06:13

2

Symphony in D Major, Wq. 183.1, H. 663: II. Largo

01:56

3

Symphony in D Major, Wq. 183.1, H. 663: III. Presto

03:01

Concerto for Harpsichord and Orchestra in E Major, Wq. 14, H. 417:

4

Concerto for Harpsichord and Orchestra in E Major, Wq. 14, H. 417: I. Allegro

08:52

5

Concerto for Harpsichord and Orchestra in E Major, Wq. 14, H. 417: II. Poco adagio

07:36

6

Concerto for Harpsichord and Orchestra in E Major, Wq. 14, H. 417: III. Allegro assai

06:49

Francesco Barbella (1692 - 1732): Concerto III from 24 concerti del manoscritto di Napoli:

7

Concerto III from 24 concerti del manoscritto di Napoli: I. Amoroso

03:27

8

Concerto III from 24 concerti del manoscritto di Napoli: II. Allegro

02:47

9

Concerto III from 24 concerti del manoscritto di Napoli: III. Adagio

01:15

10

Concerto III from 24 concerti del manoscritto di Napoli: IV. Allegro

01:38

Carl Philipp Emanuel Bach: Sonata in A Minor for Violin, Cello and Obbligato Harpsichord, Wq. 90:01, H. 522:

11

Sonata in A Minor for Violin, Cello and Obbligato Harpsichord, Wq. 90:01, H. 522: I. Presto

03:30

12

Sonata in A Minor for Violin, Cello and Obbligato Harpsichord, Wq. 90:01, H. 522: II. Andante

02:06

13

Sonata in A Minor for Violin, Cello and Obbligato Harpsichord, Wq. 90:01, H. 522: III. Presto ma non tanto

02:41

Wilhelm Friedemann Bach (1710 - 1784): Symphony in F Major, F. 67, BR C 2 "Dissonanzen-Sinfonie":

14

Symphony in F Major, F. 67, BR C 2 "Dissonanzen-Sinfonie": I. Vivace

04:13

15

Symphony in F Major, F. 67, BR C 2 "Dissonanzen-Sinfonie": II. Andante

03:57

16

Symphony in F Major, F. 67, BR C 2 "Dissonanzen-Sinfonie": III. Allegro

03:13

17

Symphony in F Major, F. 67, BR C 2 "Dissonanzen-Sinfonie": IV. Menuetto 1 & Menuetto 2

02:23

Total Runtime

01:05:37
Info zu Carl Philipp Emanuel Bach: Empfindsam
Empfindsamer Stil or Empfindsamkeit developed in Germany by the middle of the 18th century with the main goal of expressing emotions in order to move the spectator. Carl Philipp Emanuel Bach, Johann Sebastian's second son, was the composer who best represented the style's ideals. Christoph Friedrich Nicolai, a contemporary critic, aptly described the merit of Bach's ingenious originality: "Anyone who would wish to see such a truly original composer as our Bach freely go his own way, untrammelled by custom or fashion, will find his heart's desire in these splendid, unique symphonies." These qualities probably explain why his symphonies kept being played up to modern days.
Emanuel Bach goes into the deepest of his sentimental expression, with delicate harmonies and well-designed melodic lines alternating with tortuous melodic leaps, painful harmonic progressions and outstanding cantabile writing. Tempests of notes and harmonies supported by temperamental accompaniments from the strings are followed by the most sublime cantabiles, passages in an almost galant style, with short and simple melodic motifs. Striking harmonies and dissonant leaps are combined with sudden fermatas to create the dramatic instability typical of Sturm und Drang. A veritable musical fireworks in a captivating rendering by New Collegium!
New Collegium

Inês d'Avena, recorder
Rebecca Rosen, cello
Sara DeCorso, violin
Claudio Ribeiro, harpsichord, conductor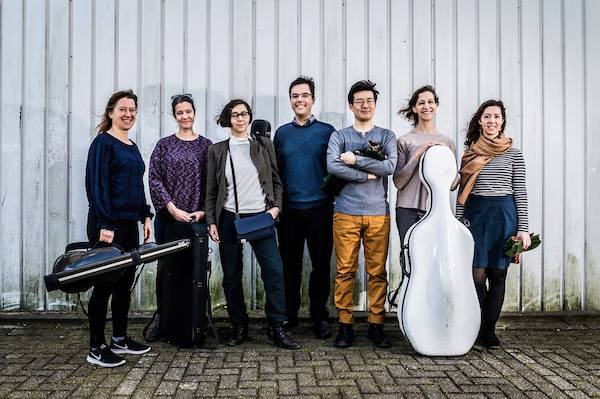 New Collegium
was founded in 2006 (as Collegium Musicum Den Haag) by some of the top students of the Early Music Department of the Royal Conservatoire The Hague. The musicians also share their experience in historically informed performance with other internationally renowned baroque ensembles. ​
Flying start: The impact of the collective was already clear in the year it was founded when the renowned Utrecht Early Music Festival invited the full orchestra to perform in the fringe program. The Austrian radio ORF produced the first CD a year later: "L'Europe Réunie". The press praised New Collegium for its "uncomplicated and yet precise playing."
In the years 2009–2016, the city of The Hague got to know the flexibility of the collective in a socio-cultural city tour; New Collegium brought music to distant communities and new audiences. The Dutch Music Center also nominated New Collegium as Dutch representative for the Early Music showcase during the Utrecht Early Music Festival 2010.
International recognition: With C.P.E. Bach as the central composer, the second recording of New Collegium, released in 2015, showed that the boundaries of the Baroque are not limiting for their eagerness. In the CD "Empfindsam", " the deepest sentiments of C. P. E. Bach's soul are seemingly laid out for all to feel, and Ribeiro and co. capture all the nuances to perfection.", according to the Early Music Review.
On King's Day 2015, New Collegium performed in full power for King Willem-Alexander and Queen Máxima of The Netherlands. The collective returned to the Utrecht Early Music Festival, this time in the main program of the 2015 edition. In 2018, New Collegium was featured in the renowned Bachfest Leipzig.
New Collegium was a prize-winner at the prestigious International Van Wassenaer Competition 2016, and gave concerts and masterclasses at the 27th International Early Music Festival of Juiz de For a in Brazil as the "ensemble in residence". Invited by Ton Koopman, New Collegium performed in 2014 and 2017 at his "Itinéraire Baroque" in France. "The most beautiful musical satisfaction of the festival" concluded the press, emphasizing "their sense of rhetorical freedom." ​
New Collegium has been a regular guest at other European concert venues, such as the Utrecht Early Music Festival, Bachfestival Dordrecht, Reincken Festival Deventer, Festival Classique Den Haag, Musica Antica da Camera (The Netherlands), MAfestival Brugge (Belgium), Brunnenthaler Konzertsommer, Italia Mia Vienna, Internationale Barocktage Stift Melk (Austria), Dalheimer Sommer (Germany), Itinéraire Baroque (France) en Opus Amadeus Festival (Turkey).
​ Musical flexibility: With New Collegium's third CD "Chameleon" (2019), the musicians showcase the elements that kept Telemann's musical style avant-garde throughout his lifetime. It is a blueprint of the collective itself: the enjoyment resounds in every form it takes!
Claudio Ribeiro
was born in São Paulo in 1976. Based in The Netherlands since 2000, he is a sought after harpsichordist and conductor in a variety of orchestras and ensembles. Having specialized in Early Music, his focus lies in the performance of Late Renaissance, Baroque and Early Classical repertoires on the harpsichord, organ and as a conductor. He is also an active harpsichord and early music teacher.
Claudio is a regular guest at the major concert venues and festivals in Europe, such as the Utrecht Early Music Festival, MAfestival Brugge, Itinéraire Baroque, Monteverdi Festival, Antiqua Bolzano, Festival d'Ambronay and Opus Amadeus Istanbul, performs often in his native Brazil and has also been a guest at concert venues in South Korea.
He is artistic director and maestro al cembalo of baroque ensemble New Collegium, which he co-founded in The Hague in 2006. New Collegium has performed extensively throughout Europe and in Brazil and is proactive in building new audiences for Early Music. Claudio is also the director of Companhia de Música, andClaudio is also the director of Companhia de Música, and, next to his duo with recorder player Inês d'Avena, is a member of La Cicala, Barokopera Amsterdam and Radio Antiqua, joining as well several other orchestras and ensembles in Europe and South America; among those are B'Rock, Música Temprana, Vox. Luminis, Harmonie Universelle, Armonico Tributo Campinas Baroque Orchestra (dir. Edmundo Hora), Giardino Musicale, Vox Brasiliensis (dir. Ricardo Kanji), Orquesta Barroca del Mercosul (dir. Cristina Banegas), and the orchestras of the Académie Baroque Européenne in 2002 (dir. Rinaldo Alessandrini) and 2005 (dir. William Christie) - which led to further collaboration as correpetitor of Les Arts Florissants. ​
Claudio records for labels such as RAMÉE, Ricercar, Ambronay Éditions, ORF, Brilliant and Passacaille, and appears regularly in live radio and TV broadcasts (France Musique, ORF, Dutch Broadcast Foundation and the Dutch Radio 4, among others). He has won prizes at the most important European competitions with LOTUS (Premio Bonporti 2011), New Collegium and Radio Antiqua (International Van Wassenaer Competition 2016).
As a guest conductor, Claudio has worked with ensembles such as the Reykjavik Chamber Orchestra and the National Youth Orchestra of The Netherlands, during a special concert for King Willem-Alexander.
He holds a Bachelor and Master Degrees from the Royal Conservatoire The Hague, having been a student of Jacques Ogg, and holds as well a Bachelor degree from the State University of Campinas (UNICAMP), where he studied choral conducting with Eduardo Navega, orchestral conducting with Henrique Gregori and harpsichord with Edmundo Hora. His training was enriched by lessons and masterclasses with, among others, Cristophe Rousset, Nicolau de Figueiredo and Ton Koopman.
Claudio is a guest teacher and correpetitor at the Royal Conservatoire in The Hague since 2006, and is regularly invited to teach harpsichord and early music at international summer/winter courses.


Booklet für Carl Philipp Emanuel Bach: Empfindsam