---
Album Info
Album Veröffentlichung:
2021
HRA-Veröffentlichung:
18.11.2022
Das Album enthält Albumcover
1

Desert Storm

02:23

2

The Western Guys

03:52

3

Curfew

05:30

4

The Griot Speaks

01:12

5

We Are M'berra

03:51

6

Skit In My Heart

01:03

7

Reste À L'Ombre

03:44

8

Desert Storm Pt.2

03:15

9

Moulan Shakur

04:05

10

Docu-Fiction

01:44

11

Dancing In A Desert Moon

03:58

12

Skit Guit

02:48

Total Runtime

37:25
Info zu M'berra
This is the sound, the story, of the M'berra Ensemble, a collective of Malian musicians from the M'berra Refugee Camp in southeast Mauritania, and Italian producer and electro-shaman Khalab. In a sprawling tent city rising out of the desert, out of nothingness, at the border with Mali in West Africa, brought together by spirit and circumstance, the group's Arab and Tuareg members — some unknown, some who have previously toured Europe — find solace and beauty in music and song.
There are stories here. There are memories and dreams, keepsakes and wishes. There are truths told straight and fashioned into shapes. There is struggle and resilience. There is humanity. Throughout, there is music.
Music as connection, sustenance, hope, joy. Ancient-to-future music fed by the ancestors and sent spinning through space and time. Music that bestows agency on the displaced and traumatised, opening the door of the cosmos and embracing the self-determination, the liberation, on the other side.
This album captures the unique moments we spent under the spell of sweeping guitar solos of the musicians of M'berra, but not only. After exciting days of directly engaging with the passion, poetry, and resourcefulness of these self-taught, professional artists, I asked my INTERSOS colleagues: "Show me the other side of this camp, the daily challenges you face here."
They brought me to a tent nearby, and inside I saw a girl bound to a chain. It was a long chain, with a heavy metal shackle closed around her ankle. She moved slowly in the dust, pausing now and again to smile at us - a painful smile of quiet resolve. Her eyes were large and flickered as she uttered a few fragmented words, small clues as to her inner state. "Her family doesn't keep her this way out of cruelty," my colleague disclosed, "Here in the camp they cannot provide her with the constant psychosocial support she needs. Because it doesn't exist. They're afraid that if she's left alone, she could wander off and get lost somewhere, or worse, that someone might hurt her".
In humanitarian speak, the technical, yet telling, term for this family's treatment of its weakest member is "negative coping mechanism." Faced with an insurmountable difficulty, they've chosen the only seemingly possible solution to protect their family unit, regardless of whether or not that choice is erred (and here is the urgency of our intervention).
My encounter with that girl revealed to me a whole new layer behind the music we were recording and the dense complexity of this world we had stepped into, seeking a voice in a cluster of sounds. A world precariously balanced between resilience and despair, home to personal hardships and hopelessness, yet bestowed with paths towards coexistence and emancipation. And within it, an entire range of possibilities for solidarity.
Our hope is that this album will help listeners perceive the essence of humanitarian protection that is our mission, the work that INTERSOS has enacted
for years in M'berra Camp. The same work that brought Khalab, Jean-Marc, and me to this breach in the desert to experience the situational, musical dialogue on which this album is based. Because humanitarian protection means more than simply responding to immediate physical and material needs, it means fully understanding, representing, and promoting the inviolable lives and dignity of every human being.
M'berra Ensemble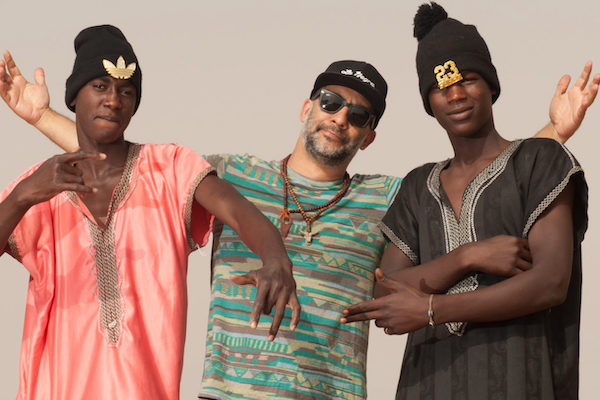 Khalab & M'berra Ensemble
Italian electronic artist and producer Raffaele Constantino a.k.a. Khalab has developed an international reputation for his original fusion of traditional African sounds, deep bass work, jazz, and heavily layered & dense electronic textures.
As a passionate researcher and advocate, Khalab has been promoting African music throughout his DJ career on the Italian club and festival scene, as a broadcaster on national Italian network Rai Radio 2, and as a music consultant, author, and event organiser. He has collaborated with the likes of Malian percussionist Baba Sissoko, and emerging icons of the new jazz scene such as Shabaka Hutchings and Moses Boyd. Most recently he experimented with field recordings from the archives of the Royal Museum for Central Africa of Bruxelles on his 2018 album Black Noise 2084. His wide-reaching musical tastes can be heard regularly on his monthly Worldwide FM show, Love from Rome, on which he takes a round trip journey between ancestral rituals and psych, deserts and spaceships.
M'berra Ensemble refers to a community of musicians living in the M'berra refugee camp — some who perform as individuals, others who are a part of other bands. They took part in this musical collaboration as a way of restoring their dignity and identity as musicians, and to support and raise awareness for INTERSOS humanitarian projects in the Sahel region of West Africa.
M'berra Ensemble are: Amano Ag Issa, Mohamed Issa Ag Oumar, Ahmadou Ag Mohamed, Tinalbaraka Walet Alhassane, Alhassane Ag Abdorahmane, Taya Walet Mohamed, Aliou Ould Mohamed, Attaher Ag Mohamed, Attaye Ag Mohamed, Elhaj Ag Mohamed, Enaderfé Ag Khamma, Hamma Ag Awaissoune, Mohamed Alwafi Ag Mohamed, Khantara Ould Mohamed, Adriano Viterbini, Tommaso Cappellato, Davide Paulis, and DJ Knuf.


Dieses Album enthält kein Booklet