---
Album Info
Album Veröffentlichung:
2023
HRA-Veröffentlichung:
03.02.2023
Das Album enthält Albumcover Booklet (PDF)
Wolfgang Amadeus Mozart (1756 - 1791): Symphony No. 1 in E-Flat Major, K. 16:

1

Mozart: Symphony No. 1 in E-Flat Major, K. 16: I. Molto allegro

06:08

2

Mozart: Symphony No. 1 in E-Flat Major, K. 16: II. Andante

05:52

3

Mozart: Symphony No. 1 in E-Flat Major, K. 16: III. Presto

01:52

Piano Concerto No. 23 in A Major, K. 488:

4

Mozart: Piano Concerto No. 23 in A Major, K. 488: I. Allegro

11:15

5

Mozart: Piano Concerto No. 23 in A Major, K. 488: II. Adagio

06:41

6

Mozart: Piano Concerto No. 23 in A Major, K. 488: III. Allegro assai

07:56

Symphony No. 41 in C Major, K. 551 "Jupiter":

7

Mozart: Symphony No. 41 in C Major, K. 551 "Jupiter": I. Allegro vivace

11:17

8

Mozart: Symphony No. 41 in C Major, K. 551 "Jupiter": II. Andante cantabile

10:16

9

Mozart: Symphony No. 41 in C Major, K. 551 "Jupiter": III. Menuetto. Allegretto - Trio

05:15

10

Mozart: Symphony No. 41 in C Major, K. 551 "Jupiter": IV. Molto allegro

11:43

Total Runtime

01:18:15
Info zu Mozart: The Beginning & The End
Maxim Emelyanychevs Mozart-Affinität ist bekannt, vor allem, wenn es um das Klavierwerk geht: 2018 verwöhnte der Dirigent und Pianist sein Publikum mit einer Sonaten-Aufnahme, die seine Virtuosität und Musikalität unter Beweis stellte – und sein bemerkenswertes Verständnis für die Musik des Komponisten. Der Ansatz des neuen, langfristigen Projekts mit dem Ensemble Il Pomo d'Oro ist originell: In jedem Band der geplanten Gesamtaufnahme wird eine frühe Sinfonie Mozarts zusammen mit einer seiner großen reifen Sinfonien zu hören sein. Zusätzlich ein Werk mit einem besonderen Gast, zum Auftakt das Klavierkonzert Nr. 23 mit dem Dirigenten am Hammerflügel.
Il Pomo d'Oro
Maxim Emelyanychev, Dirigent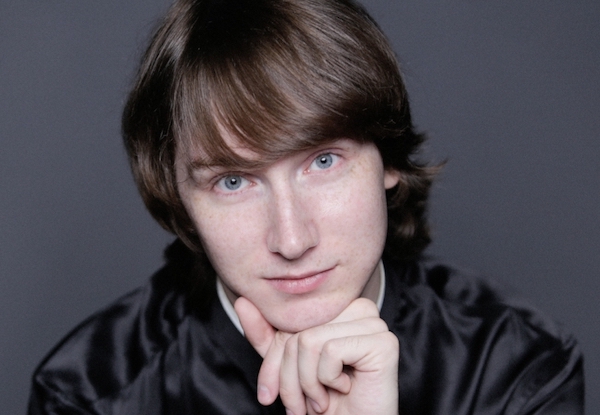 Il Pomo d'Oro
In the year 2022, the ensemble il Pomo d'Oro is celebrating its 10th anniversary.
Founded in 2012 by Giulio D'Alessio and Gesine Lübben, it soon established itself as an ensemble of outstanding quality in the field of historically informed performance. Il Pomo d'Oro looks back on 10 years of intense concert activity worldwide and an impressive list of 35 recordings, many of them award winning.
The ensemble is particularly known and sought after as a partner of singers, be it for solo recitals or entire operas in performance and recording. In 2022, il Pomo d'Oro is touring the new programs of Joyce DiDonato, EDEN, and Jakub Jozef Orlinski, Anima Eterna, led by the main conductors of the ensemble, Maxim Emelyanychev (chief conductor), and Francesco Corti (chief guest conductor). The last 'opera' production with a stellar cast was Handel's oratorio Theodora in November 2021, presenting for the first time the new vocal ensemble il Pomo d'Oro. Further operas and oratorios, mainly by Handel, are scheduled for the coming seasons.
In the field of instrumental music, the ensemble focuses on projects with Maxim Emelyanychev conducting and Francesco Corti as soloist and conductor (Bach harpsichord concertos). Zefira Valova, the concert master of il Pomo d'Oro, also appears as a violin soloist in a new album with works by Benda, Graun a.o., soon to be released.
il Pomo d'Oro is official ambassador of El Sistema Greece, a humanitarian project to provide free musical education to children in Greek refugee camps.
The 'il Pomo d'Oro Academy' was launched online during the first wave of the Covid 19 pandemic, offering free music lessons to music students worldwide.
The Academy is now collaborating with El Sistema Venezuela, offering online masterclasses in Baroque music interpretation in cooperation with the "Inocente Carreño Itinerant Conservatory" in Caracas to the Baroque music ensembles of the El Sistema movement.
In its future residence in Monte San Savino, Italy, the il Pomo d'Oro Academy will host instrumental and vocal masterclasses, workshops and musical education for children.
The name of the ensemble il Pomo d'Oro refers to Antonio Cesti's opera from the year 1666. Composed to the wedding celebrations of Emperor Leopold I and Margarita Teresa of Spain, Il Pomo d'Oro was probably one of the largest, most expensive and most spectacular opera productions in the still young history of the genre. 24 different stage designs, a horse-ballet of 300 horses, a fireworks display of 73,000 rockets, numerous 'special effects' – superlatives, which should make the Emperor's court the highlight of cultural splendor in Europe.
Maxim Emelyanychev
Chief conductor, Il Pomo d'Oro and principal conductor, Scottish Chamber Orchestra.
Shortly after his conducting debut at the age of 12, Maxim Emelyanychev was invited to conduct quite a few of the international baroque and symphonic orchestras in Russia. Then, in 2013, he became Principal Conductor of Il Pomo d'Oro and Principal Conductor of the Nizhny-Novgorod Soloists Chamber Orchestra.
In 2014, he made remarquable debut in Mozart's Don Giovanni at the Sevilla Teatro de la Maestranza. These critically acclaimed performances were swiftly followed by a series of symphonic guest engagements all over Europe.
Highlights of the 2016/17 season featured a major international tour with Il Pomo d'Oro and Joyce DiDonato, his debut at the Opernhaus Zürich in Mozart's Entführung aus dem Serail, and his debut at the Orchestre National du Capitole de Toulouse, which has led to three programmes a year.
In addition to his fourth visit to both the Toulouse National and the Real Orquesta Sinfonica de Sevilla, Maxim made in 2017/18 his debut with the following orchestras: Orchestra della Svizzera Italiana, National de Lyon, Sinfonica di Milano LaVerdi, National de Belgique, National de Bordeaux and Saint-Petersburg Symphony.
An invitation to conduct the Scottish Chamber Orchestra in Schubert Symphony no.9 on a last-minute replacement led the enthused musicians to appoint him their new Principal Conductor, effective from the autumn of 2019. And on the very first days of his mandate as Principal Conductor, the Scottish Chamber Orchestra extended his contract until 2025.
The 2018/19 season included his debut with the Antwerpen Symphony, Netherlands Philharmonic, Tokyo Symphony, Royal Philharmonic and Saint-Petersburg Philharmonic orchestras. Maxim also joined Il Pomo d'Oro for a three weeks tour of Asia and the Middle East with Joyce DiDonato.
He conducted the Orchestra of the Age of Enlightenment at two of the major international opera institutions: the Glyndebourne Festival (Handel Rinaldo, with Jakub Orlinski in the title role) and the Royal Opera House (Handel Agrippina, with Joyce DiDonato in the title role). He returned to the Orchestra della Svizzera Italiana and to the Royal Liverpool Philharmonic. Other engagements included the Berliner Konzerhausorchester, the Iceland Symphony Orchestra, the Real Orquesta Filarmonica de Gran Canaria and the Seattle Symphony.
Maxim's 2020/21 engagements included the Geneva Grand Theatre in Mozart's Clemenza di Tito and the Toulouse Théâtre du Capitole in Mozart's Nozze di Figaro. Debuts with the Orchestre de Paris, the Atlanta Symphony, the Gulbenkian Orchestra, the London Philharmonic, the Belgian National Orchestra and the Luxembourg Philharmonic. His concerts with the Müchner Philharmoniker and the Swedish Radio Symphony have been postponed to 2022 due to Covid-19.
In August 2021 Maxim and the Scottish Chamber Orchestra were invited to the BBC Proms and to the Edinburgh International Festival, to which they return in 2022.
The highlights of his 2021/22 season see also his debut with some of the most prestigious international orchestras: Accademia Nazionale di Santa Cecilia, Royal Concertgebouw Orchestra, Rotterdam Philharmonic, Deutsches Symphonie-Orchester, Toronto Symphony, Swedish Radio Symphony Orchestra. They include returns to the Antwerp Symphony, the Orchestre National du Capitole de Toulouse, the Royal Liverpool Philharmonic and a European tour with the Scottish Chamber Orchestra, followed by appearances to the Radio-France Montpellier Festival and the Edinburgh International Festival. A tour with il pomo d'oro presented Handel's oratorio Theodora with Lisette Oropesa in the title role.
In 2022/23 Maxim will tour the US with the Scottish Chamber Orchestra and will make his debut with the New Japan Philharmonic, the Osaka Kansai Philharmonic, the Bergen Philharmonic Orchestra, the Helsinki Radio Symphony Orchestra, the Czech Philharmonic Orchestra, the Rotterdam Philharmonic Orchestra and will return to the Orchestre National du Capitole de Toulouse and to the Royal Opera House in Mozart Magic Flute.
With il pomo d'oro Maxim will perform the new program of Joyce DiDonato, Eden, in Europe and the US. An instrumental program with il pomo d'oro is dedicated to Mozart symphonies.
Maxim was awarded in 2013 the Golden Mask for his participation in quality of harpsichordist to the stage production of Nozze di Figaro of the Perm Opera Theatre conducted by Teodor Currentzis (Sony Classical).
He was a recipient of the Young Talent Award 2019 in the Music Section of the Critics' Circle.
The same year he was awarded an international Opera Award in the New Comer category.
Maxim has recorded quite a few CDs for Warner Classics/Erato at the head of Il Pomo d'Oro, among which Haydn symphonies and concertos an album with Haydn symphonies and concertos with Ricardo Minasi and In War and Peace, Harmony through music with Joyce DiDonato, CD which won the Gramophone Award 2017. For Warner Classics he has also recorded two albums with Il pomo d'oro and counter-tenor Jakub Orlinski: Facce d'Amore and Anima Sacra, as well as Handel's opera Agrippina, with Joyce DiDonato in the title role, which won in 2020 the Gramophone Classical music Award in the Category 'Opera'. Eden, the new program of Joyce DiDonato with il pomo d'oro and Maxim conducting, will be released in 2022.
In 2019 his first CD with the Scottish Chamber Orchestra in Schubert Symphony no.9 – the very symphony of his appointment as their Principal Conductor – was released on Linn Records and was awarded 5 ***** by The Guardian, The Times and The Scotsman. The label Aparté Music released in 2018 Maxim's CD with Beethoven Symphony No. 3 and Brahms Haydn Variations with the Nizhny-Novgorod Soloists Chamber Orchestra. The same year was released Maxim's first solo album of Mozart Sonatas on fortepiano which won a Choc de Classica 2018 and the ICMA 2019.
In 2021 Aparté Music released Emelyanychev's CD of the Brahms Sonatas for piano and violin with violinist Aylen Pritchin.
Maxim Emelyanychev
geboren 1988, gilt als einer der herausragenden russischen Dirigenten der jüngeren Generation. Seine musikalische Ausbildung absolvierte er in seiner Heimatstadt Nischni Nowgorod und in der Dirigierklasse von Gennadi Roschdestwenski am Moskauer Tschaikowski-Konservatorium. Nach seinem Dirigierdebüt im Alter von 12 Jahren war er regelmäßig zu Gast bei mehreren führenden russischen Orchestern. In den letzten sechs Jahren wurde er sowohl von il pomo d'oro als auch vom Nizhny-Novgorod Soloists Chamber Orchestra zum Chefdirigenten berufen.
Nach Auftritten am Opernhaus Zürich sowie mit dem Orchestre National du Capitole de Toulouse, dem St. Petersburg Symphony Orchestra, dem Royal Liverpool Philharmonic Orchestra, dem Orchestre national de Lyon, dem Orchestre National Bordeaux Aquitaine, dem Orchestra Sinfonica di Milano Giuseppe Verdi, dem Royal Philharmonic Orchestra, dem Belgian National Orchestra, dem Tokyo Symphony Orchestra, dem Nederlands Philharmonisch Orkest und dem Antwerp Symphony Orchestra übernahm er zu Beginn der Saison 2019/20 die Position des Chefdirigenten des Scottish Chamber Orchestra.
Zu weiteren Höhepunkten der jüngsten Vergangenheit zählen Rinaldo in Glyndebourne und Agrippina mit Joyce DiDonato am Royal Opera House, Covent Garden, beide mit dem Orchestra of the Age of Enlightenment, La clemenza di Tito am Grand Théâtre de Genève, Le nozze di Figaro am Théâtre du Capitole in Toulouse sowie Konzerte mit dem Orchestre National du Capitole de Toulouse, dem Orchestra della Svizzera italiana und dem Royal Liverpool Philharmonic Orchestra. Aktuelle und zukünftige Pläne beinhalten seine Debüts mit dem Orchestre de Paris und den Münchner Philharmonikern.
Mit il pomo d'oro war er weltweit auf Tournee, u. a. in Asien und in ganz Europa mit Joyce DiDonato. Ihr gemeinsam aufgenommenes Album In War and Peace: Harmony Through Music wurde 2017 mit einem Gramophone Award als bestes Rezital ausgezeichnet.
Maxim Emelyanychevs Aufnahmen umfassen eine CD mit Mozart-Klaviersonaten für das Label Aparté, die 2018 mit einem Choc de Classica und 2019 mit einem Preis bei den International Classical Music Awards ausgezeichnet wurde, sowie eine CD mit Beethovens 3. Symphonie und Brahms' Variationen op. 56a mit dem Nizhny-Novgorod Soloists Chamber Orchestra. Im November 2018 veröffentlichte Linn Records seine erste Aufnahme mit dem Scottish Chamber Orchestra mit Schuberts "Großer" Symphonie in C-Dur, mit der er auch sein Debüt mit dem Orchester gab.
Im April 2019 wurde er bei den International Opera Awards als hervorragendster Newcomer ausgezeichnet.


Booklet für Mozart: The Beginning & The End