---
Album Info
Album Veröffentlichung:
2021
HRA-Veröffentlichung:
17.06.2021
Das Album enthält Albumcover
Entschuldigen Sie bitte!
Sehr geehrter HIGHRESAUDIO Besucher,
leider kann das Album zurzeit aufgrund von Länder- und Lizenzbeschränkungen nicht gekauft werden oder uns liegt der offizielle Veröffentlichungstermin für Ihr Land noch nicht vor. Wir aktualisieren unsere Veröffentlichungstermine ein- bis zweimal die Woche. Bitte schauen Sie ab und zu mal wieder rein.
Wir empfehlen Ihnen das Album auf Ihre Merkliste zu setzen.
Wir bedanken uns für Ihr Verständnis und Ihre Geduld.
Ihr, HIGHRESAUDIO
1

The Fight Of Our Lives

01:54

2

A Monster

03:27

3

Reveries

03:03

4

Hold Back The Darkness

03:58

5

Save Us From Ourselves

03:02

6

Crash Of The Crown

03:46

7

Our Wonderful Lives

03:06

8

Common Ground

04:00

9

Sound The Alarm

03:25

10

Long Live The King

02:33

11

Lost At Sea

00:38

12

Coming Out The Other Side

03:48

13

To Those

03:01

14

Another Farewell

00:26

15

Stream

02:56

Total Runtime

43:03
Info zu Crash Of The Crown
"Crash Of The Crown" ist das siebzehnte Studioalbum der Band — und der Nachfolger ihres Comeback-Longplayers The Mission aus dem Jahr 2018. Das Album besteht aus 15 Tracks und ist gleichzeitig modern und zeitlos. Zwar wird "Crash Of The Crown" im Jahr 2021 veröffentlicht, behandelt jedoch dunkle Themen aus diversen Jahrzehnten wie 1066, 1455, 1775, 1861, 1941 und 2001. Nichtsdestotrotz steht der positive Aspekt im Fokus des neuen Projekts von Styx. Sie versuchen sich immer auf das Licht am ende des Tunnels zu konzentrieren und spiegeln dieses Verhalten auf ihre Fans.
Die Arbeiten zum neuen Album begannen bereits im Herbst 2019 im Studio von Lawrence Gowan. Eigentlich wollte man die Songs wie gewohnt zusammen aufnehmen — allerdings kam dann die immer noch grassierende Covid-19-Pandemie dazwischen, das Projekt musste erstmal pausieren. Später begann man damit, so sozial distanziert wie möglich aufnahmen — und wenn es doch mal mehr als eine Person im Aufnahmeraum war, wurde unter sorgfältigsten Sicherheitsvorkehrungen und mit regelmäßigen Corona-Tests aufgenommen.
Textlich befasst sich der Longplayer mit der Geschichte der Menschheit — dem Fall und Wiederaufstieg, menschlich wie historisch. Auch wenn die Band politische Themen anfasst, als Protestband definiert sie sich nicht: "Wir sind nie eine Protestband gewesen. Wir sind eher wie eine Gospel-Karawane, die versucht, positive Botschaften zu verbreiten, wo immer wir hingehen", erklärt Tommy Shaw, und fährt fort: "Um diese positiven Botschaften zu verbreiten, muss man sich zuerst die Probleme ansehen, um herauszufinden, wie man dazu beitragen kann, dass alles in Ordnung kommt. Das ist ein sehr wichtiger Teil von dem, was wir tun."
James "JY" Young, Gesang, Gitarre
Tommy Shaw, Gesang, Gitarre
Chuck Panozzo, Bass, Gesang
Todd Sucherman, Schlagzeug, Percussion
Lawrence Gowan, Gesang, Keyboards
Ricky Phillips, Bass, Gitarre, Gesang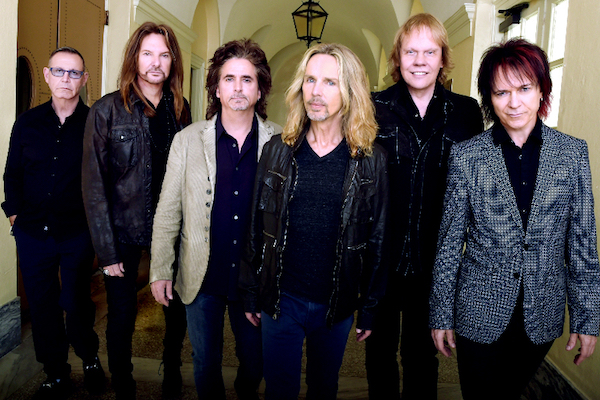 Styx
Tommy Shaw, James "JY" Young, Lawrence Gowan, Todd Sucherman and Ricky Phillips (along with the occasional surprise appearance by original bassist Chuck Panozzo), have performed more live since '99 than all of the previous years of its career combined. Two Super-Bowl appearances, Pollstar Box Office chart-topping tours with Def Leppard, Journey, Boston, REO Speedwagon, Bad Company (to name only a few), two more studio albums and no end in sight, STYX continues to conquer the planet, one venue at a time.
Spawned from a suburban Chicago basement in the early '70s, Styx would eventually transform into the virtual arena rock prototype by the late '70s and early '80s, due to a fondness for big rockers and soaring power ballads.
Early on, Styx's music reflected such then-current prog rockers as Emerson, Lake & Palmer and the Moody Blues, as evidenced by such releases as 1972's self-titled debut, 1973's Styx II, 1974's The Serpent Is Rising, and 1975's Man of Miracles. While the albums (as well as non-stop touring) helped the group build a substantial following locally, Styx failed to break through to the mainstream, until a track originally from their second album, "Lady" started to get substantial airplay in late '74 on the Chicago radio station WLS-FM. The song was soon issued as a single nationwide, and quickly shot to number six on the singles chart, as Styx II was certified gold. By this time, however, the group had grown disenchanted with their record label, and opted to sign on with A&M for their fifth release overall, 1975's Equinox (their former label would issue countless compilations over the years, culled from tracks off their early releases). On the eve of the tour in support of the album, original guitarist John Curulewski abruptly left the band, and was replaced by Tommy Shaw. Shaw proved to be the missing piece of the puzzle for Styx, as most of their subsequent releases throughout the late '70s earned at least platinum certification (1976's Crystal Ball, 1977's The Grand Illusion, 1978's Pieces of Eight, and 1979's Cornerstone), and spawned such hit singles and classic rock radio standards as "Come Sail Away," "Renegade," "Blue Collar Man" and "Fooling Yourself."
The band decided that their first release of the '80s would be a concept album, 1981's Paradise Theater, which was loosely based on the rise and fall of a once-beautiful theater (which was supposedly used as a metaphor for the state of the U.S. at the time -- the Iranian hostage situation, the Cold War, Reagan, etc.). Paradise Theater became Styx's biggest hit of their career (selling over three million copies in a three-year period), as they became one of the U.S. top rock acts due to such big hit singles as "Too Much Time on My Hands". It also marked the first time in history that a band released four consecutive triple-platinum albums.
A career-encompassing live album, Caught in the Act, was issued in 1984, before Styx went on hiatus, and the majority of its members pursued solo projects throughout the remainder of the decade. A re-recording of their early hit, "Lady" (titled "Lady" '95"), for a Greatest Hits compilation, finally united Shaw with his former Styx bandmates, which led to a full-on reunion tour in 1996. But drummer John Panozzo fell seriously ill at the time (due to a long struggle with alcoholism), which prevented him from joining the proceedings -- as he passed away in July of the same year. Although grief-stricken, Styx persevered with new drummer Todd Sucherman taking the place of Panozzo, as the Styx reunion tour became a surprise sold-out success, resulting in the release of a live album/video, 1997's "Return to Paradise," while a whole new generation of rock fans were introduced to the grandiose sounds of Styx via a humorous car ad which used the track "Mr. Roboto," as well as songs used in such TV shows as South Park and Freaks & Geeks.


Dieses Album enthält kein Booklet