---
Album Info
Album Veröffentlichung:
2021
HRA-Veröffentlichung:
19.03.2021
Das Album enthält Albumcover Booklet (PDF)
Robert Paterson (b. 1970): Summer Songs (Version for Soprano & Chamber Ensemble):

1

Paterson: Summer Songs (Version for Soprano & Chamber Ensemble): No. 1, Summer Music

03:58

2

Paterson: Summer Songs (Version for Soprano & Chamber Ensemble): No. 2, The Kite

04:56

3

Paterson: Summer Songs (Version for Soprano & Chamber Ensemble): No. 3, Childhood

04:44

4

Paterson: Summer Songs (Version for Soprano & Chamber Ensemble): No. 4, Moths

04:39

5

Paterson: Summer Songs (Version for Soprano & Chamber Ensemble): No. 5, Summer Night, Riverside

05:19

Autumn Songs (Version for Mezzo-Soprano & Chamber Ensemble):

6

Paterson: Autumn Songs (Version for Mezzo-Soprano & Chamber Ensemble): No. 1, Ascension, Autumn Dusk in Central Park

04:16

7

Paterson: Autumn Songs (Version for Mezzo-Soprano & Chamber Ensemble): No. 2, Under the Harvest Moon

03:25

8

Paterson: Autumn Songs (Version for Mezzo-Soprano & Chamber Ensemble): No. 3, All Hallows' Eve

02:10

9

Paterson: Autumn Songs (Version for Mezzo-Soprano & Chamber Ensemble): No. 4, November for Beginners

04:45

10

Paterson: Autumn Songs (Version for Mezzo-Soprano & Chamber Ensemble): No. 5, Leaves Before the Wind

04:33

Winter Songs (Version for Bass-Baritone & Chamber Ensemble):

11

Paterson: Winter Songs (Version for Bass-Baritone & Chamber Ensemble): No. 1, Icicles Filled the Long Window

02:37

12

Paterson: Winter Songs (Version for Bass-Baritone & Chamber Ensemble): No. 2, Dark Day, Warm and Windy

03:22

13

Paterson: Winter Songs (Version for Bass-Baritone & Chamber Ensemble): No. 3, The Snow Man

04:11

14

Paterson: Winter Songs (Version for Bass-Baritone & Chamber Ensemble): No. 4, Boy at the Window

04:07

15

Paterson: Winter Songs (Version for Bass-Baritone & Chamber Ensemble): No. 5, Old Story

02:56

16

Paterson: Winter Songs (Version for Bass-Baritone & Chamber Ensemble): No. 6, Neither Snow

03:28

Spring Songs (Version for Tenor & Chamber Ensemble):

17

Paterson: Spring Songs (Version for Tenor & Chamber Ensemble): No. 1, English Sparrows [Washington Square]

03:32

18

Paterson: Spring Songs (Version for Tenor & Chamber Ensemble): No. 2, April 5, 1974

03:24

19

Paterson: Spring Songs (Version for Tenor & Chamber Ensemble): No. 3, Done With

05:20

20

Paterson: Spring Songs (Version for Tenor & Chamber Ensemble): No. 4, The Widow's Lament in Springtime

04:54

21

Paterson: Spring Songs (Version for Tenor & Chamber Ensemble): No. 5, Spring Rain

03:30

Total Runtime

01:24:06
Info zu The Four Seasons
Robert Paterson's The Four Seasons consists of four song cycles, with a total of twenty-one songs, for four different voice types: soprano, mezzo-soprano, tenor, and bass-baritone. Each voice type represents a different season: Summer Songs (soprano), Autumn Songs (mezzo-soprano), Winter Songs (bass-baritone), and Spring Songs (tenor). The four critically-acclaimed singers on this album, soprano, Marnie Breckenridge, mezzo-soprano, Blythe Gaissert, tenor Alok Kumar, and bass-baritone David Neal have worked closely with Paterson, and gave the world premieres of these works with American Modern Ensemble, one of America's most beloved new music ensembles.
The songs on this album are all settings of poems by various poets (listed below in the track listings), and each cycle is for voice and chamber ensemble consisting of flute, clarinet, percussion, piano, violin and cello. This ensemble is commonly called a Pierrot ensemble, named after the ensemble that Arnold Schoenberg used for his work Pierrot Lunaire. To date, Paterson has composed more works for this type of ensemble than anyone in the world.
The Four Seasons was produced by Grammy® winning producer and engineer Adam Abeshouse, and recorded at The DiMenna Center for Classical Music's Mary Flagler Cary Hall (Summer Songs and Autumn Songs), the American Academy of Arts and Letters (Winter Songs), and in the Ladd Concert Hall Skidmore College's Arthur Zankel Music Center (Spring Songs).
Marnie Breckenridge, soprano
Blythe Gaissert, mezzo-soprano
Alok Kumar, tenor
David Neal, bass-baritone
American Modern Ensemble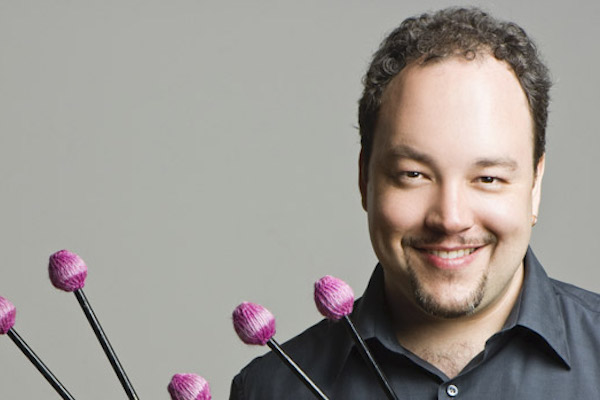 Robert Paterson
A 'modern day master' and often the 'highlight of the program' (The New York Times), Robert Paterson's music is loved for its elegance, wit, structural integrity, and a wonderful sense of color. Paterson was named The Composer of The Year from the Classical Recording Foundation with a performance at Carnegie's Weill Hall in 2011. His music has been on the Grammy® ballot yearly, and his works were named 'Best Music of 2012' on National Public Radio. His works have been played by the Louisville Orchestra, Minnesota Orchestra, American Composers Orchestra, Austin Symphony, Vermont Symphony, BargeMusic, the Albany Symphony Dogs of Desire, among others. Paterson's choral works were recorded by Musica Sacra and maestro Kent Tritle, with a world premiere performance at the Cathedral of St. John the Divine in New York City in 2015.
"Robert Paterson could probably set a telephone book to music and create something that captivates..." — Gramophone
Season highlights included The Nashville Opera world premiere of THREE WAY in January, 2017 and then Nashville performed the opera at BAM in Brooklyn, June, 2017. The New York Premiere of his opera, The Whole Truth with a libretto by Mark Campbell, sold out in January 2016, at Dixon Place in New York City. Other premieres & commissions include Shine for the American Brass Quintet, Moon Music for the Claremont Trio, and Graffiti Canons for the Volti Choir of San Francisco. Notable awards include winner of the Utah Arts Festival, the Copland Award, ASCAP Young Composer Awards, a three year Music Alive! grant from the League of American Orchestras and New Music USA, and yearly ASCAP awards. Fellowships include Yaddo, the MacDowell Colony, and the Aspen Music Festival.
Paterson holds degrees from the Eastman School of Music (BM), Indiana University (MM), and Cornell University (DMA). Paterson gives master classes at colleges and universities, most recently at the Curtis Institute of Music, New York University, and the Cleveland Institute of Music. Paterson is the Artistic Director of the American Modern Ensemble and resides in NYC with his wife Victoria, and their son, Dylan.
American Modern Ensemble (AME)
spotlights contemporary music via lively thematic programming. AME performs a wide repertoire, using a varied combination of instrumentalists, vocalists, and conductors, and the ensemble often highlights AME's house composer and founder, Robert Paterson. Since its inception in 2005, AME has performed hundreds of works by living composers, and has received critical success in The New York Times, Time Out, the New Yorker, among others. Sold out crowds at BAM, Merkin Hall, Lincoln Center, the Rubin Museum, Dixon Place, and National Sawdust are a winning testament to AME's fifteen-year track record as to what is 'right' about classical music today.
"" Devoting a program to Minimalist and microtonal compositions could easily amount to an egghead agenda; leave it to the American Modern Ensemble to make it a party instead."" — The New York Times
AME includes on-stage chats with composers and the creative team, allowing audience members to learn even more about the creative process. AME provides a welcoming environment for audience, creators and performers. Over 95% of the composers we program participate and attend our shows, including luminaries such as John Luther Adams, John Corigliano, David Del Tredici, Aaron Jay Kernis, Libby Larsen, Steven Mackey, Paul Moravec, Christopher Rouse, Steven Stucky, Joan Tower, Chen Yi, and countless others. AME also enthusiastically performs works by America's most talented, emerging and mid-career composers.
AME produces stellar recordings via its house label, American Modern Recordings (AMR), which has received fantastic reviews in Gramophone, the LA Music Examiner, The New York Times, Sequenza21, and New Music Box, and our albums have made it to the Grammy® Ballot in past seasons.
AME's summer home is now at the Mostly Modern Festival (MMF), located in Saratoga Springs, New York. This festival celebrates the music of our time. It is educational, with robust outreach initiatives. Other residencies include Princeton University, James Madison University, Keene State College, the CUNY Graduate Center, Adelphi, Rutgers, and many more. AME is deeply invested in collaboration. Some examples are On Site Opera, Cutting Edge New Music Festival, Prototype Opera Festival, American Opera Projects, and the Dance Theater of Harlem.


Booklet für The Four Seasons